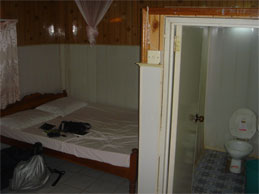 Have you ever stayed in a hostel dormitory before?

If not, you're in for a unique experience.

At some point during your travels you're likely to have to stay at least once in a hostel dorm, especially if you are traveling on a budget. Dorms are great for meeting lots of new people but also have a tendency to give you the odd sleepless night.

Here are the top 8 things that annoy me about hostel dormitories:

1. The Squeaky Bunk

It amazes me that any hostel would think it was a good idea to put in metal and potentially squeaky bunk beds. One such hostel is "Base" in the centre of Sydney, Australia. Picture the situation, you've been out for a couple of cheeky beers and being a considerate fellow you tip toe across the dorm room with the lights out. You make sure the door doesn't slam behind you and you manage to make it to your bed without waking a single soul. Then suddenly all your hard work is dashed as you put one foot on to the bunk ladder to climb when there's a deafening screeching sound. It usually sounds like nails scrapping down a blackboard or like someone strangling a large rat.

I find squeaky bunk beds annoying because I am the kind of sleeper who does turn over a lot during the night. I end up waking myself and everyone else up in the room.

2. The Plastic Mattress

You get to a nice clean hostel and check out the room to see if it's worth the money. In you're head very pleased with yourself about your choice of accommodation, whilst you're strolling around town sight seeing. As you return weary after a long days sight seeing you jump into bed only to find that it not only sticks to your skin, but it also wakes the whole dorm up in the process. In the morning you will notice that you'll have to peel yourself off the mattress.

3. The Unmade / Used Bed

You've just checked into one of these new big super hostels, reception has handed you your key and after the long tiring bus journey you're ready for an afternoon power nap. You enter the dorm room only to find that like Goldie Locks and the Three Bears someone or something has been sleeping in your bed. Or more likely, the hostel has just forgotten to make your bed. At this point it's the last thing you need, you just want to crash out and sleep. This never seems to happen in the smaller more family run hostels, only in the bigger hostels where I feel you become just one of many and any customer service is a very low priority.

4. The Snoring Roommate

Just when you get into bed and you are just about to drift off to sleep does the snoring roommate usually kick in. Snoring in the most annoying way possible, you try throwing the odd item at them but nothings waking them not even your dirty pair of socks. If you are lucky and you're acquired a squeaky bunk you could try rolling over a few times, that usually wakes them and gives you some kind of rest bite. The key in these situations is to bring your ear plugs or mp3 player; it's usually the only way to block out the sound.

5. Early Morning Bag Rustlers

Usually at some really obscene time in the early hours of the morning do the plastic bag rustlers come out to play. No matter how much they try not to make noise the sound of a simple plastic bag seems not only to carry but to go straight through most people. The simple solution to this problem is for the person leaving the dorm to pack their bag the night before and make sure they're not using plastic bags in the morning. You can almost guarantee you'll hear this sinister noise at least once in the early morning hours.

6. The Random Talkers

I often find this one the most puzzling as it could be easily avoided if the people in question just had a bit of common sense and some manners. Usually you'll find there will be at least two roommates who know each other, they'll stroll into the dorm at any hour chatting away and laughing as if it were the middle of the day. I find they usually talk in an undecipherable language and act as if it's just the two of them occupying the room. They're oblivious to anyone else in the room who are trying to sleep in or get an early night.

7. Smug Couples Sharing a Single Bed

It's a situation where everyone else in the dorm has managed to pay for their own bed for the night, but the couple simply pay for one single bed and share it. Not only that but they like hanging beach towels on either side of the bunk for a little privacy. It's selfish and inconsiderate, especially if they decide to "get it on". In these situations I'd pay for them to have a private room!

8. The Bottom Bunk Shaker

This one can happen if you do get a Number 7 and the couple in question are getting a bit frisky.

You have the top bunk and everything is going fine, you're drifting to sleep when suddenly your bottom bunk mate rolls in from the local bar. They climb into bed (rather, jumps into bed) shaking the whole structure as they go. All through the night they move and turn, throwing you on the top bunk all over the place like a kid on a bouncy castle. Every time your new friend downstairs wakes up and moves, so do you.

You can usually avoid being one the causes of these problems with a bit of consideration for others and a bit of common sense. Unfortunately, not everyone seems to have the qualities in question.

Other dorm problems are harder to avoid and seem to be down to luck, over time you'll become less sensitive to these issues with the more dorms room that you stay in.

Have you had any bad experiences in dorms?

Post a message below and let us know…


Like this article? Subscribe to our newsletter.