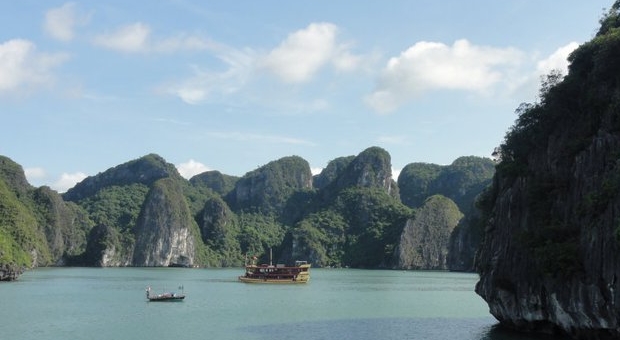 During my time in Vietnam (I've always wanted to say that) I visited two cities Saigon (Ho Chi Minh) and Hanoi.
The main reason I wanted to visit Vietnam was to see the tunnels in Ho Chi Minh. I wasted no time and took the tour on day one.
It was all I expected it to be, very historical, interesting and somewhat propaganda driven. My favourite part was the introductory video, which described the American planes as a bunch of "flying evil devils".
After hearing the background of the Vietnam war, we were shown round the tunnels and homemade traps. The traps looked lethal and I couldn't imagine what pain the American soldiers caught went through.
There was another opportunity to fire some machine guns, however I'd certainly had my fix of gunfire in Siem Reap, therefore I declined the temptation.
The final part of the tour was to actually crawl through the tunnels. These tunnels were widened by three times to benefit the tourists. I was claustrophobic with the size they were never mind three times smaller. I also cant bear to imagine the heat they had to suffer by staying there for months. I was under for 5 minutes and came out dripping with sweat.
The following day I visited the war museum, which was well worth a visit, however some of the images displayed were disturbing. It showed how generations of children were born dysfunctional due to the Orange Agent the Americans dropped across Vietnam.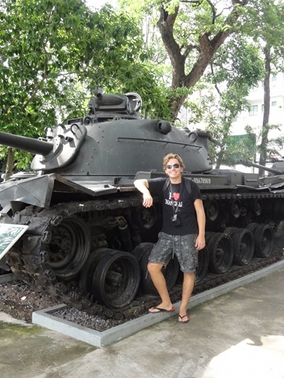 As time was a premium, I decided to skip travelling up the Vietnam coast (which I believe is a magical experience) and flew directly to Hanoi.
The main attraction here was the Halong Bay tour. This was one of the highlight of my trip so far. I booked it through Hanoi Backpackers which meant the tour was more 18-30's booze cruise rather than a relaxing tour.
The weather was very kind, which meant swimming in the sea was so refreshing.
We kayaked to some caves nearby and walked through to a lagoon which was also refreshing to swim in.
The remaining attractions in Hanoi were the old quarter, the lake and Ho Chi Minh's frozen dead body. And I'd have to recommend a visit to "Fanny's" ice cream bar (not just for the comical name).
I stayed in Hanoi for 5 nights (including the night in Halong Bay). It got a little too intense for me with the millions of motorbikes on the busy roads. Horns were continually blowing and locals would constantly try to get money out of you. It got to a point where crossing the road became a chore!
Overall I did enjoy Vietnam, however I wish I'd allowed some time to visit Hoi An and some of the costal areas.