It's not often you get to sit all alone, car parked up, beer in hand watching the sun coming down over the ocean at the southernmost point on the Australian mainland. It's here where you get the chance to get away from it all, to explore, to hike up to stunning expansive panoramic views over the mountains and ocean.
Winding around bends on country roads, with the sun beaming down through the windscreen. Driving solo in Australia is a liberating experience, driving alone you'll find yourself singing out loud to the local radio without another cars bumper in sight. At least that's what I found myself doing driving from Venus Bay to Wilsons Promontory in Victoria, Australia.
SIGNPOSTS CAN BE MISLEADING
It's here where you'll find yourself cruising long stretches of road without a car in front or one behind. Signposts can be misleading, not in that they're sending you the wrong way, but there's often no indication of how far what you're looking for is.
You can often find yourself on a good half an hours drive when you thought said landmark was a couple of minutes drive. But this is the beauty of driving in a country where distances are further and places more remote, there's a certain sense of getting away from it all here.
I was heading to Wilsons Promontory National Park known by locals as "Wilsons Prom" and famed for immaculate beaches, wildlife, beautiful rain forests and being mainland Australia's southermost tip. The park has a large variety of trails including short scenic walks, more challenging steep climbs and longer treks through rain forests and mountain tops, there's something for all abilities.
You can find a full range of recommended trails on the Australian Tourism board's website.
I should already have known never to pass the last petrol station before a national park, I thought I probably had just enough petrol to get by. The opportunity to fill up my car had gone and I was heading through the entry gates and into the park.
Driving into the national park is a long, winding drive with some beautiful views over the ocean before the road descends down towards the main Tidal River camping and information point. It's also quite a distance from the entrance, I found myself with less petrol than I was comfortable with considering I'd have to drive back out the same way I came in.
MY WILDERNESS RETREAT
I parked the car and picked up the key to my Wilderness Retreat at the information centre. I didn't quite know what to expect from my over night accommodation but thankfully I was pleasantly surprised.
Hidden among the trees and bushes complete with a wooden outdoor decking area and a set of table and chairs was my home for the evening, a posh tent called "Bishop". I was thankful that the two man army tent that had crossed my mind whilst driving earlier in the day didn't materalise – having a key for a "tent" was a bit of a giveaway! The retreat even had its own car parking spot and outdoor light.
BISHOP
Home for the night was "Bishop", my wilderness retreat tent in the heart of Wilsons Prom.
It was the perfect spot to relax after a strenuous day of hiking around the park, for sitting back on the outdoor deck and staring at the stars in the clear nights sky.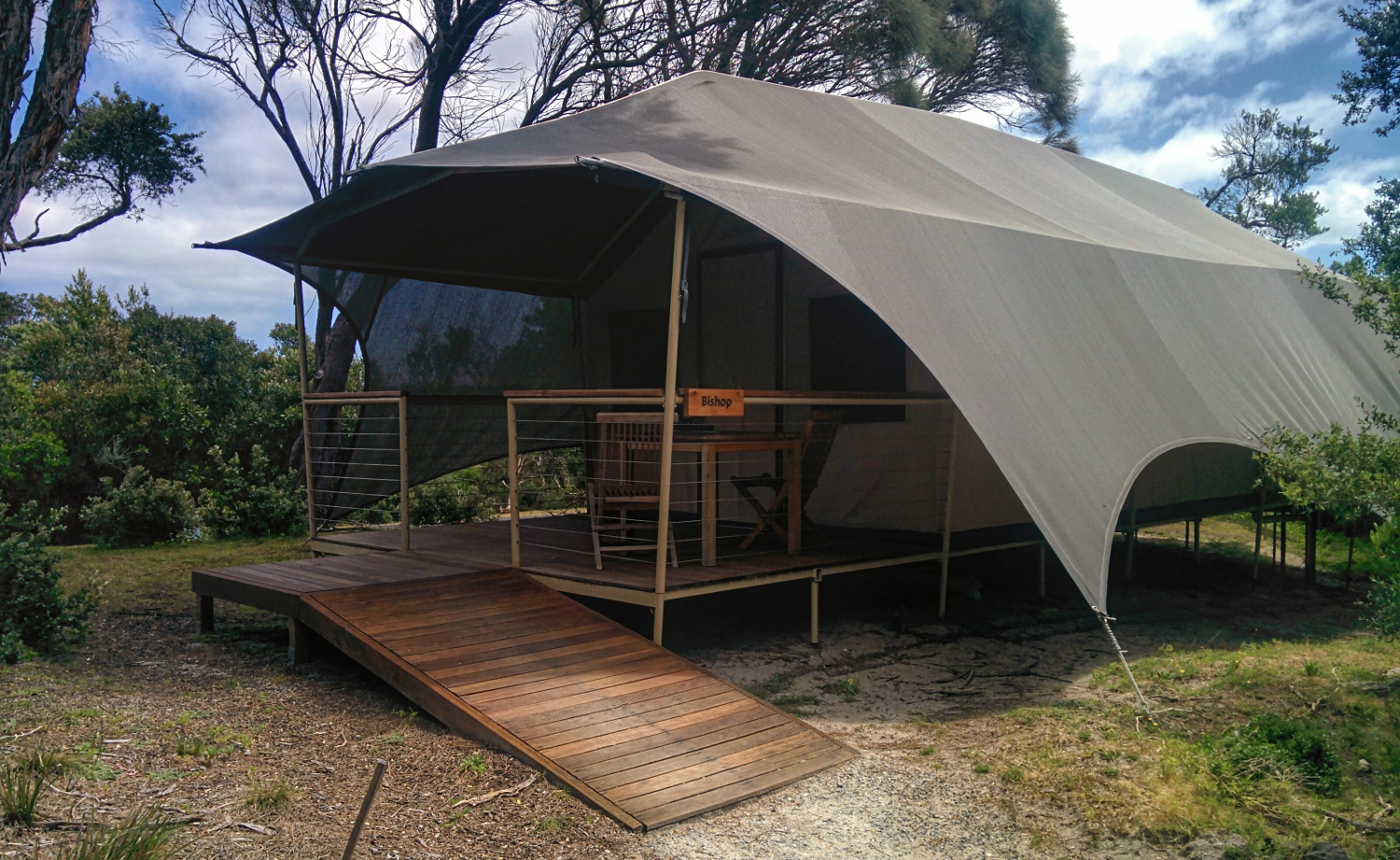 Stood on the wooden decking, my key in hand, I didn't quite know what I was going to find inside my Wilderness Retreat.
INSIDE THE RETREAT
The retreat, although covered by a canvas tent was actually much more like a posh safari type tent. Inside I was pleased to find a queen sized bed along with a fridge, table, chair, heater, toilet and heated shower. It was far from roughing it in the wilderness, but a perfect place to relax after hiking around the park all day.
The collection of Wilderness Retreats come with a communal outdoor BBQ area, although I was traveling alone it's clearly a great area for a small groups, families or couple to stay. It's away from the group camping areas and avoids the hassle of having to bring your own tent and put it up yourself, plus it's far too comfortable to be classed as a tent!
Once settled in I didn't really want to leave, but it was time to head out and see what "The Prom" had to offer.
See the official website for more information on the Wilderness Retreats at Wilsons Prom.
After relaxing on my wooden deck with a hot cup of tea I was ready to exploring Wilsons Prom. I set out down a narrow sandy path out onto Norman Beach where a large group of wannabe surfers were taking a lesson, I passed a group playing baseball on the beach before heading up and across the Tidal River.
THE MIDDLE OF NOWHERE
Crossing the river I found myself trying to escape the teenage groups that were based at the group camping grounds nearby, but once out on a trail I was pretty much alone apart from passing the odd hiking couple now and again. I found myself so alone on most of the trails that I did consciously think that I should tweet my location just in case something unfortunate did happen way out on a 4 hour trek in the middle of nowhere.
My first morning trek took me up to a look out point with stunning panoramic views of the Tidal river, Norman Beach and Squeaky Beach. The view was sensational, being able to take in the sun reflecting off the ocean, tree lined mountains, immaculate beaches, wooded hills and a river all at the same time isn't something you see everyday.
This trail takes you over the Tidal River and up on to the Ridge between Norman Beach and Squeaky Beach, it's here where you'll get stunning views of both beaches.
For all hiking trails check out the Wilsons Promotory National Park pdf.
After exploring the area for around three hours I headed back down to my Wilderness Retreat to rest my feet for a while and to recharge my camera.
SUNSET AT "THE PROM"
Just before the sun began to set I drove up hill to find a view point so that I could attempt a time lapse video of the sunset over the ocean (it's the timelapse at the top of the page). I spent a good hour watching the sun come down over the ocean with just the sound of insects and local wildlife for company.
Being based in a big city like London you get a greater sense of freedom when you find yourself alone with a stunning sunset. It's something that's quite easy to find in Victoria, once you drive out of Melbourne and into the countryside.
The sun faded over the oceans horizon and I packed up my camera and drove carefully and slowly back down to the river basin keeping a eye out for any local wildlife in the road.
I was up early next morning to make the most of my time at the park before driving back to Melbourne. I parked the car in the shade at the foot of Mount Bishop and headed up through the woodland on a 2 hour trek to the summit up a some steep and narrow paths.
THE TIDAL RIVER
The low lying Tidal River camping grounds are dotted around the sand dunes behind Norman Bay and can hold 2000 people. A popular walk from this camp site is the 1.9 miles out to Squeaky Beach passing over the a ridge separating Norman and Squeaky Beach.
DEAFENING SOUND OF CRICKETS
Through the dense woodland at the foot of the trail I was greeted by the deafening sound of thousands of crickets, lumbering uphill and over rocks I managed to startle a young wallaby hiding in the bush. Climbing further the track became narrower and more of a challenge to climb, I found myself clambering over branches and rocks.
Finally, I emerged from the bushland and wandered out on a giant granite boulder where I sat for a while before setting up my mini tripod for a quick selfie with a mountain backdrop.
If you explore a little further on from the boulder you'll find the absolute summit of Mount Bishop. It's marked by a rock where you can sit, relax after a hard trek and admire the stunning view over Squeaky Beach, the Tidal River and Norman Beach.
More details of the route up to Mount Bishop.
NORMAN BEACH
After climbing the ridge toward Squeaky Beach you're rewarded with a beautiful view out to the ends of Norman Beach.
After climbing back down from Mount Bishop I jumped back in the car and set off on my way out of the park. Before reaching the exit I spotted another trail out to a look point so decided to pull over and attempt one last trek. Being short on time I jogged most of the trail, reaching the end I found myself sitting on a rock looking out across the ocean. It's here where the photosphere above was taken.
I really already knew that Wilsons Prom was going to be a highlight of my trip even before I'd got there, locals I'd spoken to would knowingly say how beautiful it was and what a great place it was for trekking. It certainly didn't let me down, I only wish that I had more than just a couple of days there to explore. A trip to this area is highly recommended for anyone visiting Victoria and it's only a 3 hour drive from Melbourne.
TIPS
– Bring plenty of supplies, the park shop doesn't stock that much.
– Make sure you're not too low on petrol, parts of the park you can drive to if needed.
– Bring good footwear and sun screen.
– Pack some food and water before setting out on a hike.
USEFUL LINKS
– Trails at Wilsons Prom (pdf)
– Wilsons Promonotory National Park Information
– The Wilderness Retreats at Wilsons Prom
– Inspired By Gippsland Website
This post was brought to you as part of the #MelbourneTouring blog trip, created and managed by iambassador and  in partnership with Tourism Victoria, Royal Brunei Airlines and 4BGB. TravMonkey.com maintains full editorial control of the content published on this site.