Where I've Been

2 Week Itinerary Cape Town & Garden Route, South Africa
We spent two weeks in South Africa completely unplanned!
We started in Cape Town and headed out to wineries and coastal drives down the Garden Route. Here's our itinerary from the trip (only written afterwards!). We spent sometime in Cape Town before picking up a rental car and heading to Cape Point and then onwards down the Garden Route to Elephant National Park.
We didn't have a strict budget on the trip but we did travel quite economically, staying in a range of hotels, guest houses, luxury hostels, backpackers and apartments.
How to use this Itinerary
If you're looking for more in-depth articles and some photos about the trip just scroll down towards the bottom. The map above shows the places we checked into on our trip in order starting with "49." as the first check in. You can also view street view on the map for certain locations, just click on "Street View" at the top of the check in list on the right. If there is no street view available this will say "No Street View". You can also click on place names on the itinerary below to view where they are on the map.
Please note this is only a sample itinerary to give you an idea based on what we did in Cape Town and the Garden Route. We only really scratched the surface of the place.
Starting from: Cape Town
Ending at: Cape Town
Amount of time: Around 11 days
More reading: 11 days unplanned Cape Town and Garden Route
Itinerary
DAY 1 & 2
1. Table Mountain Nation Park
What better place to start than getting a stunning view of Cape Town from the iconic Table Mountain. If you feeling adventurous why not hike to the top? If you are short on time or feel like taking the relaxing way up to the peak take the cable car.
2. Rocklands Beach
Head down towards the sea front for a stroll, a coffee and some beautiful beaches.
3. Green Point Lighthouse
Check out the stunningly beautiful (and colourful) Green Point Lighthouse along the promenade. Great place to stroll after visiting the beaches further to the south.
4. Green Point Urban Park
Redeveloped for the 2010 World Cup this huge park is home to a biodiversity garden and Cape Town Stadium. It's a good place to catch your breath and relax away from the bustle of the city streets.
5. Victoria & Alfred Waterfront
Worth visiting but also a little touristy. Plenty of tourist buses pull in here but there are lots of restaurants, cafes, shops, street performers and an interesting indoor market. It's a stop off on the way to Robben Island where the boat departs from the Nelson Mandela Gateway.
6. Greenmarket Square Market
Greenmarket Square Market is a small quaint market in the square. There's plenty of african arts and crafts on sale here if you're looking for a gift to take back home.
DAY 3
7. Groot Constantia
I could spend all day here! Groot Constantia is a beautiful wine estate just outside of Cape Town itself offering cellar tours and great wine tasting sessions. The selection of tasting on offer is exception, there's also a restaurant here too so your not drinking on an empty stomach!
8. Hout Bay Beach
Hout Bay Beach is a busy fishing port with a white sand beach. As you'd expect there's some decent fish and chips on offer from the restaurants here and it's a fascinating experience to wander the port to see what the fishermen have brought in on their boats. The beach is also a surfing spot renowned for it's big waves.
DAY 3
9. Robben Island
Robben Island is situated in Table Bay and is synonymous with Nelson Mandela for the time he spent in prison on the island. A tour of the prison is a fascinating but also somber experience.
10. Market on the Wharf
We stumbled across this great little foody market on the V & A Waterfront, a great place to grab a bite to eat or some local produce.
11. Bo Kaap
Just outside the city centre and on the slope of Signal Hill is Bo-Kaap, a blindly colourful area of traditional houses. There's also a museum here if you do have time.
DAY 4
12. Chapmans Peak View Point
On the drive down to Cape Point there's some stunning scenery and the view from Chapmans Peak is one of them. You'll get a beautiful view back down to Houts Bay, just watch out for the Baboons! They are quite dangerous, don't leave car doors and windows open and avoid getting anywhere near them.
13. Boulders Visitor Centre
Boulders Beach is the place to visit to watch the coloney of free roaming African penguins that laze around on the beach, coves and surrounding rocks.
14. Cape Point
On the southern tip of the Table Mountain National Park is Cape Point, a rugged, wind swept landscape where the waves crash into the mountainous rocks below the lighthouse.
DAY 5
15. Mossel Bay
Beautiful and rugged coastline at Mossel Bay was the first place that Europeans landed when they arrived in South Africa. There's plenty to do in the area including a great scenic walking trail, a museum, surfing, wind surfing, horse riding and of course discovering the beaches.
16. Santos Beach
A wide sandy beach in Mossel Bay, Santos Beach is a pleasant place to stop off for a break from driving. There are restaurants and cafes here too.
DAY 6
17. Wilderness
Wilderness is a seaside town on the Garden Route that has plenty of activities for visitors including whale watching, paragliding, mountain biking and forest tours. We only passed through but there did seem to be plenty of accomodation and activities on offer.
18. Map Of Africa
Map of Africa is a lookout point at Wilderness. Here you'll find views of mountains and forests, there's a good chance you'll also catch sight of paragliders drifting down the valley.
19. Wildernis(Wilderness) beach
Wilderness Beach is a long sandy stretch of beach. The water has strong currents so do be careful if you're thinking of taking a dip in the ocean.
20. Timberlake Village
We stopped of at this organic village for lunch and a wander around the little village shops. A good rest from a long drive.
DAY 7
21. Knysna
Knysna is a lovely little town on the Garden Route, well worth spending sometime here and visiting the waterfront.

22. Sirocco
Down near the waterfront there is some excellent beer tasting along with beautiful views (and food of course) of the water at Sirocco Restaurant.
23. Knysna Waterfront
Some breathtaking views on the waterfront and plenty of restaurants, cafes and shops here. Lots of tourists hop of buses and wander the shops here.
DAY 7, 8 & 9
24. Plettenberg Bay Lookout View point
There are stunning views from the lookout point and also a restaurant if you're after a spot of lunch with a view. Plettenburg Bay itself was some beautiful unspoilt pristine beaches and lagoons. It's a ecotourism spot that's a favourite with locals and has plenty to keep you occupied.
25. Addo Elephant National Park
As well as cruising along the Garden Route, Addo Elephant Park a wildlife conservation park (3rd biggest in size in South Africa) was one of the highlights for us. Driving around the huge national park you can spot a diverse range of wildlife including elephants (obviously), lions, buffalo, zebra, leopard and rhino. Coming face to face with a Bull Elephant is quite an experience.
We stayed at a lovely guest house just outside the park called The Happy Jackel. The owners made an amazing breakfast, the rooms were lovely and their hospitality was superb.
DAY 10 & 11
26. Santos Beach
On the drive back to Cape Town we booked into a train overlooking the beach. The Santos Express is converted from an old train and IS now used as backpackers accommodation. The rooms are certainly cosy, have great views onto the beach and is a bit of a unique experience if you're on a budget. We only stayed one night before driving back to Cape Town.
27. Camps Bay Beach
Having stayed in the centre of Cape Town when we arrived we decided to find an apartment near the beach at Camps Bay. There's plenty of cafes and restaurants here too so it was a good place to take it easy before our long haul flight back home.
So there you have it, our tried an tested itinerary for Cape Town & Garden Route. It was completely unplanned until we landed and we tended to book accommodation as we travelled. We had a great time exploring the beautiful coastline and wildlife, it's a trip of a life time.
Have you been before? I'd love to hear about where you went and any tips, let me know in the comments!
---
ARTICLES FROM THE TRIP
---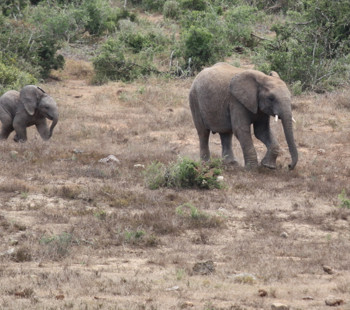 Face To Face With An Elephant At Addo National Park
I have to admit, I was expecting to be given a few more warnings or perhaps a few tips on what to do in a certain situation. But no, all I got was "please sign here".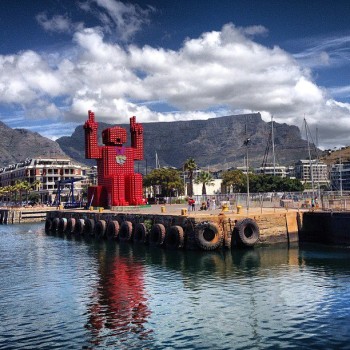 11 Days In South Africa Unplanned
It's been 7 years since I set off on a trip that lasted just under 2 years. During that spell I had the ability to be flexible, to plan as little as I wanted, travel from