Where I've Been

My Weekend Itinerary in Ghent
I took a quick trip Ghent over a long weekend, taking advantage of how easy it is to get there with the Eurostar from London. I've been to Ghent a few times before and was always struck by how little people talk about it in comparison to Bruges, Brussels and Antwerp.
I've always found this historic old university town fairly underrated in the grand scheme of things. Thankfully it means fewer tourists (although there's still a fair few) and more local experiences on offer. If the lure of great Belgium beer and the emerging craft beer scene isn't enough, there's a whole host of architectural and cultural gems to discover in Ghent.
A Quick Note About This Itinerary
A quick note about how to use this page.
The map at the top of the page shows the places I checked into on our trip in order, starting with "25." as the first check in. You can also click on place names on the itinerary below to view where they are on the map.
Please note, this is only a sample itinerary to give you an idea based on what I did on my trip. I only really scratched the surface, but hopefully this gives you a taste of what is possible.
Food & Drink
Towards Ghent University and just outside of the city centre you'll find Kantien, a lovely place to stop for lunch or a drink. It has a large terrace overlooking the water, an amazing selection of beers and plenty of food options. We met the owner and brewer, Dimitri who kindly let us sample some of the local beers that have emerged on the fledgling craft beer scene in Ghent. This included his own craft beer called "13", a lovely full-bodied pure 4% pilsner that uses 100% artisan skirt and is unfiltered, unpasteurised and made from Belgian hops and barley. The stories goes, that the 13th brew of the the beer was the perfect tasting beer so they settled on the name "13".
13 Website: 13 Beer Website
Website: Kantien Website
Sights
You can't possibly visit Ghent without marvelling at its spectacular architecture. If you find yourself at Sint-Baafsplein you'll be able to see the Belfry at one end of the square and St Bavo's Cathedral at the other. The Cathedral is a 89 metre tall Gothic building that is as spectacular outside as it is inside including the 15th century painting, The Mystic Lamb. You'll also get a aerial view of Sint-Baafsplein square and St Bavo's Cathedral from the top of the Belfry.
Website: Sint-Baafskathedraal Website
Sights
A visit to Ghent wouldn't be the same without a climb up the spiral staircase to the top of the Belfry. One of three medieval towers in the city, the belfry towers over the square below at 91 metres tall. Discover the impressive gilded copper Dragon on top of the Genth tower before heading to the top of the Belfry for superb 360 degree views over the city.
Website: Belfry (Belfort) Website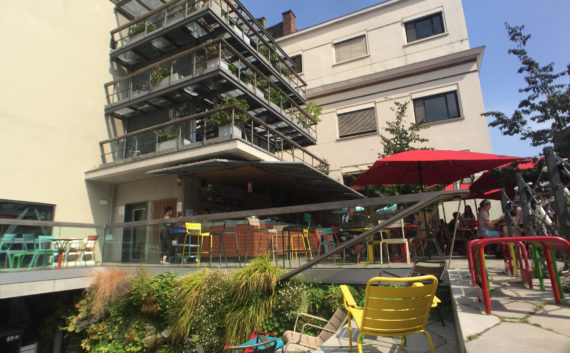 Eat & Drink
The University of Ghent and the City of Ghent worked together to build this beautiful art summer terrace back in 2013s. It's a one of those places where you can while away the hours drinking cocktails in the sun. The terrace features modern architecture and colourful chairs, next door is and arts venue playing host to a range of concerts and plays.
Website: Vooruit Terras Website
Eat & Drink
Another way of getting yourself on one of Ghent's beautiful waterways is with a visit to Kaffee De Planck, a large barge turned cafe bar. It's a lovely place to stop off, with an extensive menu of beers (with over 200) including its own traditionally brewed beer called "Planckske".
Website: Kaffee De Planck Website
Eat & Drink
If you're looking for a spot of street food and a bit of variety then a visit to the Holy Food Market might be in order! It's a fairly recent addition to Ghent's food scene and offers a variety of different choices including Turkish wraps, wood fire pizza, waffles, Prosecco and cocktails. The building itself is a lovely 16th century Baudelo Chapel that's been transformed to host the various different stalls. Would a visit for the variety and option to eat as much or as little as your want.
Website: Holy Food Market Website
Eat & Drink
We first spotted Barrazza walking along the canal, on the opposite side, overlooking the water. This place has a lovely terrace, the perfect spot for a drink whilst watching the boats cruise by down the river. Like many places in Ghent you'll be please to hear Barrazza has a superb selection of beers!
Website: Barrazza Website
Eat
Castor & Pollux named after identical twins from the Roman Empire and serves up a creative and ever changing menu that reflects the seasons. It's a cosy restaurant with fresh produce and is veggie friendly to boot.
Website: Castor & Pollux Website
Sights
You can't really miss Gravensteen whilst you're wandering the Ghent's cobbled streets as it's just a short walk from the Old Town Square. You'll also get a unique angle of the outside if you take a boat trip down the river. The castle dates back to the Middle Ages and is named "castle of the counts" in Dutch. Although it was never used in war and was rebuilt in the early 20th century it does have a fairy tale kind of feel to it with its steep spiral staircases, hidden rooms and panoramic views over the city. As you explore the dark gloominess of the castles interior you're likely to stumble across one room packed full of ancient torture devices and creepy looking models simulating how they were once used. You'll find a large guillotine with its original blade, iron collars, axes, stretching devices and small metal thumb clamps. It's a gory but fascinating look into just how savage things were in the Middle Ages. You can read more about Gravensteen's fascinating Torture Museum on Travel Darkly.
Gruut Brewery
Drink
This city brewery is definitely worth visiting if you want to do a spot of beer tasting. Instead of using hops to brew their beer they use a spice mixture (known as gruut) that creates a surprisingly tasty beer, it's a technique that dates back to the middle ages. I sampled five different beers off their tasting menu and all of them were very drinkable, their amber beer was my favourite. There's food options available at the brewery and also a 3-hour beer walking tour where you get to discover a bit of Ghent whilst sampling five local beers.
Website: gruut.be
Sleep
I stayed at Ghent River Hotel, a elegant 4 star hotel with an industrial history. With rooms overlooking the river and exposed brick work walls this hotel blends history with a modern approach. The hotel has its own sauna, gym, free Wi-Fi but my favourite feature was their beer of the week displayed next to the bar.
Website: Ghent River Hotel Website
Getting There
Getting to Ghent from London is pretty easy with Eurostar trains leaving from St Pancras International to Brussels. Once in Brussels you need to change to get a local train to Ghent. The total journey takes just under three hours.
Getting Around
Ghent city centre is a car-free zone that's perfect for walking or cycling. If you want to rest your legs or take a longer journey the city's trams and buses run frequently.
There you have it!
There you have it, my brief itinerary from a weekend in lovely Ghent if you need more inspiration and information you can find more on the Ghent Tourism's website.