Smart phone photography is an ever advancing area of technology that bloggers and online creators keep a close eye on. I'm actually currently on the look out to upgrade my own iPhone 6s, but sensibly awaiting the release of the iPhone 8 later this year.
iPhones have quality cameras and with each iteration the technology takes a step up, giving you a reason to want to part with your hard earned cash to keep up with the quality of travel photos being posted online.
But one area where smartphones haven't been able to compete with the classic DSLR camera is in terms of flexibility. The ability to be able to switch lenses, take a close up photo with a macro lens, use a wide angle or telephoto lens to catch the action. Smartphones just don't have the ability to do this (or at least well enough with zoom)… well unless you have some Pixter lenses that is!
What is Pixter?
Pixter create quality clip on lenses for smartphones which give the user much more flexibility. Their pro collection offer a Macro, Telephoto, Super Fisheye and Wide Angle Pro for £49.90 each. I was sent one of their Wide Angle Pro lens to test out and my trip to the Big Apple was the perfect place to put it through its paces. With towering skyscrapers and dramatic city landscapes, New York City is a great place to see the benefit of using a wide angle lens.
The Pixter Wide Angle Pro lens is really designed to take landscapes and indoor shots where you need to squeeze more into the shot without getting distortion. As the lens is their Pro version you can really feel the quality of the device in your hand and it actually looks like a mini Canon DSLR lens. It's made of steel and contains five maximum clarity polarized lenses that are anti-reflective and scratch resistant to boot.
The Pixter Clip has a silicon grip to fix the lens in place whilst at the same time protecting the surface of your smartphone. The advanced optical design of the Wide Angle Pro allows the lens to capture a field twice as large without any line distortion.
How does it work?
The Pixter Clip is super easy to use, simply remove the lens cap and clip it onto your smartphone. Make sure the lens is aligned with your smartphone lens to prevent any overlap and you're good to go! It's designed for use with the front or rear cameras, just make sure that your smartphone lens is clean before clipping on.
Shooting New York City
In New York City we hopped on the subway down to the World Trade Centre Memorial to take some photos of One World Trade Centre and the quirky white Oculus building. Usually it'd be tricky to get the sheer height of a building in the shot but not with the wide angle lens. It also gives you the ability to pull in surrounding skyscrapers to give more of a dramatic "bottom up" angle of the city's skyscrapers.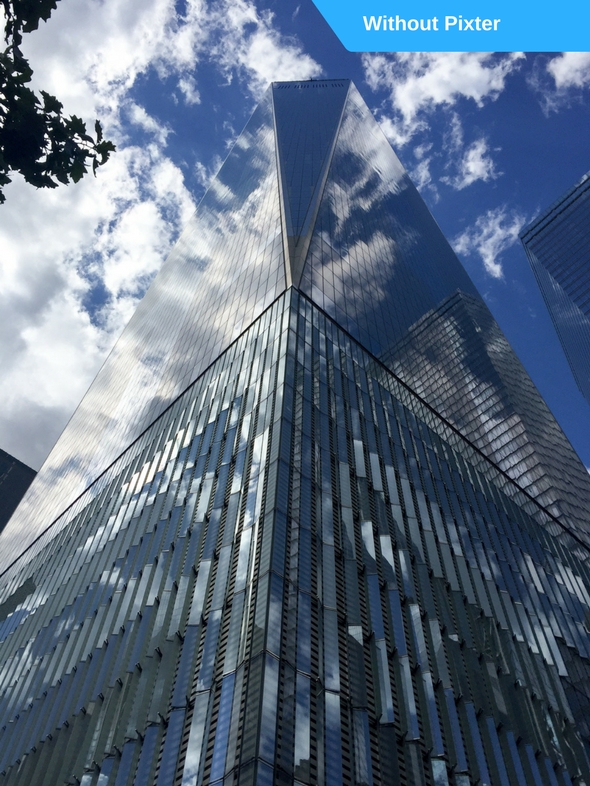 I found the Pixter Wide Angle Pro especially useful for capturing architecture but, like most wide angles, it comes unstuck when taking close up portraits due to distortion on the edges of the lens. This is to be expected from wide angle lens however.
The standard iPhone lenses have a focus length at ~28mm, by adding the Pixter Wide Angle Pro lens the focal length becomes the equivalent of 16mm. It gives you the ability to capture a lot more of the shot but like any wide angle you have to keep an eye on the edges of your shot to make sure you don't get those unwanted passers by or lampposts in by accident.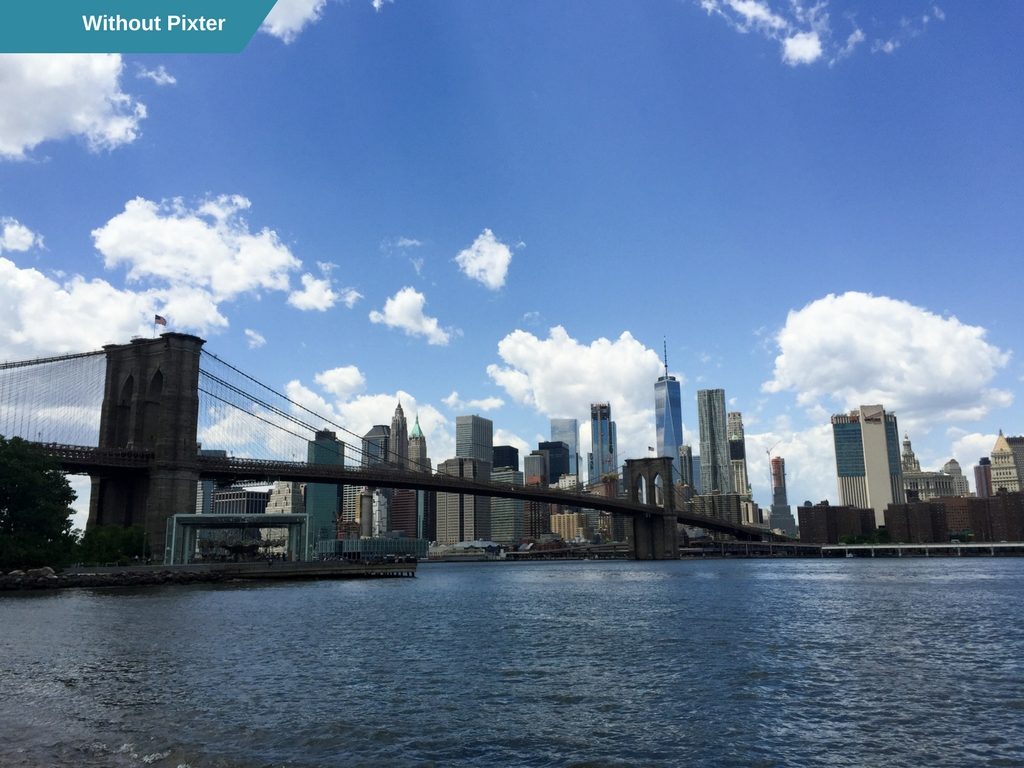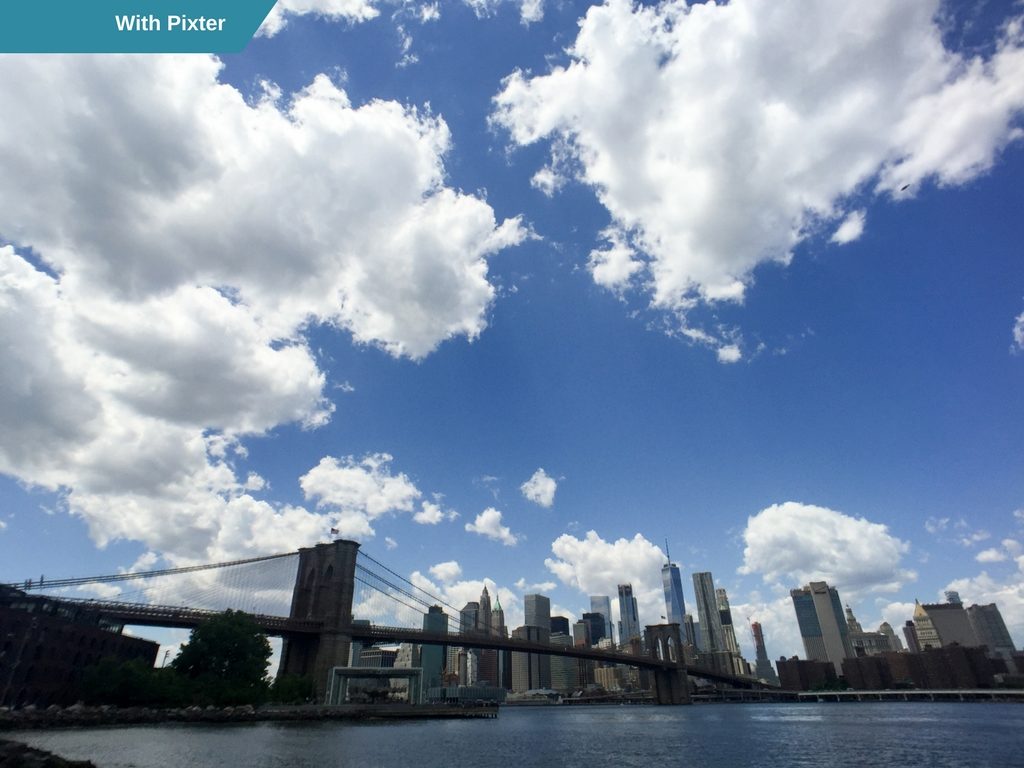 Attaching the lens is really simple, just clip it onto the phone and line up the lens over your lens. Be careful to make sure the the iPhone lens is right in the middle or you may get some dark edges in your shot.
What I Liked About It
If you've used a clip on lens before I'd suggest that you to reserve judgement until you've tried a Pixter lens, as they are very impressive. The build quality is good and they give you much more flexibility than using the standard smartphone lens.
Pixter lenses are compatible with most smartphones
The price point is very appealing, especially for the quality of the product (£49.90)
Easy to attach to phone
Comes with a cleaning cloth, bag and lens cover
I loved the extra wide angle and ability to create interesting angles
Few Things To Consider
The Pixter Wide Angle Pro lens is a very good little package but there were a couple of things that I noticed whilst road testing in New York.
As the device clips on to your smartphone, you have to be careful when putting it in your pocket as it can often get caught and fall off
You have to ensure that both the Pixter and smartphone lenses are clean and clear before taking shots
It's vital to ensure you've lined up the lens over your smartphone lens to prevent getting any unwanted black edges in your shot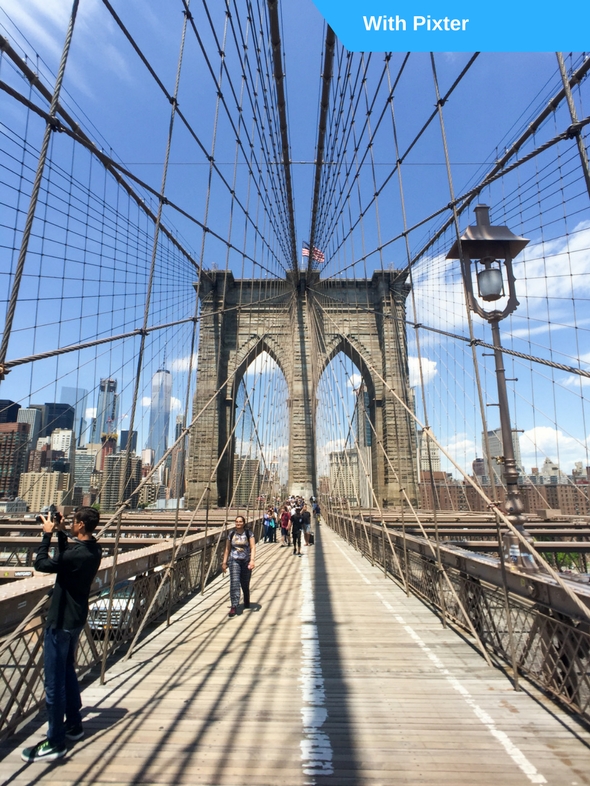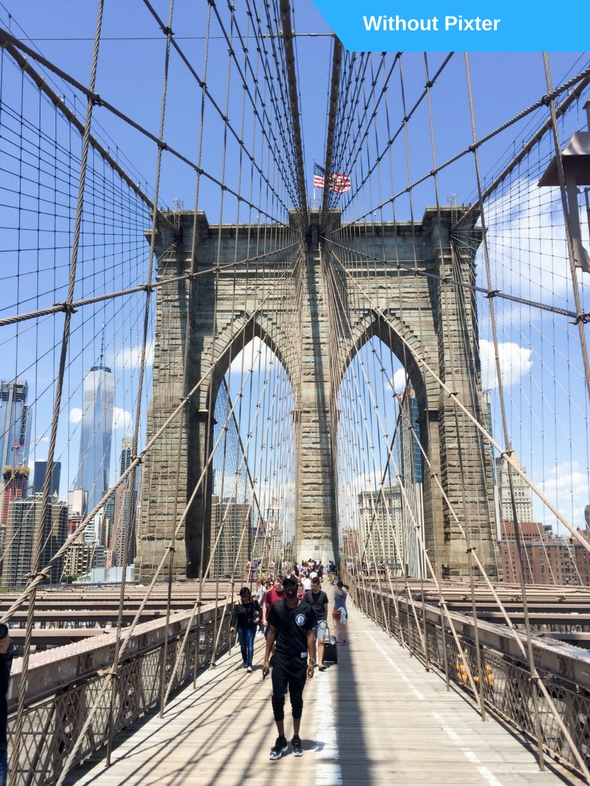 Bottom Line
If you're looking to get more creative with your smartphone photography then Pixter Pro lenses are a great and affordable option. Not only do they have superb build quality but there's also a range of fun and practical lenses to keep your shots interesting. They're extremely portable and add an extra dimension to your standard smartphone lens.