I watched the men gyrating on the marble topped bar with my mouth hanging open. Only twenty minutes before they had been soaring through the air on trapezes, high above an eager audience, as part of the evening acrobatic circus show – and yet, clearly, the night's entertainment wasn't over.
A group of French women danced eagerly in sync with the bar dancers. Well dressed men chatted easily while sipping on cocktails. Beside me, the two PR reps who had organized my trip to Marrakech were lost in the music, swinging their arms with wild abandon.
But this was no tiny nightclub, tucked away in the backstreets of the city. I was in the main bar of a prestigious resort hotel chain, faced with a group of jubilantly dancing men who were only identifiable by the name badges pinned to their shirts. Club Med staff, at your service.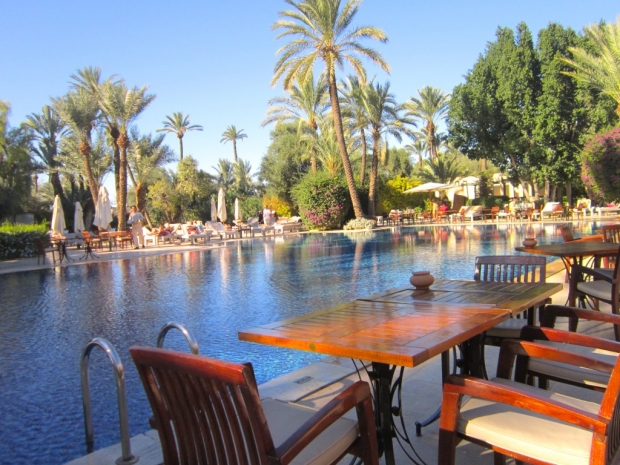 What's so great about Club Med?
Club Med have been the pioneers of the all-inclusive holiday for the last 60 years: a sector that is becoming increasingly popular as a choice of holiday. For people concerned about 'hidden costs' or the potential for extra spending once they arrive in a destination, choosing a company like Club Med makes holidaying both less stressful and better value. Because all your flights, accommodation, meals, drinks and activities are already paid for, you're free to get nicely indulgent without worrying that you're going to over spend.
Obviously, the idea of an all-inclusive does carry some sort of stigma, particularly amongst those hardy travellers who need to look after every detail of being abroad by themselves, and shudder at the idea that things can be simplified. I'm happy to admit that, for the most part, I fit completely into this category, and have often been guilty of looking disapprovingly at the package holiday concept…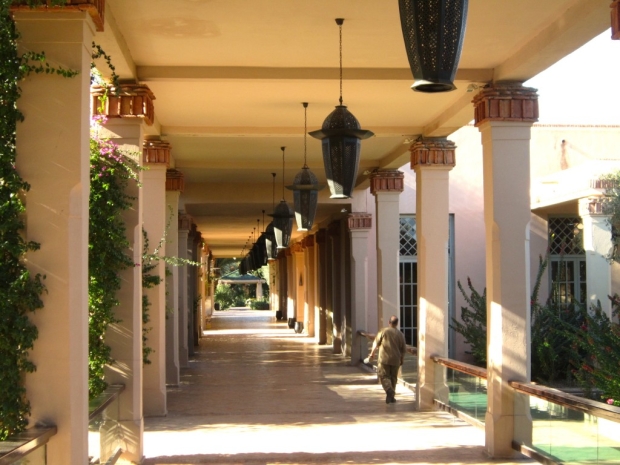 But there's something seriously luxurious about arriving at Club Med's hotel bar without your wallet, because you know all your drinks are included (well, not every kind of drink makes the list – but I don't exactly knock back Dom Pérignon on a regular basis when backpacking anyway!). And being all-inclusive in no way compromises the quality of food at the seemingly never-ending buffet, which is open for every meal time and changes its wide range of dishes daily. The only problem was having to actively decide not to go back for a third plateful! White chocolate bread, anyone?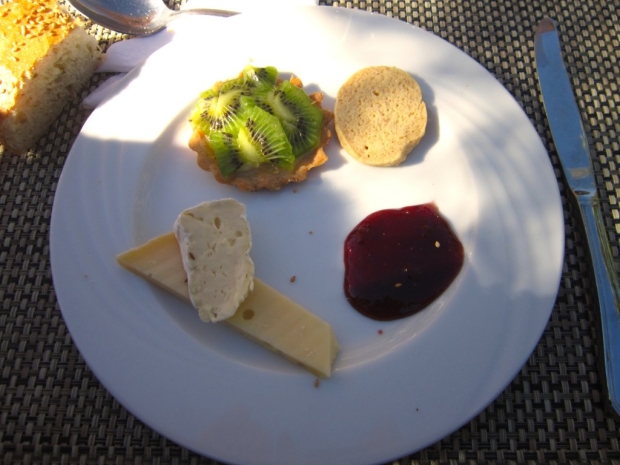 So why Morocco?
Morocco is a fascinating country, and one that many tourists want to visit. But there are certain elements – the noise, the chaos, the emphasis on dressing respectfully – that may deter some people. Due to Islam being the prevailing religion, it's also a relatively dry country in terms of drinking, so if you're the kind of traveller who enjoys a certain level of alcohol consumption during your time abroad, somewhere like Club Med could well be the place to go.
The great thing I discovered about a Club Med holiday in Marrakesh was the ability to enjoy the best of both worlds. Wandering the souks for a morning can eventually culminate in sensory overload, at which point an afternoon spent relaxing at the spa or beside the pool at La Palmeraie is the perfect antidote.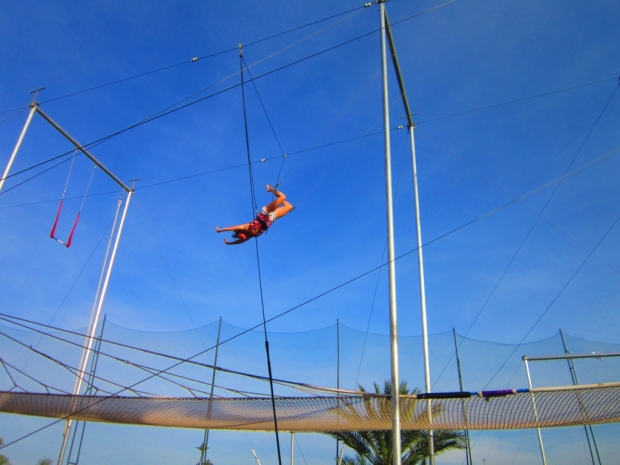 Keeping busy at Club Med
Some holiday makers need a serious amount of respite when abroad, but others crave activity – which is something Club Med are extremely good at providing. At any one of their 80 resorts around the world, you'll find facilities and instructors for a myriad of sports; La Palmeraie offers tennis, golf, archery, horse riding, a wide range of water sports and even trapeze classes! Clearly the last on that list was the favourite among our group, although it was a lot trickier than it looks. And sadly we weren't asked to partake in the evening acrobatic show. Despite our evident skills.
Our trapeze instructors, however, took gracefully to the stage that evening, throwing themselves from trapeze to trapeze, whirling around while tangled in silks – and all this activity with a day's teaching behind them, and a night of bartop dancing ahead. The Club Med staff were constantly on hand to help guests, and visibly put their happiness and comfort way above their own; something that's often lacking at other hotels, and really made Club Med's ethos of a luxury all-inclusive holiday shine through.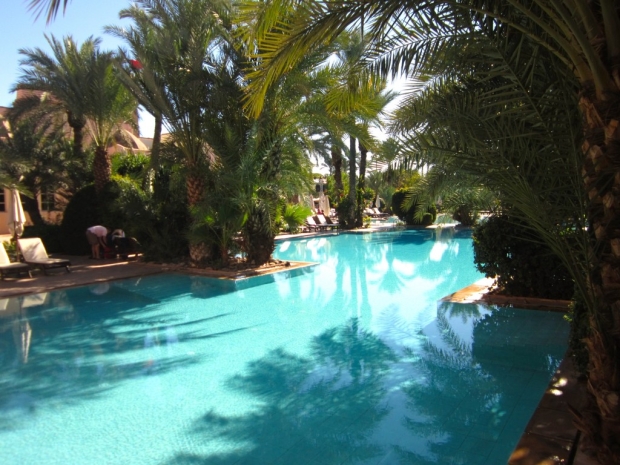 I spent three days at La Palmeraie with Club Med, and from the moment I arrived, welcomed by smiling staff bearing hot towels and mint tea, I knew I was going to enjoy the luxury all-inclusive experience. In fact, the only part of me somewhat happy to leave was my waistline.
Although I'm definitely going to miss the ability to dine on seven kinds of chocolate for breakfast.
Marrakesh cultural activities were organised by ClubMed La Palmeraie. Prices to La Palmeraie this winter season start from £679 per adult, with a departure on 12th January from London Heathrow – this includes a saving of £150 if you book by 23rd January 2013.