What would you do with a single day in a major African city? Particularly one known for its snake charmers, rogue monkeys and the dusty antiques hiding in every twist and turn of the never ending souks?
Simple. You arm yourself with a camera and some cash, make sure you're clad in a set of appropriate clothing, and head out into the crazy and seductive world of Marrakech.
Discovering Morocco
Morocco has long fascinated me as a travel destination. Because it's only three hours flight from my base in London, yet also located on the edge of North Africa, it's often felt so near and yet so far away! I almost made my first visit on an InterRailing trip a few years ago, until the requisite ferry trip from Southern Spain proved too long winded; so when I finally got a chance to visit Marrakech this month, I was more than willing to get stuck right in.
For many people, Morocco is where they take their first steps into Africa. And the first impressions that Marrakech gives are impressive; bright colour, dappled light, and an intoxicating array of smells combine with the dust, crowds and constant chattering of French and Arabic heard at every corner. Eventually, there's a chance of getting a bit overwhelmed with it all.
However, it's possible to see another side of Marrakech – in particular, a rather calm and stylish one. And it's all hiding in the details.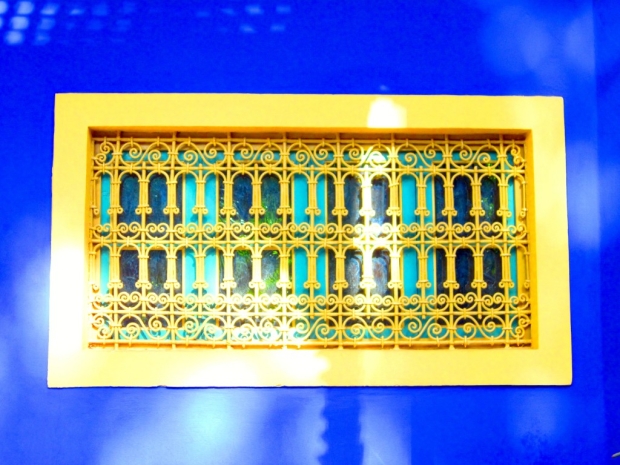 The Majorelle Gardens
In the morning, when the city is still half asleep, the Majorelle-Yves Saint Laurent gardens are a perfect place to start a day of sightseeing. Built in 1919 by the French painter Jacques Majorelle and eventually bought by the ubiquitous French fashion designer in 1980, this beautiful site is filled with tropical greenery, swathes of bougainvillea, carefully maintained cacti from around the world and the most intense cobalt blue paint I've ever seen!
Walking quietly along the garden's twisting paths and ducking under palm fronds is a great respite from the noise and clamour of Marrakech; it's a true oasis in the midst of a dusty city.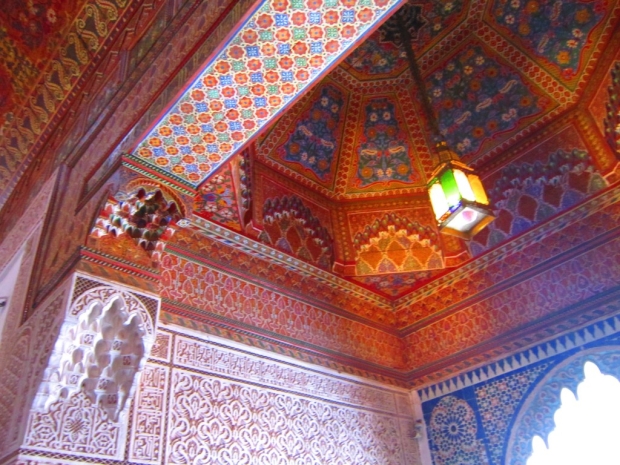 Palais Bahia
Built at the end of the 19th century by a sultan for his harem, this homage to Islamic and Moroccan art is simply stunning, and definitely warrants the amount of tourists stumbling through the corridors in open mouthed wonder.
The high ceilings and countless walls are covered in intricate decoration, and the light streaming in from above creates both a photographers dream and a tour guide's nightmare as a result. I felt like a naughty school child half of the time, leaving our guide's patience ebbing away as I took photos of ceramic floor tiles, stained glass window reflections and the painted eaves of the roof.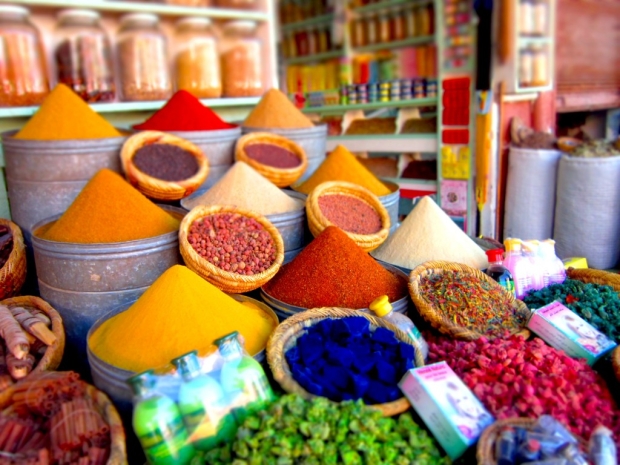 The souks
These covered shopping streets are often portrayed like something out of a mystery novel; dark alleyways, dodgy dealers and the constant likelihood that you'll get lost. And while the last point is certainly true, there's also a wealth of bargains to be found, if you just look hard enough.
From pungent spices to soft leather slippers, brightly woven carpets to delicate metal lanterns, and polished wooden boxes to glass bottles of Morocco's famed Argan oil, the souks are the perfect place to some serious shopping. The only problem is holding the bartering stall holders at bay while you mentally judge how much you can fit into your suitcase…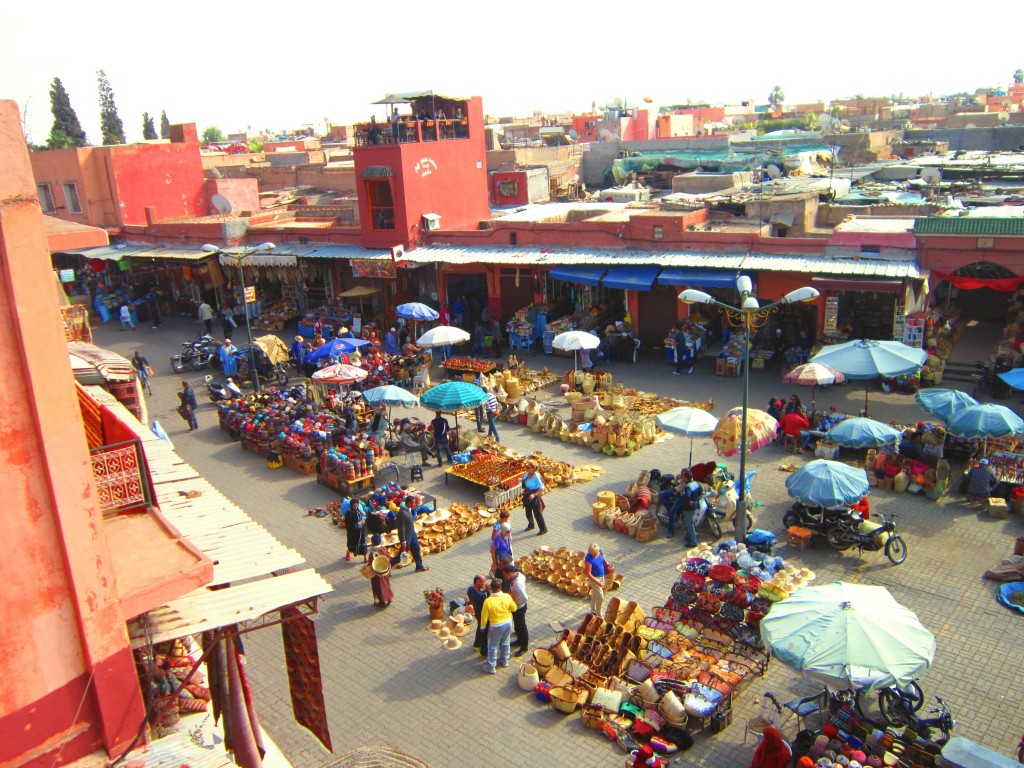 Dining in the air
After a breathless dash through the souks, grabbing a bite to eat from up high is a perfect way to get some perspective on the relatively flat city of Marrakech.
The balcony of Cafe Espices offers a wonderful view of the souk and its inhabitants, as well as a daily menu of Moroccan specials, and deliciously spiced coffee and tea. It's also amazingly quiet, making it all too easy to while away an afternoon people-watching from up here!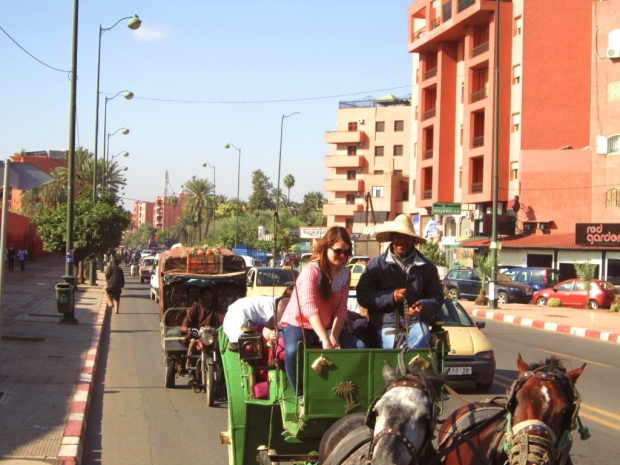 Heading home in style
When you think you're ready, it's time to venture back into the crowded streets again – but who said you have to walk? Jumping aboard one of the horse-drawn carriages that frequent Marrakech means you can get a different view of the city, at a wonderfully slow and sedate pace.
And who knows, you might even be able to drive the horses home yourself.
The trip to Marrakech was sponsored by ClubMed.