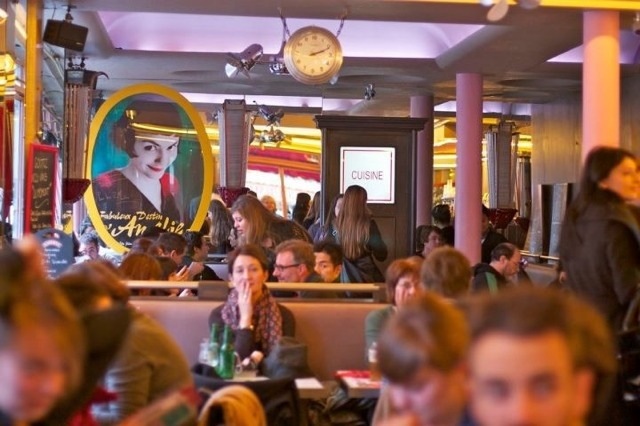 "On a recent visit to Paris, Milene Bronzatti took the opportunity to visit the locations from the enchanting film Amelie."
It's been ten years since Amelie was released and considering the number of times I have watched it, I can pretty much rank it as my favourite movie of all time. As much as I love a good film I rarely watch them more than once (excluding 80s classics such as Back to the Future or Grease, of course).
Last weekend my lovely boyfriend took me on a surprise trip to Paris (disguising it as a romantic getaway in Blackpool, UK until the very last minute) and obviously I squeezed Amelie's film locations into my already crammed "things to do in Paris" itinerary.
It may not be remarkable for some, but for me a visit to the Les Deux Moulins Cafe in Montmartre was as exciting as seeing the Eiffel Tower for the first time. Due to the lack of time and poor planning we weren't able to see every single film location but we managed to see the most significant ones.
Paris and more specifically Montmatre (director's Jean-Pierre Jeunet's home) was chosen as the hub for the fabulous world of Amelie. It's easy to see why it was choosen as Montmatre is an absolutely charming area, although it can be a little touristy it's definitely worth a visit.
Here are the film locations that any fans of the film should visit.
1. Notredame Cathedral
If you have been to Paris, you probably have been to a few of the film locations without even knowing, one in particular is Notredame Cathedral. In one of the films opening scenes, the Cathedral tower is the place chosen by a tourist who decides to commit suicide as a result of killing Amelie's mother when Amelie was still a little girl. It sounds more dramatic than it actually is.
Notredame Cathedral
6 Place du Parvis Notre-Dame
2. Cafe Les Deux Moulins
Art deco Cafe Les Deux Moulins in Montmartre is where Amelie works surrounded by interesting characters such as Georgette (Isabelle Nanty), a hypocondriac who sells tobacco and lottery tickets as well as Gina (Clotilde Mollet) whose jealous ex-boyfriend Joseph (Dominique Pinon) became a regular at the cafe with the intent of recording her conversations and interactions with customers, especially male ones. As soon as I walked in, I was transported to the colourful film. Absolutely magical. It can be quite a challenge to find a seat by the kitchen were there is an Amelie's portrait. Do not forget to try their crème brulee named after the film protagonist.
Cafe Les Deux Moulins
15 Rue Lepic 75018 Paris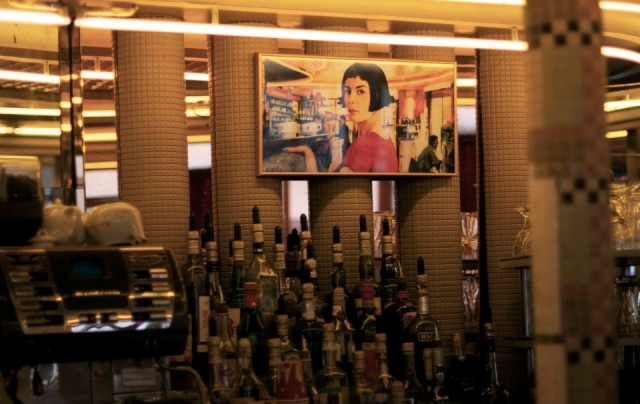 3. Au Marche de La Butte
The grocery shop where goofy Lucien (comedian Jamel Debbouze) and his bully boss Mr. Colligon (Michael Robin) work right below the building where Amelie lives.
Au Marche de La Butte
56 rue des Trois Frères
4. Métro Lamarck-Caulaincourt
Not far from the Au March de La Butte you can find the double staircase of Métro Lamarck-Caulaincourt where Amelie drops the blind man off after taking him for a transcendently descriptive stroll of the Rue Lamarck bustling markets.
Métro Lamarck-Caulaincourt
53 Rue Lamarck
5. Pont des Arts
Amelie decides to help mankind while crossing the wooden bridge by the Louvre.
Pont des Arts
6. Rue Mouffetard
The famous phonebooth where she returns Mr. Broteadeau's box, her first official good deed.
Rue Mouffetard at rue Clovis, Paris
*Down in the Left Bank's cosmopolitan Latin Quarter, not far from the Pantheon.
7. Le Verre a Pied
The bar in which she overhears Mr. Broteadeau narrating the result of her good deed.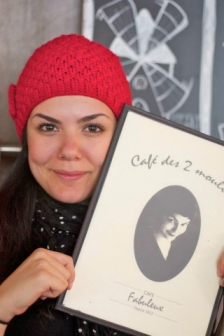 Le Verre a Pied
118 bis rue Mouffetard
8. Métro La Motte-Picqet-Grenelle
Amelie sees Nino's posters 'When and Where?' spreaded throughout the La Motte-Picqet-Grenelle station.
Métro La Motte-Picqet-Grenelle
9. Gare de L'est Station
The mystery of the bald man whose photos are everywhere is solved in the ticket hall of Gare de L'est station.
Gare de L'est Station
10. Butte Montmartre
Amelie gives Nino a task involving following blue arrows and mysterious phone call instructions in front of the Sacre Coeur steps.
Summit of the Butte Montmartre
11. Palace Video
Amelie's platonic love Nino Quincampouix (Mathieu Kassovitz) works at Palace Video, a sex shop in the raunchy Pigalle district moments away of the infamous Moulin Rouge.
Palace Video
37 boulevard de Clichy
12. Saint Martin Canal
Among all beautiful things little Amelie does, throwing stones in the water is one of them.
Saint Martin Canal
Quai de Valmy
After finishing the article I am extremely tempted to watch the film again,  it has been a while since I last saw it and after my visit to Paris I really want to see whether I can spot a few more of the locations I have may been to.