Purifying holy water, Hindu temples, expressive statues, unusual varieties of coffee, local artists and volcanic views, our Balinese lifestyle tour by Alila Ubud resort really covered some ground.
We were nearing the end of our trip in Bali where we were testing out Three's Feel at Home tariff. We had so much to look forward to as Alila Ubud resort had organised a Balinese lifestyle tour for us.
We were picked up at our hotel in Ubud by our driver, Suwitra, who welcomed us with a smile and happy demeanour that we'd become so used to in Bali.
Suwitra, a friendly character who was noticeably glad to share his culture and its traditions with us, he was clearly proud of his people and the beauty of the island.
We had been staying close to the Monkey Sanctuary in Ubud and after three days we were ready to head out and explore a little further a field than the busy pavements of this little town.
BALINESE ARTWORK
The first stop on our Balinese Lifestyle tour was at the painting school in Kelilki located on the outskirts of Ubud. When we arrived we were welcomed by Iwayan, a Balinese artist who voluntary runs the art school to help nurture artist talent in the local area.
He had first started the project to provide extra school activities to kids in the area as well as to preserve this traditional style of painting which is actually named after the village itself.
The situations pictured in Keliki style paintings are typically taken from daily activities such as local ceremonies and harvesting. The paintings are first sketched by pencil, then outlined and shadowed with Chinese black ink. The final step in the slow, meticulous process is to apply diluted acrylic paint in a similar technique to that which you'll find in watercolour painting.
The Keliki style is extremely detailed and some paintings can take up to months or even years to be completed, the attention to detail, skill and care taken usually produces some stunning results.
If you are an art lover, we highly recommend you to make some time in your itinerary to pop by and say hello to Iwayan and his talented students.
All sales from the paintings are put back into to Iwayan's project.
After Keliki, we headed to the Bali Pulina Agro Tourism in the village of Tegalalang, which is famous for the world's most expensive and controversial coffee, Luwak.
Luwak beans are obtained due to an inability that the civet cats have to digest coffee berries. The civets eat the berries for its flesh but the beans are passed undigested but softened due to the animal digestive enzymes.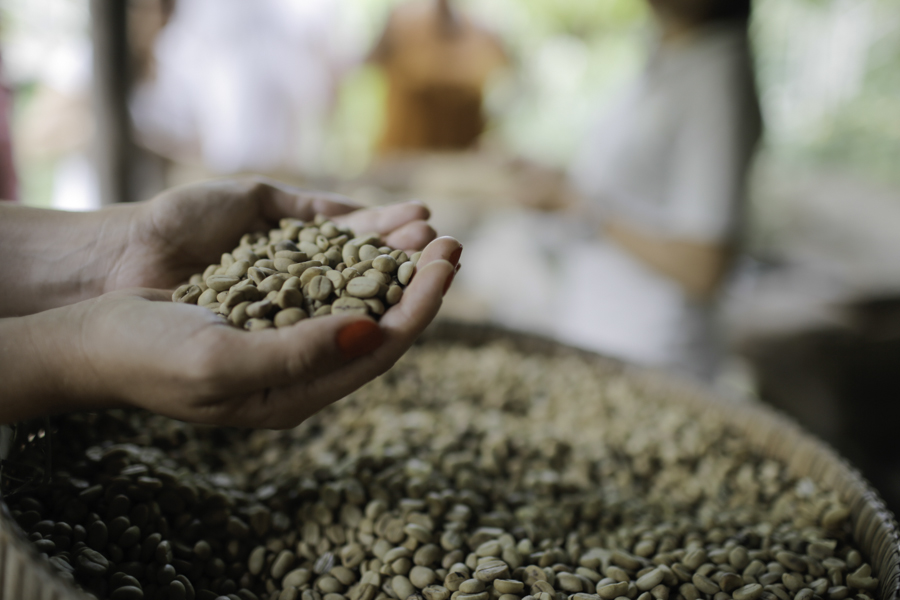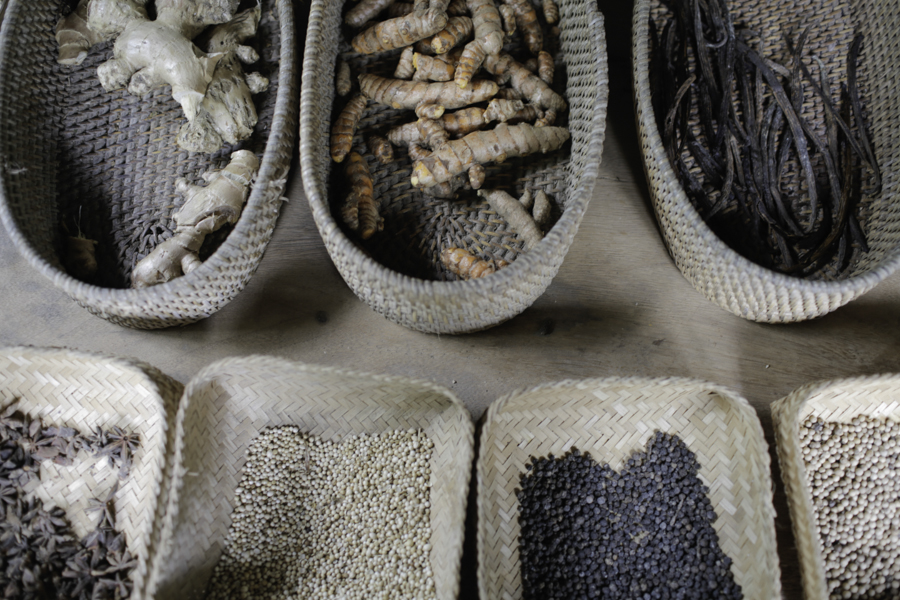 Our guide assured us that the coffee produced here comes only from beans collected in the wild and that the few caged civets are for the tourists to view.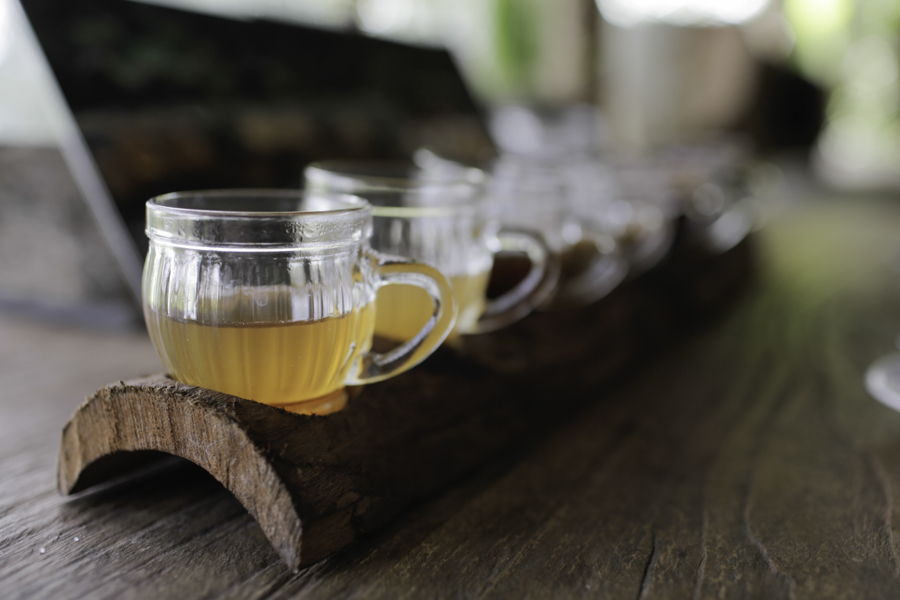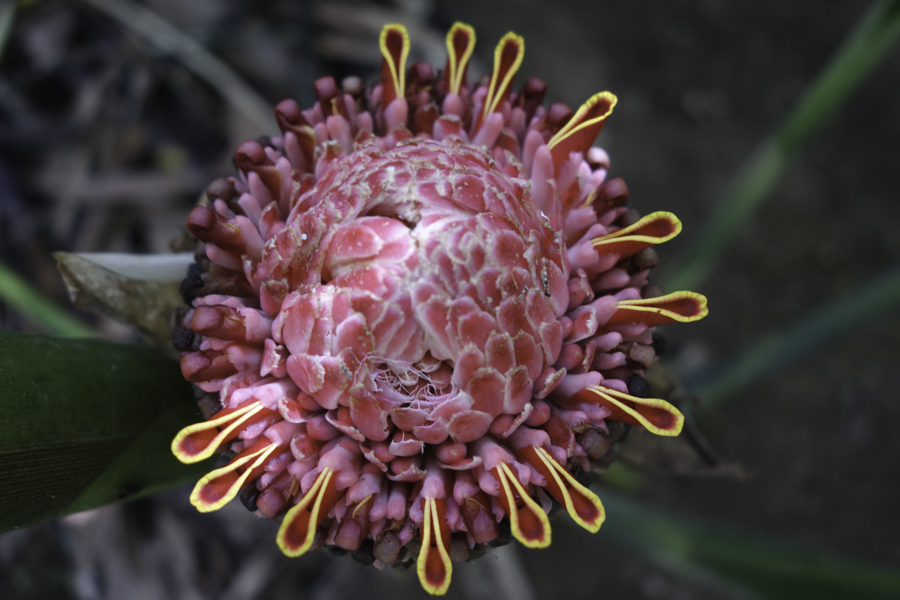 A cup of Luwak can cost up to £45 while here it'll cost you 45000IDR (approximately £2.25) for the pleasure. Paul felt adventurous but as I am strictly against ingesting anything that has been previously swallowed, I passed on the opportunity and chose regular coffee and tea tasting instead.
Bali Pulina is set in a beautiful location amidst Tegalalang rice terraces where you can sit back and enjoy magnificent views across the fields below whilst sampling their vast coffee and tea selection.
TIRTA EMPUL HOLY WATER TEMPLE
The Tirta Empul is said to have holy water that has drawn Balinese Hindus worshipers for more than a thousand years.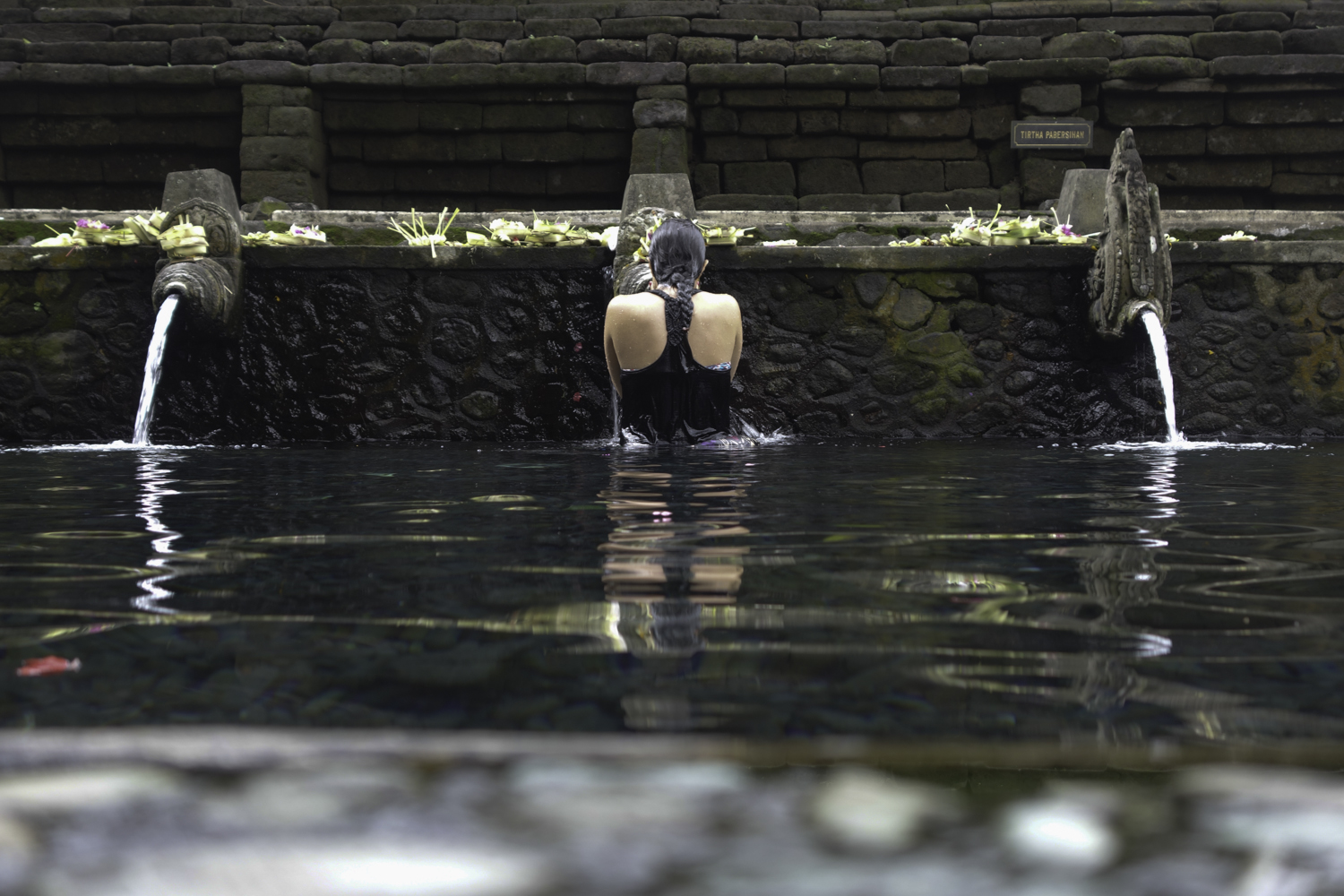 As Bali is an intensely spiritual place, any tour you take will probably include a stop at one of the numerous fascinating temples scattered all over the island.
We stopped at Tirta Empul Temple where the holy water springs are believed to possess magic curative powers.
As explained by Suwitra, it is believed that there was a king named Mayadewana whose supernatural powers made him an arrogant and incredulous monarch who objected God's worshippers, prohibiting any prayers and demonstrations of faith.
This lead to a sequence of epidemics and natural disasters that decimated the population.
A Hindu God called Indra alongside his warriors, took the king's throne but were soon poisoned by Mayadena who used toxic waters. Indra then pierced the earth at the site where water sprang and brought his warriors back to life.
It has since been believed that the holy waters are a source of life and prosperity, attracting locals from all over the island.
The entrance fee costs around 15000IDR (approximately 75p) which includes a sarong and if you do wish to bathe in the temple's sacred waters, I'd recommend you to take a change of clothes and a further 10000IDR (approx 50p) for a locker plus an extra sarong.
VOLCANO VIEWS
Head up to the Lookout Restaurant balcony for impressive and expansive views across lake Batur and one of Bali's largest volcanos, Kintamani.
Our last stop was, as suggested by Suwitra, the Look Out Restaurant where we had lunch while enjoying spectacular views of lake Batur and Kintamani, one of Bali's largest volcanoes.
ALILA UBUD
After a day of exploring temples, rice fields, art schools and sipping exotic coffee we arrived at Alila Ubud hotel. The hotel is set in a unique hillside location surrounded by lush vegetation conveniently a few miles away from the hustle and bustle of central Ubud. It's a lovely hotel to relax, unwind and is located in a great spot to explore the local area.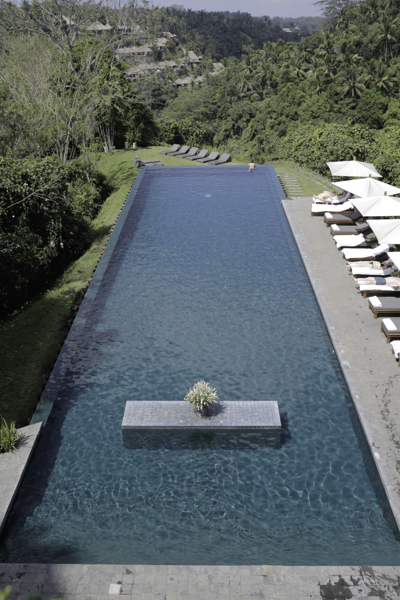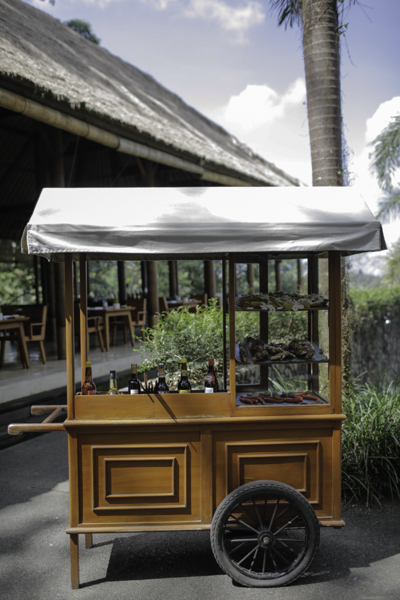 This tranquil retreat feels even more secluded and intimate than its sister hotel Alila Manggis, despite having more rooms and being spread across a much larger site.
We were lucky enough to be given a Deluxe Room which has a spectacular view of the valley from the private garden terrace at the front. The room even had its own outdoor shower and bath (with privacy of course!) so you can take in the sounds of the local wildlife whilst relaxing, it was a nice touch.
The resort luxurious architecture perfectly blends the modern with traditional Balinese style and every detail is meticulously thought of. I was pleasantly surprised to learn that it was Cinema Night on the day we arrived and that 'Eat, Pray and Love' was being shown at the poolside that evening.
I was planning to re-watch the film after visiting Bali and couldn't hide my excitement that it was on, somehow the staff at Alila had noticed and arranged our dinner by the pool so I could enjoy the film while dining. Much to Paul's discontentment. It's exactly this kind of attention to detail that really sets a good hotel apart from the rest.
POOLSIDE
Alila Ubud hotel's beautiful poolside view overlooks the rice terraces and the Ayung River providing a perfect setting to relax and take it easy… or for those that are feeling a little energic to attempt a few slow lengths.
Our 7-course dinner was absolutely faultless and as a bit of a foodie, every course was unique, interesting and surprising in their own different way.
We even had the Chef appear at our table to ask how we found the dinner and to explain what ingredients went into each dish.
I was up early the next day for a complimentary Tai Chi lesson by the pool edge and overlooking the Ayung river followed by a set menu breakfast in their open plan Plantation Restaurant. A perfect way to start the day.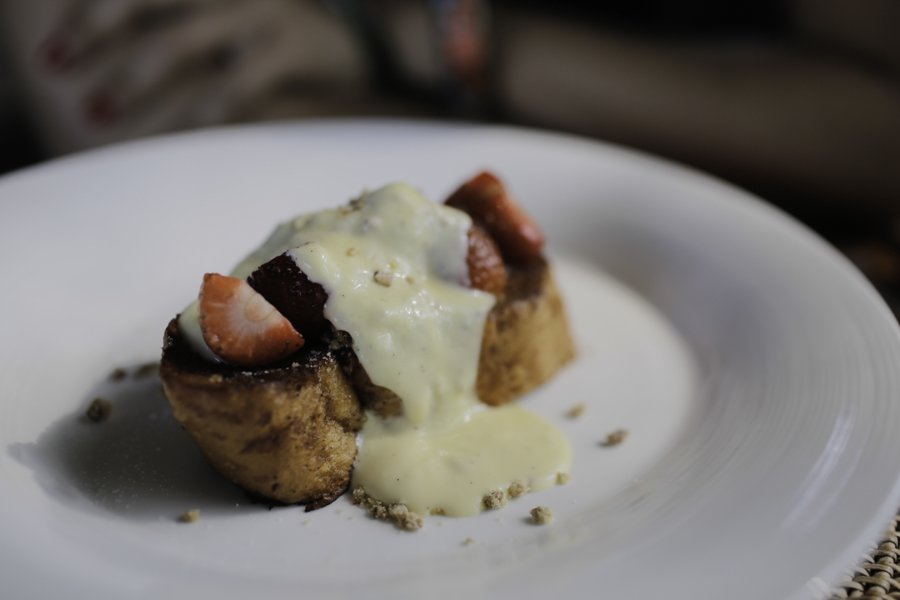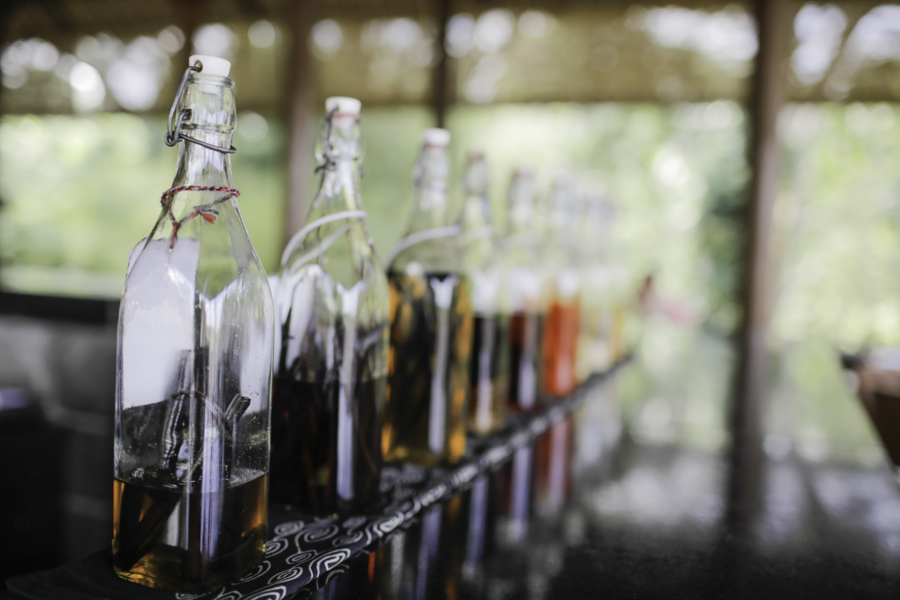 Alila Ubud also has an organic garden, art gallery, a spa, sculpture garden and a boutique all onsite. With free bicycle hire, complimentary transfers to Ubud and local experiences such as the Balinese Lifestyle tour available, Alila has plenty of options for those that would like to explore the surrounding area.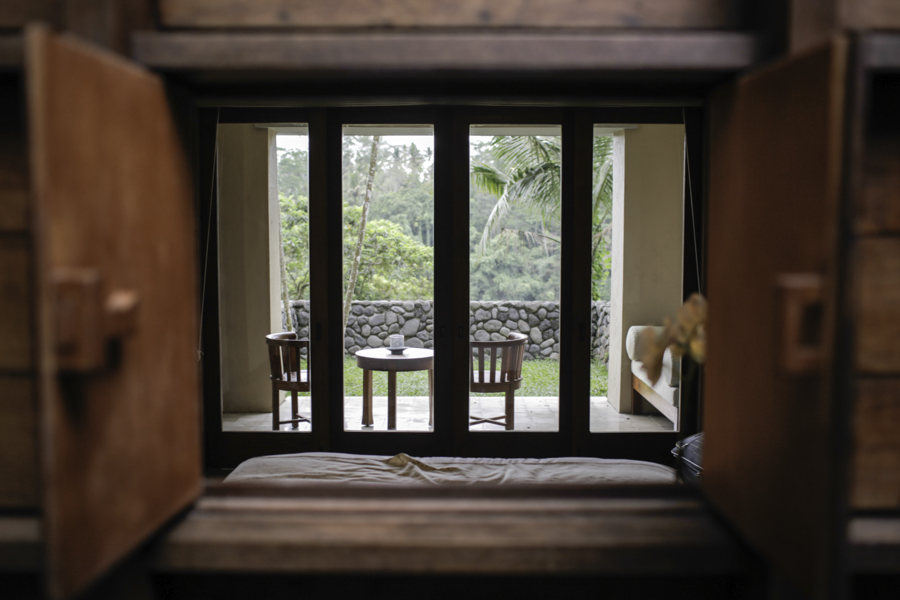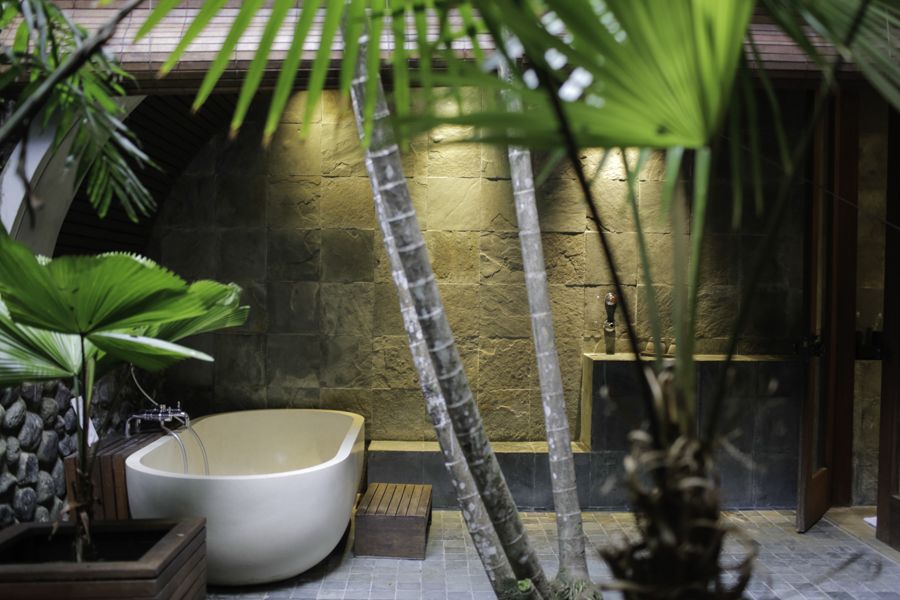 We only had time to stay just one night due to our flight times but we really wanted to stay much longer, to relax, unwind by the pool and to take a cycle around the local rice terraces.
We left thinking that we could have spent much more time at Alila Ubud and Bali. Our Balinese lifestyle tour really gave us a insight into some of the aspects of Balinese life, it was interesting, informative and delivered with Balinese smiles and humour.
We knew that bidding farewell to Bali was not going to be easy but all I could feel was gratitude to have had the opportunity to visit such a truly special place.
This post was brought to you in partnership with Three and Alila Ubud. TravMonkey.com maintains full editorial control of the content published on this site.