From Buckingham Palace to Big Ben, London's major monuments are globally renowned. And while the capital's big art galleries, museums and other famous attractions certainly merit the traveller's attention, if you're looking for a laid-back way to check out London life, a trip to one of the city's many markets might be just the experience you're looking for. From food to fashion, London market traders have got it covered.
Broadway Market
This low-key market on the Hackney street of the same name is a perfect choice if you want to escape the hustle and bustle of central London. Small-scale Broadway Market, in action since the late nineteenth century, features stalls selling fresh produce, chic cakes (try one of Violet's cupcakes), handmade jewellery and vintage fashion. The street is also lined with plenty of cafés if food-to-go doesn't take your fancy.
On: Saturday
Nearest station: London Fields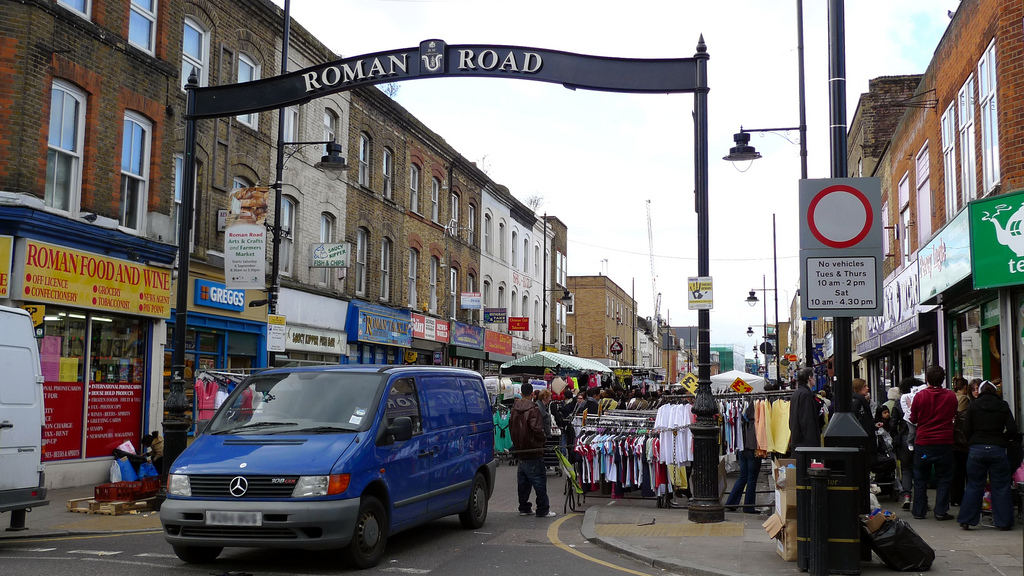 Roman Road Market
In deepest East London, the traders of Roman Road will put UK visitors in mind of a certain soap opera. Much more rough and ready than trendy Broadway, this is the place to come for cheap clothing, with many top chain-store designs on sale at bargain prices. There are also plenty of household goods, fruit and veg and cheap make-up on offer.
On: Tuesday, Thursday, Saturday
Nearest station: Mile End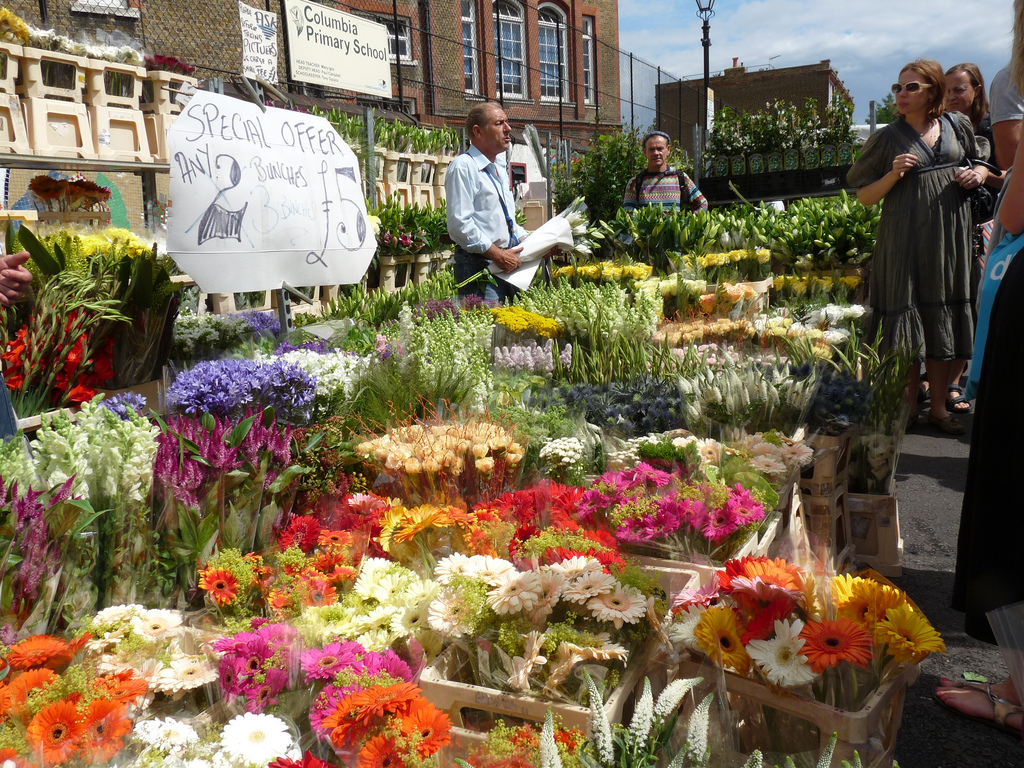 Brick Lane/Columbia Road Flower Market
For something a little different, head to the Bethnal Green area on a Sunday and witness the chaotic craziness of Brick Lane. If you can elbow your way through the crowds of trendies, there are plenty of edgy cafes and bars still continuing Saturday night's party (try Cafe 1001 and The Big Chill). As for the market, individuals stake their claim on a bit of pavement and peddle anything from broken radios to handmade earrings. There are also several indoor markets along the street, including the Sunday Upmarket, which sells one-off clothing and accessories as well as food. Also nearby is Columbia Road Flower Market, an atmospheric oasis of foliage which pops up once a week.
On: Sunday
Nearest station: Liverpool Street/Bethnal Green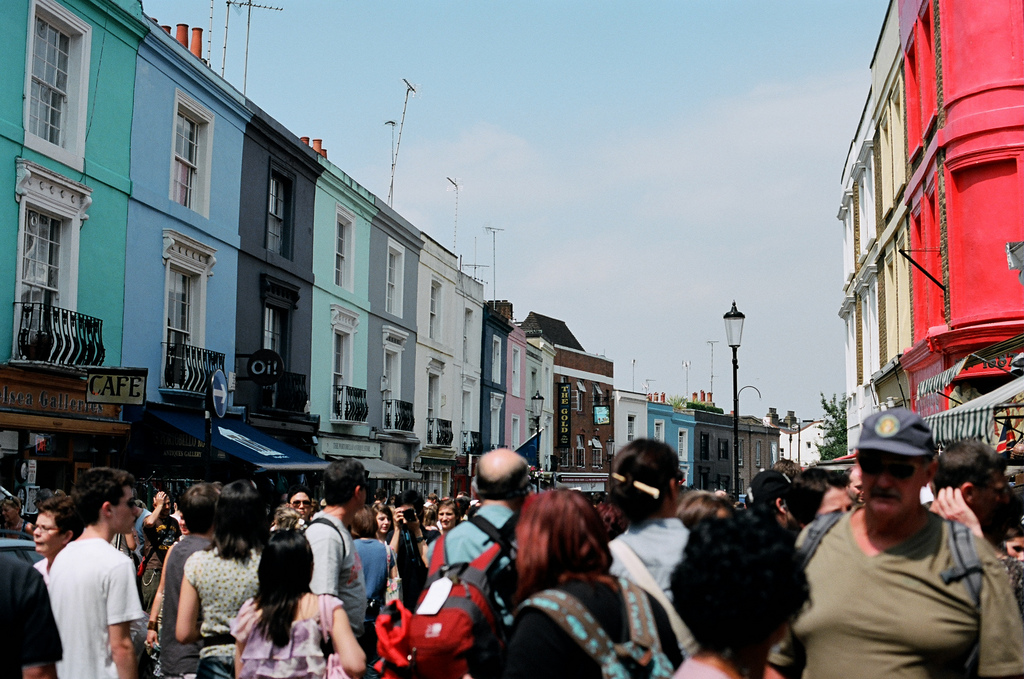 Portobello Market
One of London's most famous, this market in the heart of Notting Hill is a bustling treasure trove of antique furniture and vintage clothing. In between rifling for bargains, grab a take-away lunch at one of Portobello Market's food stalls. You'll certainly need stamina – the market stretches for two miles!
On: Monday-Wednesday, Thursday morning, Friday and Saturday
Nearest station: Notting Hill Gate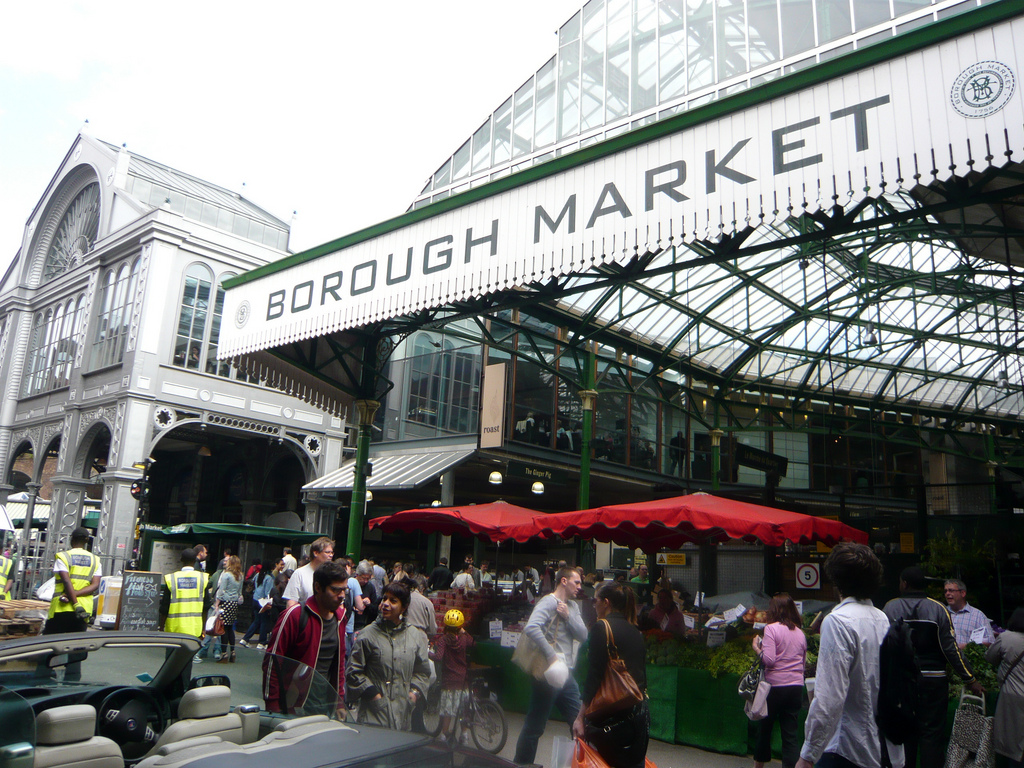 Borough Market
London Bridge's Borough Market is all about food. In addition to the usual fruit, vegetables and meat, you'll find luxury cheeses, artisan breads, international delicacies and enough sweet treats to make you salivate. There's also plenty of food-to-go, with the sausage stall always proving particularly popular. If you're a bit of a gourmet or looking for that special ingredient for a dinner party, busy Borough's your market.
On: Thursday-Saturday
Nearest station: London Bridge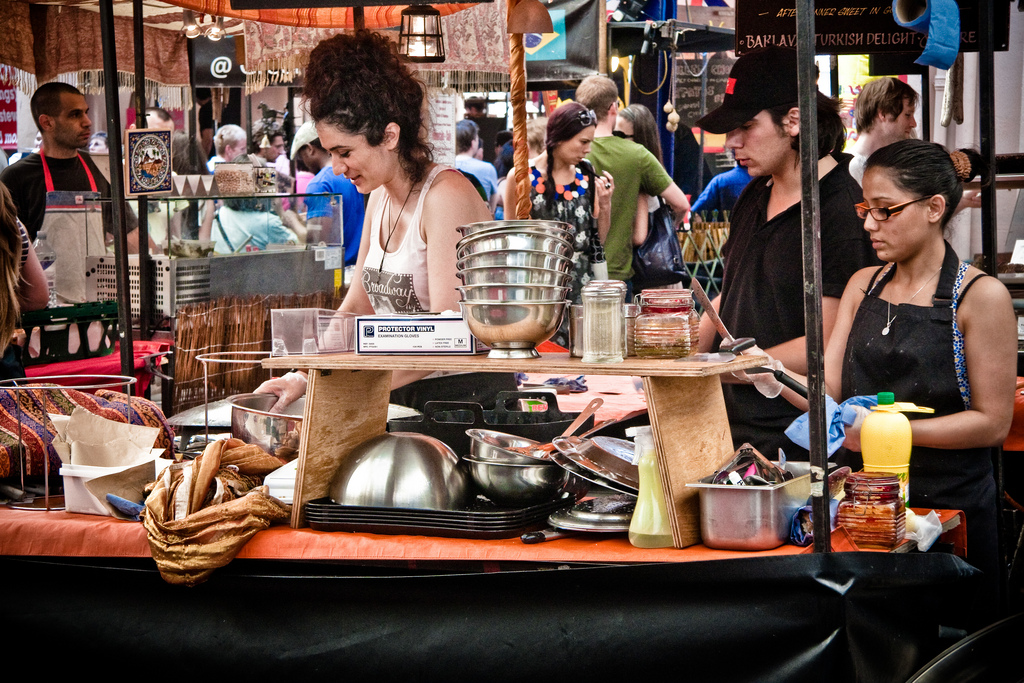 Greenwich Market
A small but popular undercover market south of the Thames in World Heritage Site Greenwich. Originally a produce market, stalls now also offer shoppers takeaway food from all over the world, arts and crafts and plenty of stylish clothes and accessories. The surrounding cafés are open all week, and make an ideal standpoint to survey the market's comings and goings.
On: Wednesday-Sunday
Nearest station: Greenwich
Photos by:
Broadway Market – magnusfranklin
Roman Road Market – Ewan-M
Brick Lane/Columbia Road Flower Market – GanMed64
Portobello Market – unicellular
Greenwich Market – garryknight