James Furniss takes on the notoriously tough 3 Peaks Challenge testing out a brand new pair of Merrell Intercept trekking trainers.
The 3 Peaks Challenge isn't your average hiking challenge, it involves climbing the 3 highest peaks in England (Scafell Pike), Scotland (Ben Nevis) and Wales (Snowdon) in 24 hours. Last weekend I took on that challenge.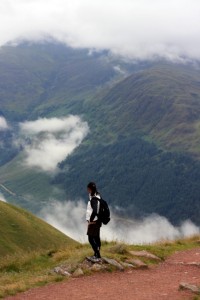 It was an early start at 4.50am on Saturday morning but the weather was good, almost perfect for hiking. We chose our route in advance opting to climb Ben Nevis, Scafell Pike and then Snowdon, this allowed us to walk both Ben Nevis and Scafell Pike during daylight hours with an easy Snowdon path to be climbed during the night.
Prior to the challenge I was a little concerned about what footwear I would need to complete this gruelling test of fitness, both comfort and safety were my main concerns. I had a dilemma between choosing a pair of trekking trainers or hiking boots. Hiking boots would offer a good degree of support but on the other hand trekking trainers offer more flexibility, would be lighter and in turn would allow me the option of running just in case I needed to make up time along the route.
I decided to take a pair of Merrell Intercept trainers (Supplied to us by fitness footwear) mainly because these wouldn't need time to wear in like a pair of hiking boots. The Merrells were pretty perfect for the challenge, not only were they comfortable, quick drying but most impressively they didn't give me any blisters throughout the 11 plus hours of hardcore hiking.
…most impressively they didn't give me any blisters throughout the 11 plus hours of hardcore hiking
I was also impressed with their performance as they hadn't previously been worn in, they gripped well on some extremely wet and slippery paths and provided a good cushion between the soles of my feet and the challenging terrain.
There is no doubt that the 3 Peaks Challenge is definitely a challenge, we completed Ben Nevis in 4.10 hours, Scafell Pike in  3.25 hours and Snowdon in 4 hours. The biggest test came in the form of Snowdon due to our sleep deprivation, hiking through the dark and carrying our weary legs after the 8 plus hours hiking up mountains.
Finally we finished at around 6:30 am on Sunday morning, the hike took just over 24 hours and was certainly as described, a challenge.
If you're thinking of braving the 3 Peaks yourself pay a visit to –  The Three Peaks Challenge
If you're looking for a good pair of trekking trainers try – Merrells
Merrel Intercept Trainers
Reviewed by
James Furniss
.
Rating:
8.5