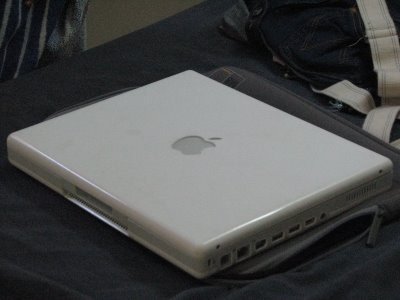 In a word, "no".
I can actually feel
myself boiling up with anger when thinking about this issue. It amazes me that anyone can actually sit down and consider taking a laptop around the world. I'm not talking about staying in posh hotels or on a business trip, but when traveling on a budget for a long period of time.
The answer is just so obvious, why would you need to ask the question in the first place?
Let's see, what type of person would require a laptop to take traveling with them?
I can think of perhaps two:
1. A Web/Software Developer
2. A Writer/Journalist
update(3. Photographer)
I could realistically see either of the jobs above needing the use of their own personal computer while they are on the road. If you aren't working as either a web/software developer or a writer/journalist then you don't need to take a laptop with you. I travel with my MacBook Pro
when I'm working whilst traveling, it's big, heavy and a pain to carry but sometimes I need it. If I had enough money I'd opt for the much ligher Apple MacBook Air
. If I'm not traveling and working I'd much rather leave it behind.
Marketing To A Gadget Driven Society
It amazes me that today everyone seems to want to have a top of the range laptop. It's probably a testament to slick marketing that people find small, slim, sexy, powerful, (expensive) laptops appealing.
Most users who simply burn DVD's, CD's, watch DVD's, write emails or a blog don't need a super all singing all dancing laptop, unless you use it for work. Recently my own Mother went "online", having not much of a clue about computers or the Internet she just presumed she required a laptop to do the job. It seems desktops are highly unfashionable these days.
"But I need my laptop to…"
For too many young people, a laptop seems like some kind of status symbol, "look at me I can burn a DVD and check my email at Starbucks".
The question you've got to ask yourself is, do these people really need a laptop? The answer is, "no". Now to get back onto my point, if they don't really need a laptop, do they really need to take one on a long trip or around the world?
I think you already know the answer.
You'll often hear such arguements as:
"I need it to back-up my photos" – You could equally just walk into a Internet cafe and burn them onto a CD.
"I need it to write my blog , emails and to keep in touch with people on the road" – If you need to write an email, burn a CD or write a blog, again you can do it all cheaply in an Internet cafe.

"I want to watch DVD's on the go" – You can watch DVD's in most hostels, guesthouses and planes. When you're on the train or bus just read a book.

The hassle involved with taking a laptop on a long journey is simply not worth it unless you are in fact a journalist, writer or web/software developer. The weight of carrying such a device around with you would drive you insane after a while, not to mention having to find a secure place to keep it.
By taking a laptop you'll find yourself constantly watching over it or trying to find a big enough safe to fit it in. It's bad enough looking after an out of date mp3 player, digital camera and mobile phone let alone a laptop.
With the number of Internet cafes in backpacker hot spots these days there is really no excuse to be lugging around a shiney new laptop. The Internet cafes are so readily available in most places (OK, Hong Kong is pretty useless in my opinion) that you'll probably be kicking yourself that you ever thought of bringing your precious laptop in the first place.
Imagine taking a laptop to poverty stricken regions such as India, Laos or Cambodia. All just to watch some DVD's, write a few emails to friends and to post a blog entry on your own personal computer.
Sounds like a stupid idea, doesn't it?
But there are people out there right now, doing just that.
If that still hasn't put you off taking your laptop with you,
Seven Tips For Taking A Laptop Travelling from Travel Happy.info sees the other side of the argument.
Do you have an opinion on taking your laptop traveling? Maybe you've taken one before?
Feel free to comment below…