A huge gust of wind hit the sails throwing us off course dramatically, the captain battled with wheel as the boat dipped into a wave. We clung on to anything that would keep us on board the boat.
There were no signs of major panic from the captain, but it hadn't helped that earlier on our sailing trip he recalled a story of the passengers waking up one morning with the boat completely off course whilst telling us that keeping a poker face meant the passengers would think it was all part of the plan.
"a battle to keep us from drifting many miles off shore."
Drifting Out To Sea
Our own plan of cruising back into harbour with wind in our sails and sunshine on our faces had dramatically turned into a struggle to keep us from drifting many miles off shore. Ordered by the captain, we steered the boat in a straight line whilst he frantically grappled with ropes and winches to bring the sail down. I looked around for signs from my sailing companions faces to gauge just how bad the situation really was. All I got back were nervous looking grins and a captain in full on action man mode!
Maybe this was all part of the adventure? Maybe it was planned? After all, during lunch anchored in a quiet picturesque bay he had been filling us with stories of sailing the Atlantic Ocean.
All Hands On Deck
It had felt quite adventurous, well just about enough adventure that I wanted to handle and still enjoy myself, sea breeze flowing through my hair, breathing in fresh sea air and cruising up and then down the waves. Until we crossed the headland on our way into port, a huge gust of wind hit the sail. What seemed like a routine trip back turned into an all hands on deck struggle to bring the boat back under control.
Earlier in the day our sailing experience had started out in the sunshine, taking to the sea with Menorca Envelero on a small sailing boat out of the port of Mahon. There are superb views of the port and surrounding area when cruising out to sea, the port itself if the largest natural port in Europe.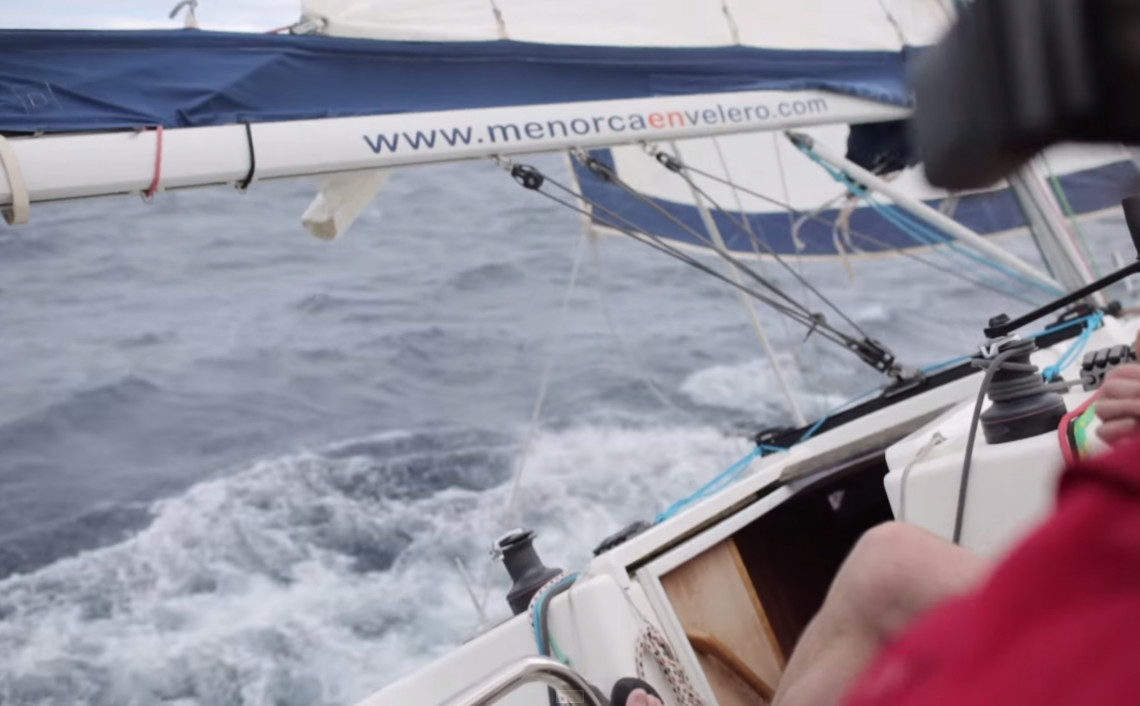 We sailed past our own colourful hotel (Fresh Hotel – Artiem Hotels) giving us a totally different perspective on the place from the sea.
Sailing beyond King's Island and quarantine base built by the British in 1711. By lunchtime we were anchored in a small bay chatting over a simple but traditional lunch prepared by Jacob whilst recalling some of his tales of the sea.
The Weather Turns
On our way back the weather had turned, dark grey clouds rolled in and the waves began to look little more sinister. I had been taking it relatively easy as part of the crew of three, allowing my companions first chance to get involved, pulling ropes, winching and steering. That changed as fast as the weather and I found myself wrestling with the wheel as the coastline got further and further away. The wind and current pushing us out to sea just seemed too strong, how would we make it back? I was definitely going to miss dinner at this rate, I thought.
Thankfully, after a good half an hour of panic the captain finally managed to wrestle the sail down and steered us towards land. As we chugged across the waves Menorca's coastline came closer, the wind died down the waters became calmer and I had the pleasure of steering us through Mahon's beautiful port.
Sailing in Menorca isn't normally this adventurous, as far as I know anyway. The weather is normally much calmer, especially during the summer months on the island where the biggest danger is getting sun burnt whilst lazing around on the deck of the boat. In the summer you can cruise into one of the many beautiful hidden bays, anchor the boat and go swimming and snorkeling.
For me, it was a bit of an adventure, maybe an unexpected one but after all that's what I was in Menorca for.
Useful Links
My Menorca Adventure Video (YouTube)
Antiga Meloussa – Menorca En Velero
Disclosure – I travelled to Menorca as part of a project between iAmbassador and Visit Menorca.