I left a grim, grey, smoggy London skyline behind in search of the fresh mountain air of Austria to throw myself down a mountain on a bike, meet a friendly pack of huskies and to explore the mountains of Tirol.
City life is fast and exciting but sometimes stressful and demanding. On Thursday evening I battled London's cramped, breathing space only, rush hour central line tube train to head down to YouTube's space at Holborn. I made it just in time to catch their 10th anniversary party, although hot, sweaty and disheveled I had just enough time to meet a few interesting characters before calling it a night. After all, I had packing still to be done and gadgets to be charged before trying to get some pre-flight sleep.
Click here to view my video from Austria on YouTube
Four hours after falling asleep I was up and in a taxi heading to Heathrow. It's typical of life in the UK's capital that often you'll find it difficult to have time to catch your breath, stop and think. It's a crazy place that will pass you by if you let it. Sometimes you just need to get away, to escape, forget all the traffic in your mind (and on the street) and leave all those stresses and worries behind.
Arriving in a valley surrounded by lush green hills and mountains with a faint hint of snow dusted on the summit is in sharp contrast to the harsh grey concrete blocks and definitive shapes in London. It's a bit of a shock to then system not to be in a constant battle, a battle for pavement space, room on the tube or your place in the queue. In Tirol, Austria all those subconscious battles just fade away with the sound of birds in the trees, the views across the valleys and fresh mountain air.
Husky Ranch
Unlike others on the #InAustria trip who, not content with a super early flight to Munich decided to punish themselves with some canyoning, we went to visit the Husky Ranch Angerberg (Not Husky Rank as earlier tweeted… sounds like a taxi rank with Huskies). Entering the ranch we were enthusiastically greeted several eager huskies along with one wise old looking one wondering who their latest visitors were.
"Huskies are working dogs and are extremely pack orientated they need mental stimulation"
It was interesting to observe that Huskies have a strict hierarchy among the pack and even playing with them too much is forbidden as it distorts the relationship with humans. Huskies are working dogs and are extremely pack orientated they need mental stimulation which is why they are perfect for the Austrian landscapes with mushing, scootering and hiking in the mountains. It would have been interesting to see them in training but we were happy to visit, say hello and watch the huskies laze around the ranch in the sun.
The Jakobskreuz on the Pilgrim Trail
If you follow my YouTube channel you'll probably already know I'm a fan of stunning views, I've been exploring the best views of London including the Shard and the Sky Garden (many more to come). When I saw the Jakobskreuz Cross I knew I had to visit. Perched on top of mount Buchsteinwand what's described as a 3D cross looks out across the valleys in all directions with rooms inside facing North, East, South and west. The Jakobskreuz building is situated in the Pillersee Valley on the route of the pilgrim trail of El Camino de Santiago (The Way of St. James), one of the most internationally renowned Christian pilgrimages in the world.
"If you don't like where you are, move you are not a tree"
As if the view from the top of Buchsteinwand wasn't beautiful enough, you can climb the steps inside the Jakobskreuz to go even higher. From one of the outdoor viewing decks there's a telescope that overlays the names of the snow tipped mountains surrounding the valley. The building can be hired for events but also showcases art exhibitions and installations throughout. On the way down the stairs we noticed a quote, "If you don't like where you are, move you are not a tree – Jim Rohn".
We stayed for lunch at the top of Bushsteinwand where I was introduced to the Austrian drink Amdudler that came, not in a can as I thought but in a beautifully designed bottle. After lunch we walked back down the mountain, winding under the cable car past cows lazing in the fields and back down to the valley.
Mountain Biking – the Lisi-Osl-Trail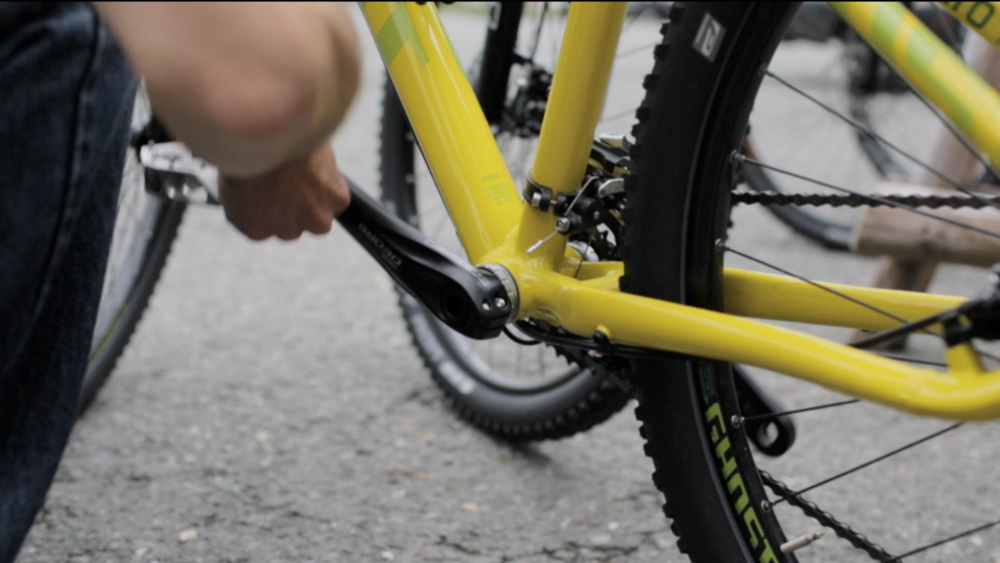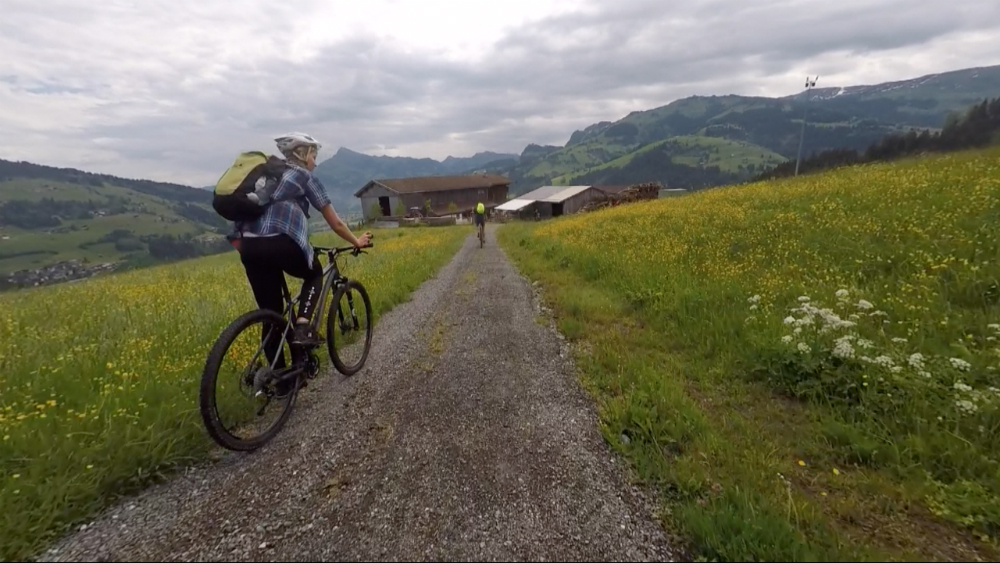 After taking it relatively easy for the first few days in Tirol we got up early on Saturday to meet our guide Pieter and to pick up our mountain bikes. We meandered through the countryside toward the foot of the mountain where we stopped, stared into the wooded area and the bike path that disappeared into the trees. Biking up hill through the shade of the trees couldn't be that difficult, could it?
Well, in a word, yes. It began with a steep incline, followed by corner after corner of steep winding paths towards the top. I do like a challenge and this was certainly one! I was impressed with the efforts of the whole group frantically peddling their way slowly to the top without a single complaint… well, maybe a few from me about how hard my bike's saddle was! Eventually we made it to the top with sweat dipping from drenched hair and sore muscles we sat down for a well earned ice cold beer and lunch.
On our way down we tackled the Lisi-Osl-Trail, it was surprisingly steep and difficult for someone who hasn't practiced for some time. We gave it a good go and made it to the bottom in one piece despite the odd fall (check my Austria YouTube video for this).
Although the mountain biking was tricky, it was also challenging both in fitness and skill. It's good to push yourself once in a while and made me think that perhaps I should have opted for a few more adventurous options in Austria! Next time for sure.
An extended summer weekend in Tirol, Austria proved the perfect antidote to the stresses, pressures and pace of city life in London.
Being able to replace the concrete jungle for a place that one local described as "paradise" not only helps you to recharge but allows you to focus on those hobbies, activities and challenges that don't include battling the mornings rush hour tube train or wondering which deadline you've forgotten to put in the diary.
Disclosure – The #inAustria blog trip was created and managed by iambassador in association with the Austrian National Tourist Office, Tirol Tourist Board and the Kitzbüheler Alpen Marketing GmbH.TravMonkey maintains full editorial control of the content publish on the site.