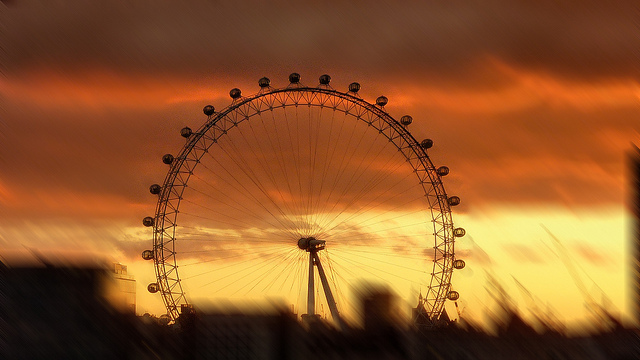 London, the capital of England is steeped in history and covered in grand architecture. Whilst being renowned for fabulous theatre shows and superb shopping it has much more to offer than just a handful of landmarks. For those that haven't got time to scratch below the surface of this vast ciy we've selected six of the best landmarks to visit on a trip to London.
1. London Eye
For the last 10 years, the huge ferris wheel on London's South Bank has been a hugely popular tourist attraction. The ride takes 30 minutes and the top point of the wheel is 135 metres above the ground, giving spectacular views across the city. It's a great way to get your bearings and see the city from a very different angle.
2. Tower of London
Most people go to the Tower to see the Crown Jewels, but this historic site has something for everyone. Taking a guided tour around the Tower will give the best insight into the often bloodthirsty history and teach you a bit more about the people closely connected with the Tower's past.
3. St Paul's Cathedral
St Paul's Cathedral dates from the 17th century, and is probably best known for being the place where Princess Diana married Prince Charles in 1981. Visitors are recommended to make the climb up into the dome, where the Whispering Gallery has remarkable acoustics meaning a whisper can be heard easily from the other side of the dome.
4. Changing of the Guard
Buckingham Palace is likely to be close to the top of most people's "must see" sights in London, and the daily Changing of the Guard showcases the best in British pomp and ceremony. The event takes place at 11am daily; arrive early to ensure a prime position close to the railings.
5. Natural History Museum
This Victorian museum in South Kensington is one of the finest in the country, and houses one of the best collections of nature related artifacts. Entrance is free to all main exhibition areas, and the sheer size of the museum makes it a fantastic day out for people of all ages.
6.  Globe Theatre
The construction of a replica of Shakespeare's Globe along the banks of the Thames has been a massive success and taking in a performance here is the best way to experience theatre as it would have been in Elizabethan times.
Photo by Sean MacEntee