Some love it, some hate it but no one can argue that the Full Moon beach party on Koh Phangan, Thailand isn't a big experience. We've put together the ultimate guide to the full moon party in Thailand so that you can avoid the pit falls and problems and make the most of your time on Koh Phangan.
When planning a trip to South East Asia, the Full Moon Party is often up there on many 20 somethings list of things to do. If Koh Yao Noi is one of Thailand's better kept secrets, the Full Moon party is probably one of the worst.
Once a month a psychedelic circus of neon lights, deadly buckets, fire, thumping bass and face paints descends on Haad Rin, Koh Phangan, Thailand.
If you're thinking about going, there is plenty to consider. Here's our guide to the Full Moon Party in Thailand.
What is the full moon party?
The full moon party is a beach party in Haad Rin on the Thai island of Koh Pha Ngan on the night of every full moon. The full moons occur every month and during high season parties can see around 20,000-30,000 revellers head to the island to party.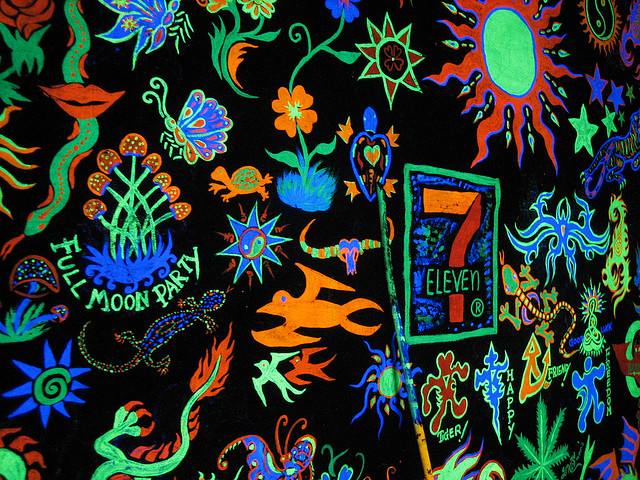 The first well known full moon party was at Anjuna Beach in Goa, India at the begging of the 1970's.
More recently (1990's) the full moon party on Koh Phangan has become a widely known gathering. Parties continue through the night until the sun rises the next day with beach bars playing various types of music all evening and well into the next day.
As well as the Full Moon Party, Haad Rin hosts half moon, quarter and black moon parties. Even if you aren't in the area for the full moon, it's likely you'll stumble across a sporadic beach party or two. There's a schedule of full moon parties on this website.
How To Get There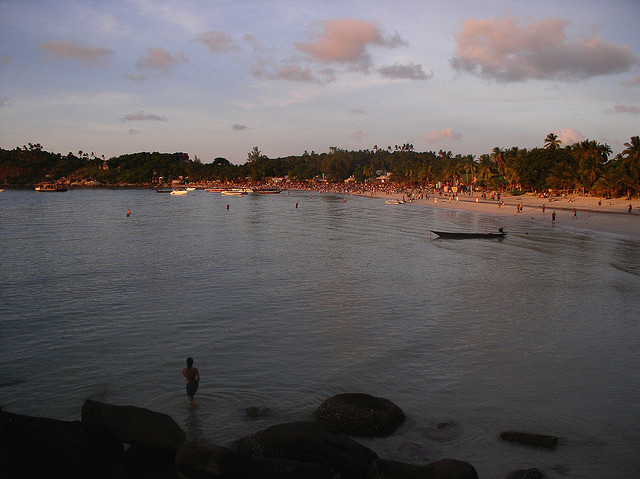 Crossing by ferry is the only way to get to Koh Phangan as there is no airport on the island.
From the mainland you can get the ferry from Surat Thani.
You can also cross from Ko Samui at Big Buddha Pier or Maenam Beach and tickets cost 200 Baht.
During the Full Moon boats go from Ko Samui to Haad Rin every hour.
From Surat Thani or Koh Samui
– From Surat Thani (mainland), roundtrip tickets cost 600 Baht and will drop you at Thong Sala, Koh Phangan. Once on the island it's a 100 Baht taxi to Haad Rin itself.
– Depending on the time of day or ferry company the boat from Ko Samui will drop you at Thong Sala or Haad Rin.
From Bangkok
From Bangkok you can travel to Koh Phangan via bus and then ferry for around 450 – 600 Baht.
The bus takes you overnight to the Surat Thani ferry terminal where you wait for the ferry.
It can be a long an exhausting journey so prepare yourself for a long night.
Where to Stay?
To be close to the party you should stay in Haad Rin around the Full Moon. Wooden bungalows range from 300 and upwards. Prices increase the nearer you get to the party. Arrive well in advance (3 days) to get cheaper prices and better availability. Don't even think about rocking up on the day unless you want to find yourself sleeping under the stars. Worth browsing Tripadvisers Full Moon Party accommodation recommendations too if you're into planning in advance!
What to expect?
Bring your glow sticks and prepare for a giant party because the Full Moon Party is big. Bars line Haad Rin beach playing music ranging from trance, drum and bass to more chilled out reggae tunes. Up and down the beach there are people selling alcohol, glow sticks and face paints. The Full Moon Party can attract a huge amount of people so prepare for everything that goes with a party of that size.
Key Tips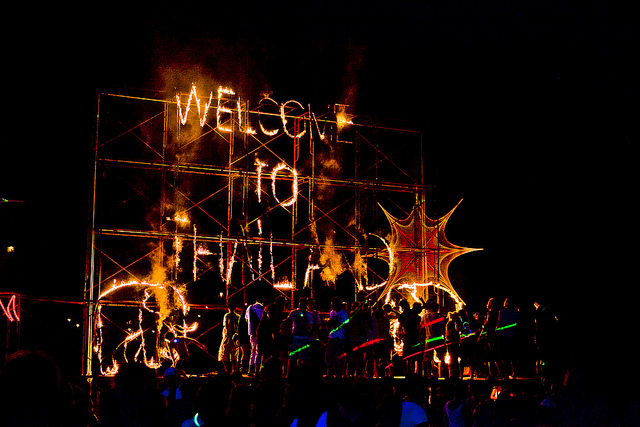 Hydrate: In the Thai heat it's especially important to hydrate, so drink plenty of water before during and after. Your body will thank you for it.
Buckets: Buckets contain Thai Whiskey, Coke and Red Bull and are usually shared via straws. These are pretty strong so be careful and don't drink too many especially early on unless you want to be the first tucked up in bed.
The sea: After a bucket or two it may seem like an awesome idea to jump in the ocean but think twice because it's used by many as the nearest toilet. It's a dangerous idea to go for a swim during or after partying as you're at risk of drowning. Stick to the beach.
Footwear: It's a good idea to put something on your feet even though you're on the beach because of numerous sharp objects and broken bottles that are scattered on the beach during the party.
Fire: Jumping over a rope whilst it's in flames might sound like a fun idea after a bucket on the beach but think twice as most party goers attempting this activity get burnt. Don't play with fire.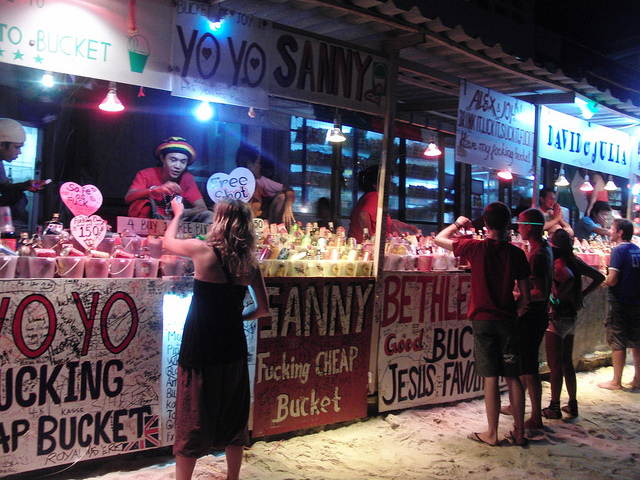 Drinks: Spiking of drinks is not unknown, so keep an eye out. Also be sensible and keep tabs on how much you are drinking.
Drugs: There are a lot of drugs at the full moon but remember drugs are illegal in Thailand and punishment comes in the form of a stay at a notorious Thai prison or even death.
Undercover police: There have been reports that undercover police will sell you drugs just to bust you. Putting it simply, it's just not worth doing drugs.
Belongings: Bring the minimal amount of belongings,a copy of your passport (for emergencies) and money for drinks. Don't bring anything you can't afford to lose. Ensure any valuable are safe and secure, theft is high during full moon parties even at your accommodation.
Boats: The sea can be quite rough around December. Beware of overloaded boats coming to and from the island some have been known to sink.
Friends: It's sensible to have someone keeping an eye out for you at the full moon party. You might need help getting back to your accommodation or they could prevent you from pushing things too far, including the deadly burning jump rope.
Is It Really Worth Going?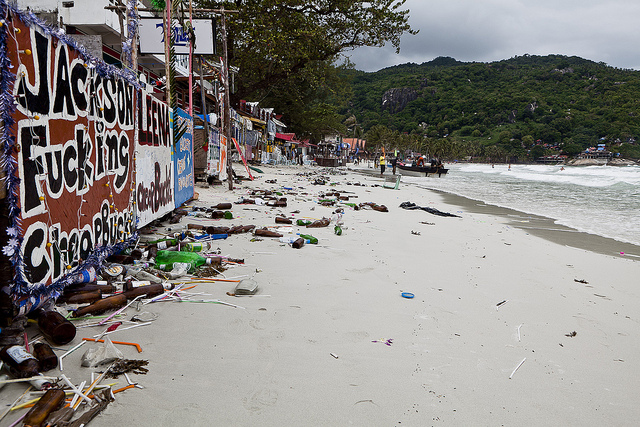 There are many varying opinions out there about the full moon party in Thailand, here's just a few from one of the many Lonely Planet Thorn Tree threads and Full Moon Party Lonely Planet Thorn Tree.
"It would be a sad reason to come all the way to Thailand to do the most un-Thai thing the country has to offer"
"It's the pits – drunken losers with ghetto mentality pretending they've hit the beach highlife, man! Way to go, let's slosh down indeterminate alcohol mixes from buckets and then have a midnight swim in the urine surf, if you can reach it through the discarded cans, bottles, and projectile vomit.
When you eventually make it back to your tacky beach bungalow you'll find you've been robbed and then you'll spend your hangover day in an i-cafe complaining and warning the next load of excited wannabes about the pitfalls of FMP.
Or you'll just love it. Many do."
"Other than that, no, nothing redeeming about this mafia infested, environmentally dangerous, puking, fighting, robbing blight on an otherwise nice place. The human sewage (real and metaphorical) is just breathtaking. "
I experienced the party back in 2006, although I can see where some of the negative opinions come from I think you should really know what you're letting yourself in for. I enjoyed the full moon party in Thailand because I knew what to expect, an all night party with a huge number of party goers. If you go thinking it'll be a paradise you might be a little disappointed, but it's worth experiencing.
Have You Been To The Full Moon Party on Koh Phangan? How was it worth it for you?
Full Moon Photos
Beach photo by YoTuT
Neon by ☺Yoshi☻
Beach view by YoTuT
Fire sign by joestump
Bucket buying by permanently scatterbrained
Aftermath by joestump
Useful Links
Surviving The Full Moon Party – Alex In Wander Land
Ultimate Guide To The Full Moon Party – Nomadic Matt