OK, "yes" I'm male and "no" I don't use hair straighteners.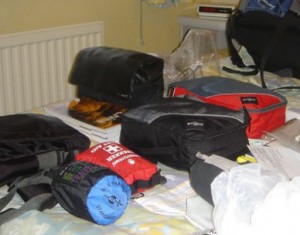 I wanted to write this article because I was surprised by the large amount of travel forum chatter on the subject.
If you've already read my opinions on "Should I Take My Laptop Traveling" then you can probably guess what my stance is when it comes to a pair of hair straighteners.
I consciously left my electric razor at home because it's a luxury I can live without, so are hair straighteners.
I can understand women (mainly women) wanting to take them if they're going to work in say New York for 3 months or any developed country for that matter.
But what really surprised me is the number of people considering taking them or a hair dryer backpacking around the world.
Surely taking a pair of straighteners through developing nations such as Laos and Cambodia for example is completely unnecessary?
The locals wouldn't have a clue what they're meant to be used for and your favourite GHD's are probably worth about 3 months wages in such countries.
Here are 8 reasons to leave them at home:
1. Lower Voltage
A lot of developing countries have a lower voltage than in the UK, your straighteners will take forever to heat up.
2. We Survived Without Them

What did women do before straighteners existed? I'm sure you can live without them whilst traveling.
3. Personal Vanity
On the road no one will care if your hair isn't straight because you're backpacking with a backpack not heading for a photo shoot with a designer suitcase.
4. Heat and Humidity

In many countries you'll be visiting, the heat and humidity will render the whole process of straightening useless.. Once you step out of the nicely air conditioned hotel/hostel your hair will turn to frizz.
5. Extra Room
Your straighteners will take up extra room and add to the weight of your backpack. It's an extra item you can really do without especially if you aiming to travel light. See my article – Why Travel Light?
6. Waste Of Time

Let's face it, if you've gone traveling to do and see new things do you really have time to be sat in front of a mirror straightening your hair.?
You could be out and about seeing the sights or socialising with people who really don't care if your hair is straight or not.
7. Lack Of Power
In many developing countries you'll stay in modest accommodation , often just a simple wooden hut.
Here there is likely to be no power point at all in your room so you may as well leave the straighteners in the backpack.
8. GHD's Don't Work In Japan
Or so I've been told. So for anyone with GHD's and off to Japan, leave them at home.
As a backpacker you'll probably be traveling on a budget and "roughing it" to some extent, in these circumstances no one expects you to look as if you're about to walk down the red carpet.
If you are the type of person who can't live without a pair of straighteners, you may be in for a bit of "culture shock" if you intend to head to one of the less developed nations. If you don't mind carrying a pair with you, then go for it. The most popular pair on amazon right now are the GHD IV Styler
.
Do you agree that you should leave hair straighteners or a dryer at home when backpacking?

Let us know by commenting below…