What to expect from Galicia's cuisine?
I wasn't sure either… but I was guessing that it would be heavily influenced by the regions beautifully salty rugged windswept Atlantic coastline.
We spent around three days exploring this diverse region, I've put together a road trip itinerary for Galicia to help you plan your trip.
So, what is the secret to why Galicia's has arguably the best cuisine in Spain?
It's stunningly beautiful coastline and temperate climate of course!
Coastline & Climate
Occupying the north west peninsula of Spain, Galicia has developed a rich unique cuisine. The coastline provides a wide range of fresh seafood whilst the climate inland helps to nourish the land in order to grow fresh vegetable, peppers and to graze cattle.
It's a fascinating region of the Spain featuring jaw dropping cliff edge views, historical cathedrals and lonesome lighthouses. There's chilled out surf beaches, colourful quaint little fishing villages and spiritual clifftop sanctuaries but it's the cuisine of the region that really shines and leaves a lasting impression.
For me, the food of this region of Spain is one of its highlights, intriguing and incredibly fresh. You won't be disappointed, especially if you enjoy seafood of course. The region is teeming with fresh octopus, scallops, mussels and oysters.
Here are some of my favourite dishes from Galicia, you should probably try them all!
Barnacles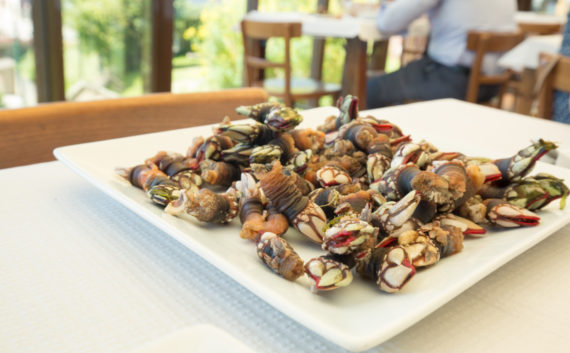 Goose barnacles, percebes, stalked barnacles, gooseneck barnacles or… dinosaur claws as they're sometimes known locally are crustaceans that live on the sea battered rocks on Galicia's coastline. They're so much of an expensive delicacy in these parts that men risk their lives harvesting them. These barnacles are only found in cold shallow waters on the rocky areas where the surf break on this sharp jagged coastline.
Barnacles are often steamed or simmered and the technique for eating them takes a little bit of practice. For my first attempt I found myself squirting the briny, salty juices in my eye. After failing miserably in my first attempts I soon realised that you can piece the softer black skin before pulling it back to reveal the soft barnacle itself. The dinosaur claw part itself is left behind on the plate. They taste surprisingly good, tender, a little salty but overwhelming fresh.
Barnacles are also harvested commercially in Asturias, Galicia's neighouring region to the east.
Clams (Almejas, Ameixas)
We spent an evening at El castaño dormilón (the sleepy chestnut tree) where we were served a huge plate clams as one of the dishes. These Galician clams (Almejas) are usually served either steamed or in a broth of white wine, garlic and parsley. The clams we were served we tender, salty and perfect with a glass of red wine.
Churros
You can get Churros all over the place, including in London if you really crave them, but you won't often get them for free along with your cup of coffee. That's exactly what we found when we stopped to rest our feet in Praza Maior in Viveiro's old town. Deep-fried and doughy, churros are perfect for dipping with hot chocolate or dulce de leche. They're normally eaten at breakfast, but they're also great with a coffee.
Polbo á feira (octopus)
Octopus is one of the most traditional dishes of Galicia and is caught of the Atlantic coast and today served all over Spain as a tapas dish.
Polbo á feira, Galician for fair style octopus is prepared by dipping the octopus in and out of a copper pot of boiling water by its head before it's boiled for up to an hour. The aim of the game here is to cook the tentacles until they are tender, they're then cut into medallions before being served with olive oil and paprika (pemento picante). It's easy to overcook a dish like octopus, the perfect dish won't be rubbery or tough but tender. In Galicia they are experts in getting this delicate balance of cooking just right.
Peppers (pimientos de Padrón)
One of my favourite tapas dishes originates from Padrón in Galicia, pimientos de Padrón or Padrón peppers. These small sweet green peppers are beautiful, full of flavour and perfect with a sprinkle of cracked sea salt. Occasionally you'll find a fiery, spicy pepper but it's quite rare and the only way of telling is by tasting. Disappointingly, I'm yet to find one so far in this game of pimientos de Padrón roulette! They're usually deep-fried but can also be grilled. A must try.
Bread in Galicia
Finally, a quick mention for the bread in Galicia. I found myself going overboard on slices of bread because it is just so good! Brown, heavy, crusty and not bland, I'd be full gorging myself on the bread way before the main course arrived!
These were just a selection my favourite dishes whilst exploring Galicia's cuisine. There are so many more amazing dishes that I haven't mentioned here, such as empanada, oysters, crab soup and even the after dinner coffee or herbal liqueur. So much to taste and explore in this region of Spain that prides itself on its food.
Have you been to Galicia? What's your favourite dish from the region? I'd love to hear about it in the comments!
This post was brought to you as a result of the #inGalicia blog trip, created and managed by Captivate in partnership with Spain.Info. TravMonkey maintains full editorial control of the content published on this site.