It's no secret that I love Menorca. It's such a pleasant, relaxed and undeveloped island in the Mediterranean Sea. There's so much to see and do as well as plenty of adventurous activities too, but if you're looking for a relaxing, chilled out beach break then Menorca is also blessed with beautiful sandy beaches. All just a two hour flight away from the UK.
But what happens if you don't drive or don't want to hire a car whilst on the island? Is it still possible to explore a little rather than just stay on the same beach every day for the whole trip? Well, of course it is, we did exactly that whilst basing ourselves in the quaint, colourful, picturesque town of Ciutadella on the West Coast of the island.
We found it surprising easy to rock up at the bus stop in the centre of Ciutadella and pick a different bus each day to take us to entirely new beach. It's cheap and doesn't take that long on most of the routes. We were visiting in September so it was out of peak season, some beaches were quite quiet and those that were fairly busy tended to be with locals rather than tourists. I'd definitely recommend visiting shortly before or after peak season if you can, whilst Menorca isn't as developed as its sister island Majorca, some of the resort areas and beaches can get busy.
Check the bus timetable and routes from Ciutadella to help plan your trip.
The summer season in Menorca runs from 1st May – 31st October and the winter season from 1st November – 30 April. The weather can also be great during April and November when the island is really quiet and peaceful.
Here are just a selection of our favourite beaches on the island.
Cala Galdana
Cala Galdana is a beautiful bay with a long sandy horse shoe shaped beach lined with pine trees situated on the south coast of Menorca. I've stayed at Artiem Audax adults only hotel and spa in Cala Galdana and it's a lovely area overlooking the sea. There's plenty of shallow warm water in the bay and in peak season it can be a popular spot for families. If you get chance, take a kayak tour out around the coast, you'll get to discover some harder to reach beaches and coves.
5 Adventurous Things To Do In Menorca
My Menorca Adventure
Route 52 Ciutadella – Ferreries – Cala Galdana
Cala Mitjana
The best way to reach what is said to one of Menorca's most stunning beaches, Cala Mitjana is by the sea. You can take a kayak like I did or even a boat. The beach has aqua clear blue shallow warm waters and is surrounded by high rocky cliffs in a cove. There's some fantastic look points from high up on the cliffs too.
You can walk from Cala Galdana to Cala Mitjana (about 25 minutes) but it's much more fun taking a kayak and approaching the bay via the sea.
Route 52 Ciutadella – Ferreries – Cala Galdana
Walk for around 25 minutes or take a kayak from Cala Galdana
Cala Macarella & Macarelleta
If you are looking for a bit more of a walk and to be rewarded with beautiful aerial views of the beach then a trip to Cala Macarella and Cala Macarelleta could a good choice. There's no bus directly to these beaches so you'll have to tackle 35-45 minute walk to reach these beaches from Cala Galdana and along the horse trail ("Cami de Cavalls") coastal route. It's worth the effort though as the coastal walk and especially the walk between the two beaches has a great vantage point over the turquoise blue clear waters and white sandy beaches. There is a beach bar here too and sun beds for hire.
Route 52 Ciutadella – Ferreries – Cala Galdana
Walk for around 35-45 minutes to reach these beaches from Cala Galdana
Son Xoriguer & Playa Cala en Bosch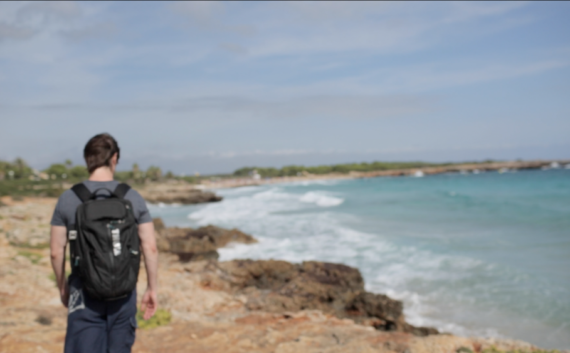 To the South of Ciutadella with quite a few large resorts in the area, Son Xoriguer and Cala'n Bosc are two white sand beaches with beach bars, restaurants and if you're looking for a bit of excitement, water sports. You can also take a short walk between the two beaches across a rocky section of coastline.
Route 65 Ciutadella – Sa Caleta – Calan Bosch
Route 65 Ciutadella – Sa Caleta – Calan Bosch – Son Xoriguer
Cala Turqueta
Probably my favourite beach in Menorca (so far!) is Cala Turqueta. This beach is a natural fine white sand beach in a protected area, its well looked after by the authorities and surrounded by natural beauty. There isn't much here in terms of restaurants or bars so you do need to bring your own food and drinks. It's a popular area with locals too.
You can catch route 68 from Ciutadella to Cala Turqueta which will drop you at the car park. It's a ten minute walk through the pine forest to the beach.
Route 68 Ciutadella – Cala en Turqueta
Cala'n Blanes & Cala'n Forcat
If you just want to catch some rays on the beach and don't want to venture too far from Ciutadella, you could head north to Cala'n Blanes and Cala'n Forcat. There are quite a lot of resorts in the area so I'd advise visiting out of season. Cala'n Forcat is great for exploring the rocks and sun bathing close to the water. Cala'n Blanes has a bigger beach with restaurant and bar, you can walk up on the rocks alongside the beach too.
Route 61 Ciutadella – Cala'n Blanes – Los Delfines – Cala'n Forcat
So there you have it, how to explore some of the beaches of Menorca without hiring a car! We had an amazing time in Menorca and loved how peaceful it is just before or after peak season. Ciutadella proved a great little base for hopping on the various different buses to try a different beach every day.
Menorca is only a two hour flight away from the UK, I'm definitely looking forward to going back sometime soon in the future.
Have you been to Menorca? Do you have a favourite beach or do you have a tip for getting around the island without a car? Let me know if the comments below.
Disclosure – I travelled to Menorca as part of the #MustSeeMenorca project managed by iambassador and in association with the Spain and Menorca Tourism Boards. TravMonkey maintains full editorial control of the content published on this site.