I have fond memories of Malaysia from exploring South East Asia when I was a younger, a whole seven years ago! When I was invited to visit the country by Malaysia Airlines those care free memories of travels from yesteryear came flooding back.
Traveling often means that I've reached that point where I'm always envious of anyone with a lounge pass, it really makes a difference to your overall journey if you have the opportunity to relax and sample some decent food before lift off.
When I realised we'd be visiting the Malaysia Airlines Golden Lounge at Heathrow Airport I was pretty happy. It meant we were able to grab some breakfast, unfortunately it was a little bit early for me to hit the champagne. The lounge itself was quite small but had a decent selection of food but had great views out over the runway.
On finding our seats aboard the A380 we were greeted with extra leg room which made the long haul flight much more bearable. The usual decent selection of in flight films meant that I was probably viewing rather than sleeping for most of the flight. We arrived in Kuala Lumpur in the morning with a pretty full itinerary ahead of us, I wasn't looking forward to the jetlag kicking in.
From the airport we arrived at the towering Grand Hyatt, a stunning 5 star hotel with views across the city.
The Grand Hyatt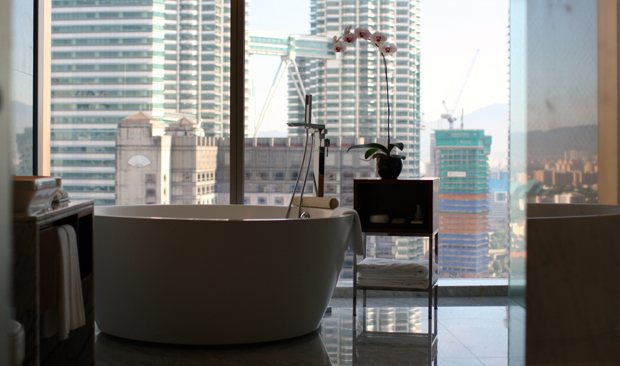 I used my electronic key to touch open my hotel room door and swung it wide open. I actually gasped and my jaw dropped (this doesn't happen very often), the room was immense. Its size was more comparable to an apartment rather than a hotel room and was capable of fitting my zone 2 London studio flat into it several times. If the size of the room wasn't impressive enough when I glanced through the hallway out beyond the enormous bath I could see a stunning view of the Petronas Towers. The view continued into the bedroom as I was desperately switching between taking Instagram photos and using my DSLR. For a hotel room to have this effect on me after a 12 hour flight and very little sleep it has to be extremely impressive.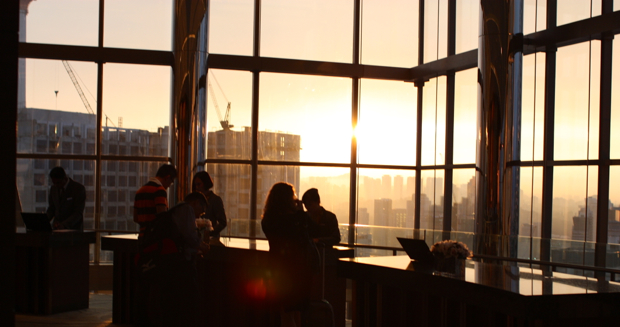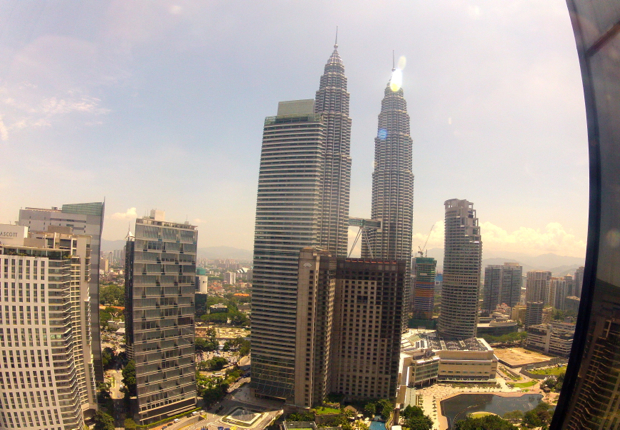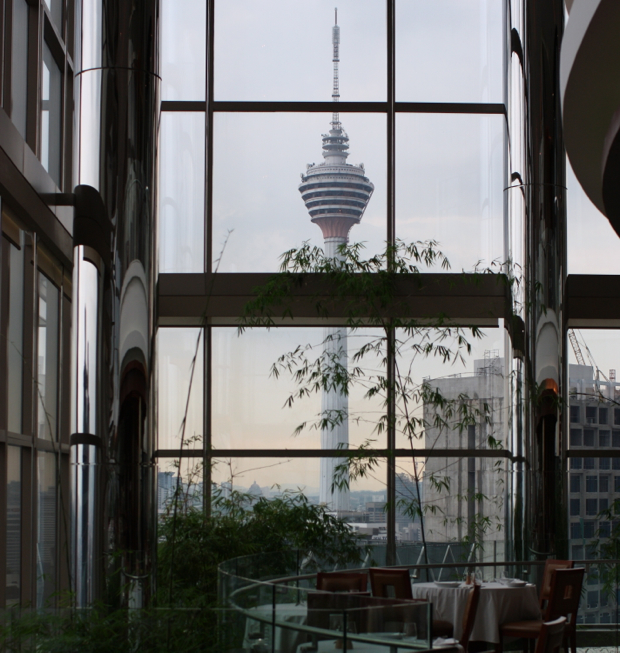 After settling into our rooms we headed down to the JP Teres Cafe where we were bombarded with numerous Malaysian dishes. It this point I think I was still half asleep after the long flight so really couldn't coordinate or remember any of the dishes. Needless to say the food was delicious.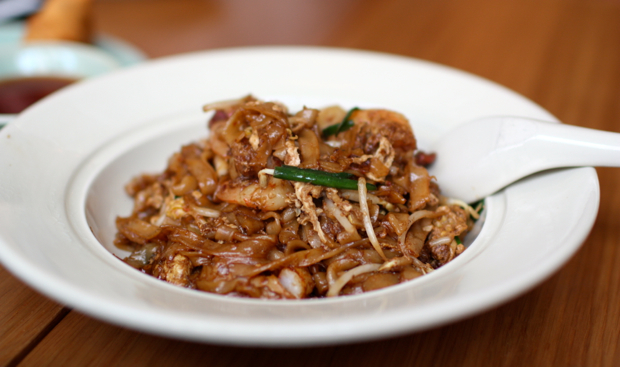 Pretty sure this is some kind of chicken laksa dish.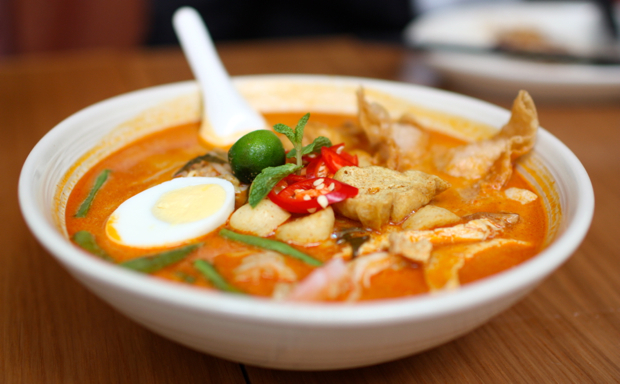 Hop on and Off Bus
Full from our indulgent lunch we boarded Kuala Lumpur's hop on and hop off bus to see the sights of the city. You can read my detailed review here – Kuala Lumpur's Hop on and Hop Off Bus Tour
The Hop On and Hop Off tour was a great way to see some of the key sights of the city without the hassle, perfect when you have a massive dose of jet lag like we did. The tour took us to the Kuala Lumpur City Gallery first, a superb place to learn about the city and its history. The next stop was the bustling market stalls of Petaling Street where I recognised where I had stayed the last time I was in Kuala Lumpur, a budget backpacker hostel opposite the now modernised bus station. It was interesting to be back in the same place I'd spent some time seven years ago, although some of the area had changed Petaling Street market seemed to be pretty much the same. There's plenty of street food on offer here, satay stalls, restaurants and tiny eateries as well as a few touristy spots.
At this stage the jetlag was really kicking in for me so the thought of viewing the Batu Caves wasn't exactly an enthusiastic one. Something strange happened whilst climbing the 272 steps to the temple cave, I suddenly felt much more energised and awake as seemingly did the rest of the group. It was either something deeply spiritual or the endorphins kicking in from climbing the steep steps in the humid Kuala Lumpur night air.
With our new-found energy we headed to the Satay Station for, yes you've guess it, some of the best Satay I've had (other than that from Malaysian Airlines of course). We ended our first evening in Kuala Lumpur with a stunning view over the city spotting the key landmarks in the nights sky, most notable being the KL Tower and Petronas Towers.
Shattered after an extremely long day and a huge amount of jet lag we head back to the Grand Hyatt. I landed face first in my bed big enough for a baby elephant and slept diagonally.
Brahims Airline Catering Sdn Bhd
I woke the next morning late, my alarm had not being set correctly. I rushed down to breakfast just in time to devour a croissant and down a strong coffee. The morning started with a visit to Brahims Airline Catering facility where thousands of airline meals are prepared for a whole host of different airlines. You can read all about my experience at the airline catering facility and my business class A380 flight.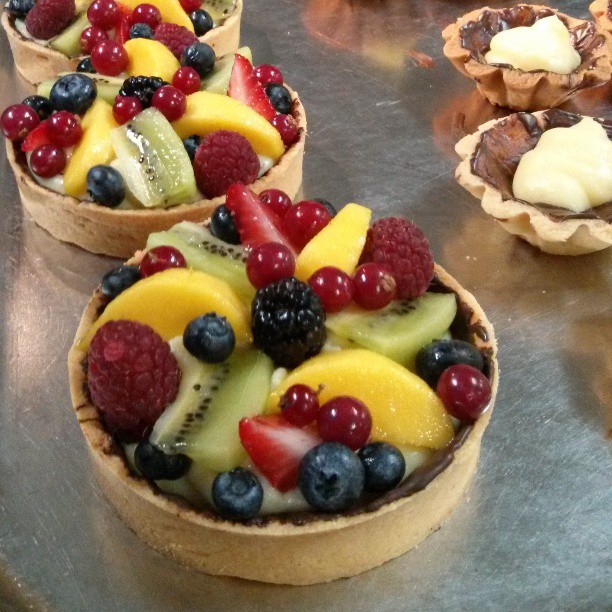 We had the opportunity to sample the business class & first class meals at the facility. Being someone who has a bit of an obsession with anything spicy, I hunted down the most spicy dishes on the table. The quality of the dishes was impressive and it was an interesting insight into the work that goes on behind the scenes before you're served your meal on-board.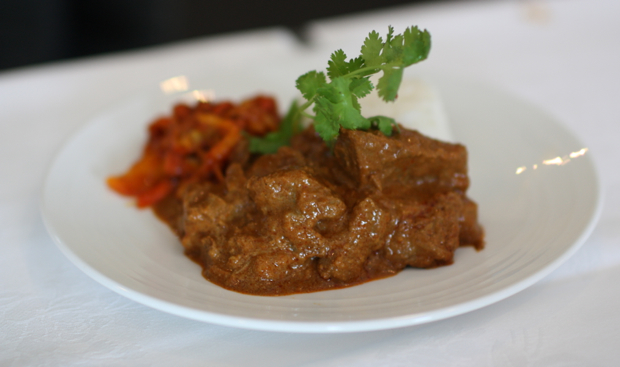 Madras Lane Yong Tau Foo
After our catering experience we met up with Danny Chen author of Train 2 E@t, he's an expert in Kuala Lumpur's street food and his book outlines the best places to find it and how to by using KL's train network. Danny took us to a gem of a food market on Madras Lane where numerous different stalls were serving up some delicious street food. We pretty much over dosed on dumplings, rice and spicy soups.
You can get a copy of the book on Danny's website, Eat Sing Travel it costs RM36.90 but is a very useful guide for those not familiar with the city looking to discover those local food spots that are difficult to find.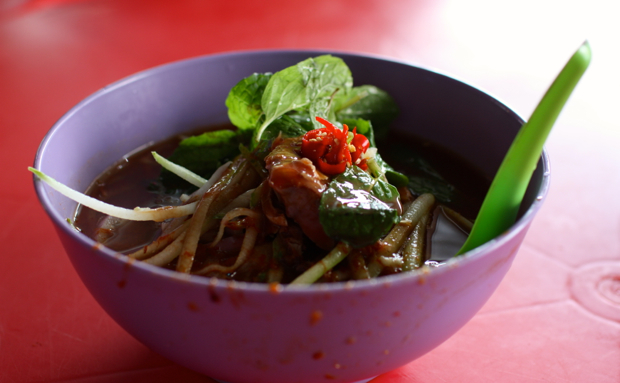 Banana Leaf Restaurant
We attempted to walk off our feast at Madras Lane only to be confronted by, yes, more food. This time we sat down to eat at The Banana Leaf Restaurant where we had the opportunity to eat with our hands out of a banana leaf. It felt quite alien to be eating with my hands and I did struggle a little shoveling food into my mouth, there is a technique to it and I was pretty poor at it.
Nasi Kandar Pelita
Bleary eyed and heading out of KL to Malacca we stopped off not too far from the Petronas Towers for a usual breakfast. Now I love spicy food, but first thing in the morning? We had a selection of breads and spicy dips, it felt strange to be eating it at such an early hour. We were entertained by guys making Teh tarik, tea made from black tea, condensed and evaporated milk. The process of making the tea by pouring the tea from high repeated certainly looks like a skill but it also cool the tea to the optimum temperature and taste. The tea is quite sweet but surprisingly pleasant.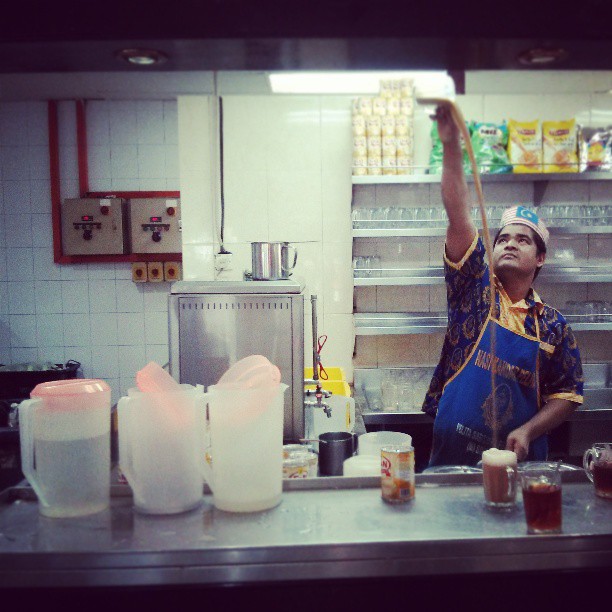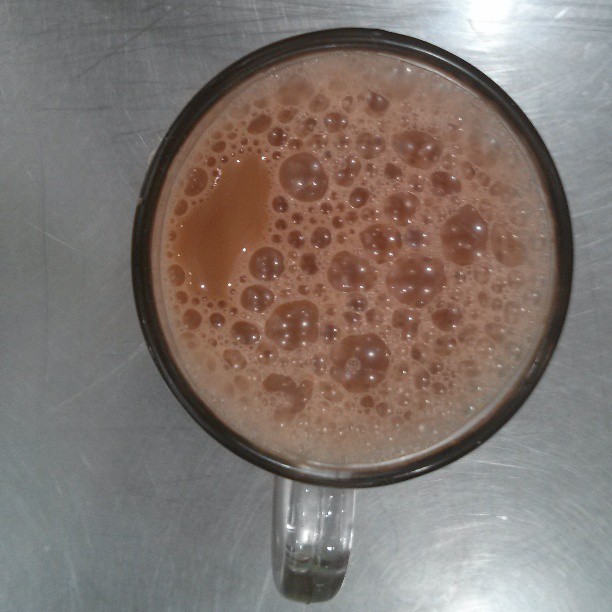 The Majestic Malacca Hotel
In the UNESCO World Heritage Site of Malacca we stayed at the Majestic Malacca Hotel a place, like its name suggests has a certain vibe, ambiance as soon as you walk through its doors into it's very grand reception area. The hotel has colonial-style architecture that blends in with Malacca and its historical past.
We were greeted with what look like a cocktail but surprisingly was a refreshing blend of ice tea and lemon. It was exactly what was required after a bus journey from Kuala Lumpur.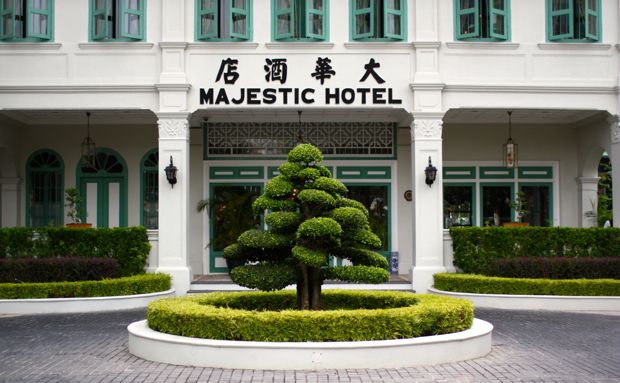 The rooms at the Majestic Malacca Hotel are just as grand and in keeping with the rest of the hotel's decor. In sharp contrast to that of the Grand Hyatt in Kuala Lumpur the Majestic has great character and a strong feeling of identity that does make your visit feel a little bit special.
The hotel combines luxury with a sense of Malacca history, you can tell that there has been a lot of thought put into the consistency of the decor and service throughout the hotel. Although I didn't have the opportunity to use it I did appreciate the classic clawfoot bathtub in the room.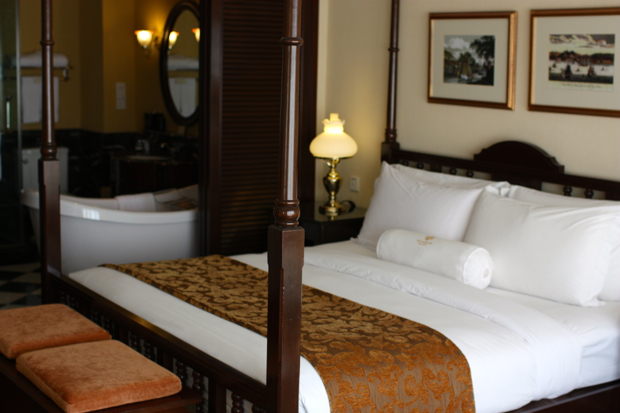 The Majestic also has a spa and pool area available for guests. The hotel itself isn't huge with 54 rooms, but you really don't want it to be because it would spoil the ambiance of the hotel.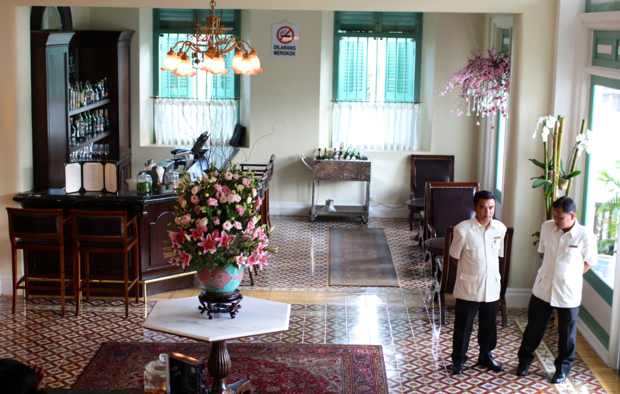 Jonker Street Market
In the evening we took a boat ride down the river, it's a fantastic way to see Malacca. The river used to be the main artery for trade in the city back in the days when it was bustling with traders that would visit from all over the world. There's a mixed of old and new architecture dotted along the river side.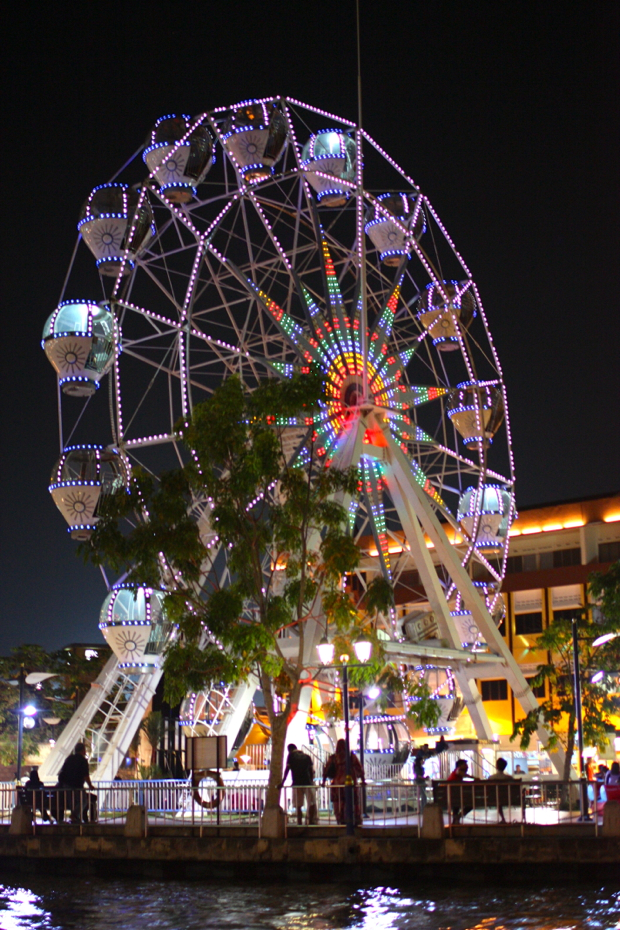 After a relaxing night cruise we ventured to Jonker Street Market, a long street hosting a bustling market selling everything you can think of along with antiques, cakes, snacks, cold drinks and interesting street food.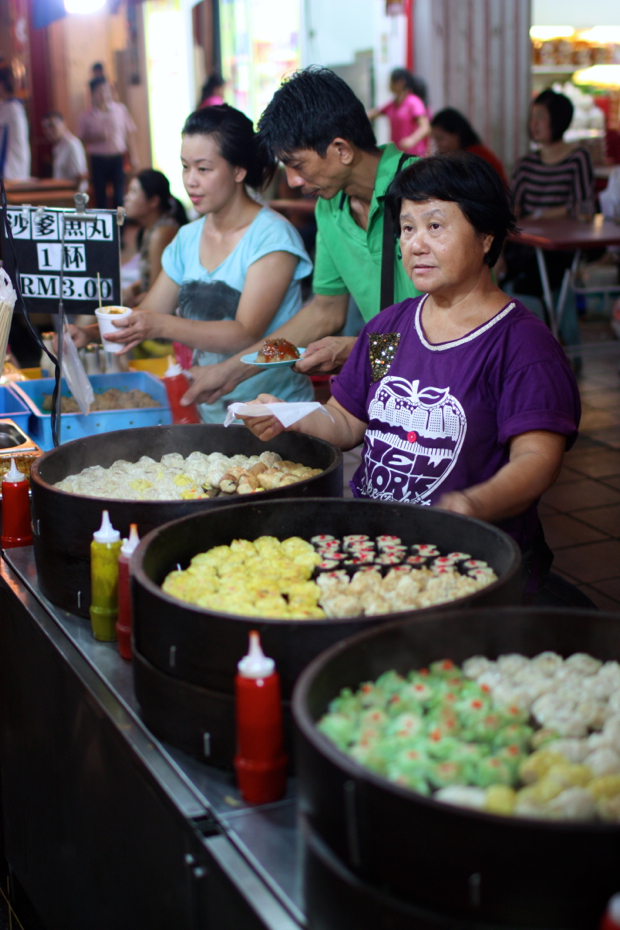 After walking the length of the market browsing we headed toward the river where we found a great little spot on the river to sit and have an ice cold beer.
Mei Sin Cafe
We sat looking out onto street in Mei Sin Cafe for some Chinese food. This little cafe sits on the street corner and does some great wanton noodles, worth visiting for breakfast too.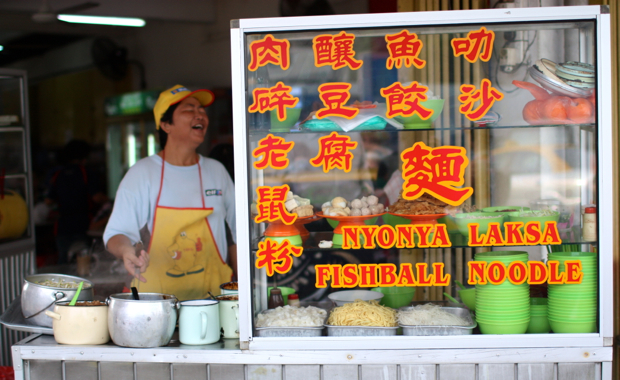 Jonker Street Melaka
The central street of Chinatown in Malaka is Jonker Street. The street used to be known for its antique shops but these days has a variety of shops and restaurants dotted along it. We wandered around a few shops on Jonker Street before ducking into a vibrant restaurant for afternoon soup. Having eaten so well on the whole trip it was quite daunting to see large trays carrying huge bowls of chicken laksa coming our way.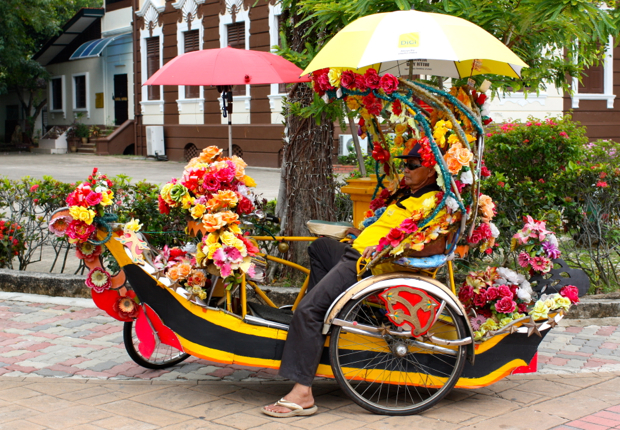 Sama-Sama Hotel
The Sama-Sama Hotel at Kuala Lumpur airport is everything you'd want for a hotel before your flight, comfortable, quiet and relaxing. The hotel has a grand foyer that welcomes you with a bar and restaurant opposite the reception. The room was modern, clean and comfortable with a nice large bed, having a few jet lag issues I took the opportunity to get a couple of extra hours sleep in.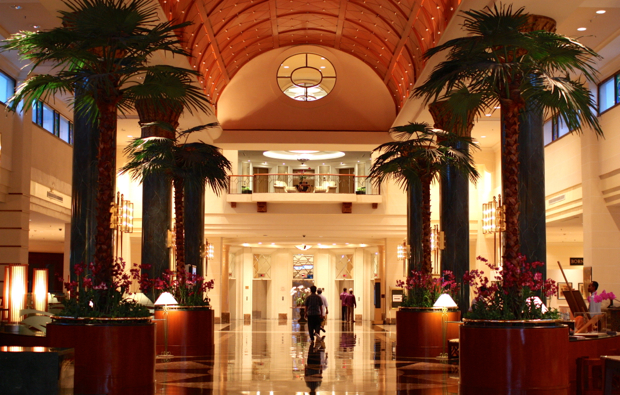 We covered some ground in Kuala Lumpur and Malacca, stayed in some beautiful hotels and sampled some delicious street food. We were lucky that we had great guides to show us the best places to discover Malaysian street food as it can sometimes be tricky to find those special hidden places. Although our time in Malaysia was brief we managed to sample many different dishes and got an interesting insight into how aircraft meals are created.
Landing back in the UK meant a little less spice and a bit of diet.
The trip to Malaysia was sponsored by Malaysia Airlines.