After touring and relaxing in the Malaysia Airlines Golden Lounge at Kuala Lumpur International airport it was time to board our business class flight on a A380 bound for London.
I was keen to taste the Malaysia Airlines cuisine and chef-on-call service on board the flight after having the opportunity earlier in the trip to see what goes on behind the scenes.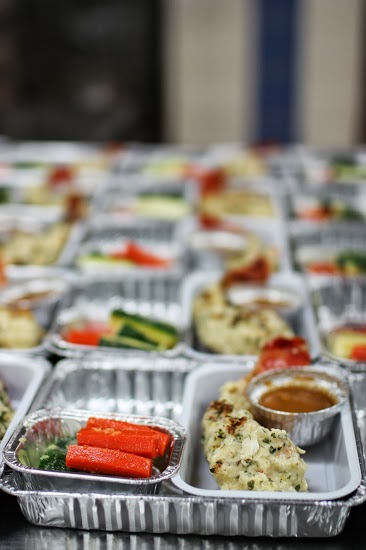 Discover Malaysia
We'd been in Malaysia courtesy of Malaysia Airlines for the #DiscoverMalaysia blog trip and been fortunate enough to sample some of the amazing local cuisine on offer in and around Kuala Lumpur and Malacca. We were also shown the Malaysia Airlines chef-on-call facility at the airport to not only see how the food was produced but also how it tasted.
Chef-on-Call Facility
The scale of the facility was brought home to us whilst viewing a huge scale model, it was immense. Dressed up like school dinner ladies (complete with hair nets) we followed our guide around various shiny, metallic rooms that resembled the kitchen scenes with the Raptors in Jurassic park. The facility was impressively clean, structured and using what looked like high quality, fresh ingredients. We were treated to tasting Malaysia Airlines famed satay that was being cooked over high quality charcoals and apparently only using the finest ingredients, I was keen to see if the satay tasted just as good on board the flight.
After making it through the maze of rooms and surveying cooks slicing and dicing fresh fruit like skilled ninjas, we finally got to dine on various first and business class meals. There was plenty more satay on offer as well as prawn, lobster and beef dishes that are expertly presented. The individual dishes were impressively tasty considering the scale, complexity of the facility and the fact that they are created prior to the flight.
A380 Flight to London – It's all about the food
The first thing I really noticed after boarding the flight and of course testing out the amazing fully reclinable seat, is the business class menu. Stated inside was the quote:
"There is no love sincerer than the love of food." – George Bernard Shaw, Irish playwright (1856-1950)
Sure enough, shortly into the flight I'm served with Malaysia Airlines famed satay with a generous amount of peanut sauce. As you'd expect from business class my seat comes complete with small table for drinks as well as a pull out table with dining cloth and real cutlery. Needless to say the satay tastes pretty incredible even at altitude. The secret of Malaysia Airlines perfect satay is apparently use high quality cuts of meat and marinate the satay in a mixture of shallots, turmeric, garlic, galangal and lemongrass, according to its menu.
Satay has been served on board Malaysia Airlines ever since they first took to the skies and nearly 20,000 sticks of the dish are consumed every day on their flights.
Satay and Fillet Steak
For our main meal we had the opportunity to test out Malaysia Airlines "Chef-On-Call" service that features a choice of 25 meals including Malaysian dishes as well as light and healthy options.
I had opted for the fillet steak way in advance of taking the flight (a week or so) and wasn't disappointed, the steak was tender and flavoursome. The is quite impressive when you consider all that goes into producing these dishes on the ground in advance of the flight and that everything tends to taste completely different in the air.
Full after devouring my fillet steak I watched a movie then tested out the reclinable business class seat to see whether I could catch up on some sleep. I'm an extremely light sleeper so you'll never find me asleep in standard class, this was a real test to see the true benefit (apart from the food of course) of traveling business class.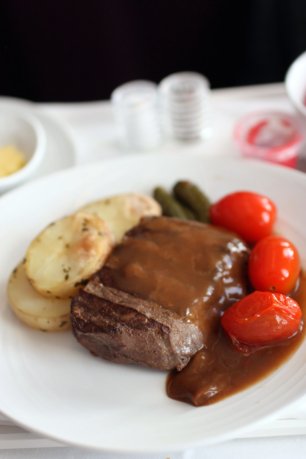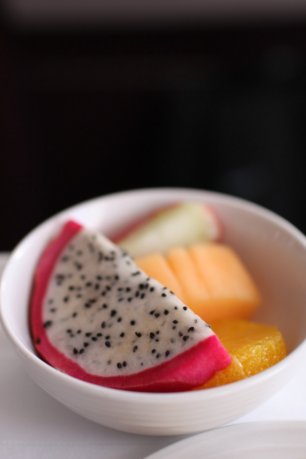 Business Class Reclining Seats
It has to be said, the seats in business class have more buttons than a Japanese toilet, but thankfully a lot easier to understand (and they're are not heated). You're able to control and adjust small parts of the seat to get the perfect position, I wanted to try lying completely flat on the seat/bed to catch some shuteye. Amazingly I was able to get at least a couple of hours sleep on board the A380, comfortable pillows and blankets certainly helped too. As a result I arrived in London much more refreshed and awake than I otherwise would have, I had a truly relaxed and overall enjoyable experience.
The dining options and quality of dishes were impressive and the reclining seats made flying business class worth it. Ever since the experience I've been recommending to people who, if they can afford it, (or can upgrade) to go business class on long haul flights because it's such a better way to arrive at your destination, feeling refreshed, relaxed and having enjoyed the flight experience rather than simply tolerated it.
The Business Class Flight & Golden Lounge experiences were sponsored by Malaysia Airlines.