Mountain biking? That sounds like a bit of fun, I thought reading the activities that I could choose from in Tirol, Austria.
How difficult can it be?
Some muddy trails, a few bumps, humps and jumps, should be a laugh… maybe a bit of a challenge.
"OK, so are we ready?" our mountain biking guide Pieter asks. The group keenly hopping back on their bikes staring down a path that leads into the woods, the turn winds right beyond the trees. It looks like a bit of a hill, but nothing I can't handle. It can't be that challenging can it?
Turning right into the woodland under the shadow of the looming trees, the path starts a steep incline as bike gears clunk then crunch, searching for the high gear to tackle a near 45 degree climb.
I'd only just started but I was peddling like a mad man without make much progress, this was going to be a challenge. There was a long long way to go and I was feeling the strain, not just the razor blade like saddle but all those leg muscles that aren't used to tackling this kind of terrain. We slowly snaked our way up the mountain, dripping with sweat and stopping for break after break to allow the muscles to recover before tackling the next section of the path.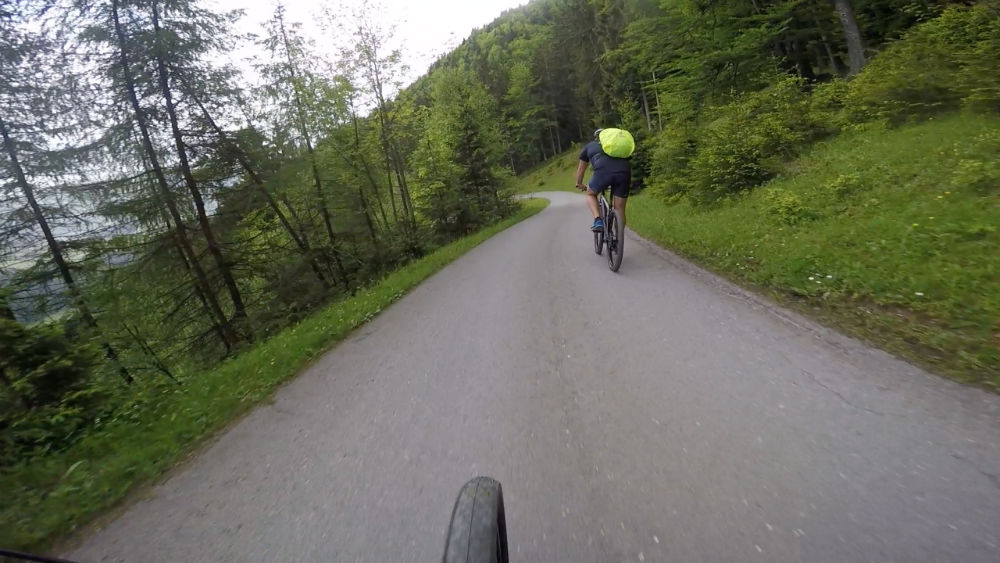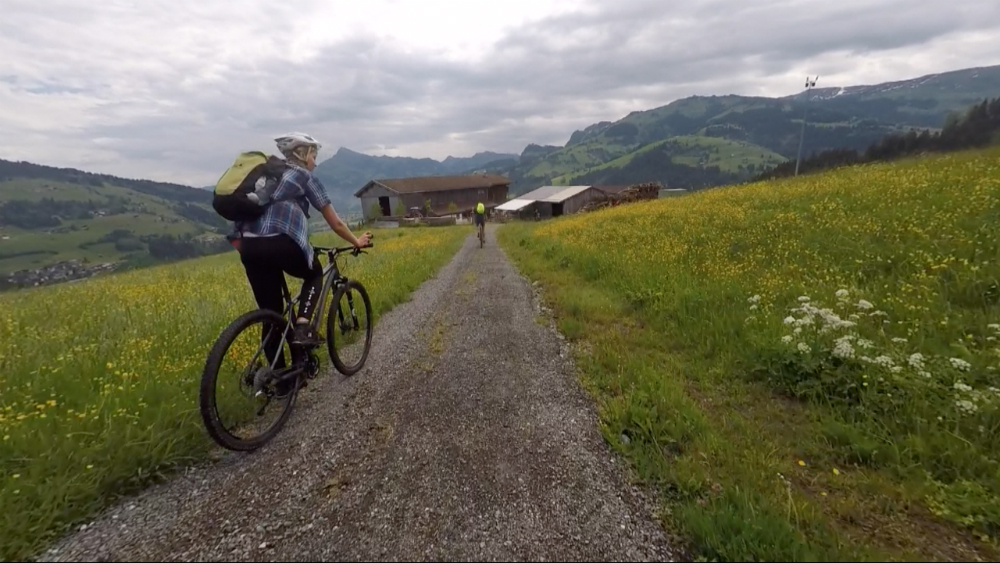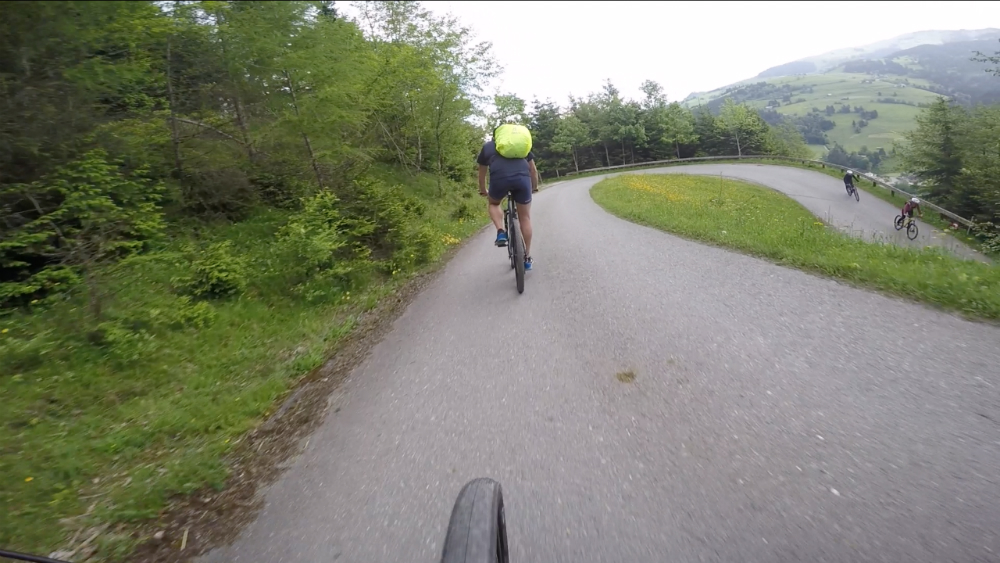 With the summit in sight and an ice cold beer in my mind I peddled harder and used that last bit of adrenaline boosted energy to get me to the top.
Dripping with sweat I staggered off my bike to sit outside the restaurant in the cool breeze blowing across the mountain.
Tackling The Lisi-Osl-Trail
With a belly full of food and an ice cold beer we set off to tackle Lisi-Osl-Trail. Now I've done a bit of mountain biking before but nothing quite prepared me for the humps, bumps, steep drops and sharp turns on this trail.
With my helmet strapped on tight and fingers hovering our the brakes I peddled down the trail… and quickly realised it was far too steep for the speed I was comfortable with. The back tire of my bike was skidding down most of the first section, "it'll get easier", I thought. Thankfully it did and I slowly got into the groove, embracing the speed. Like many sports if you go too slow then you fall down, Lisi-Osl-Trail was so steep that if you didn't go with it you'd just find yourself skidding all over the place.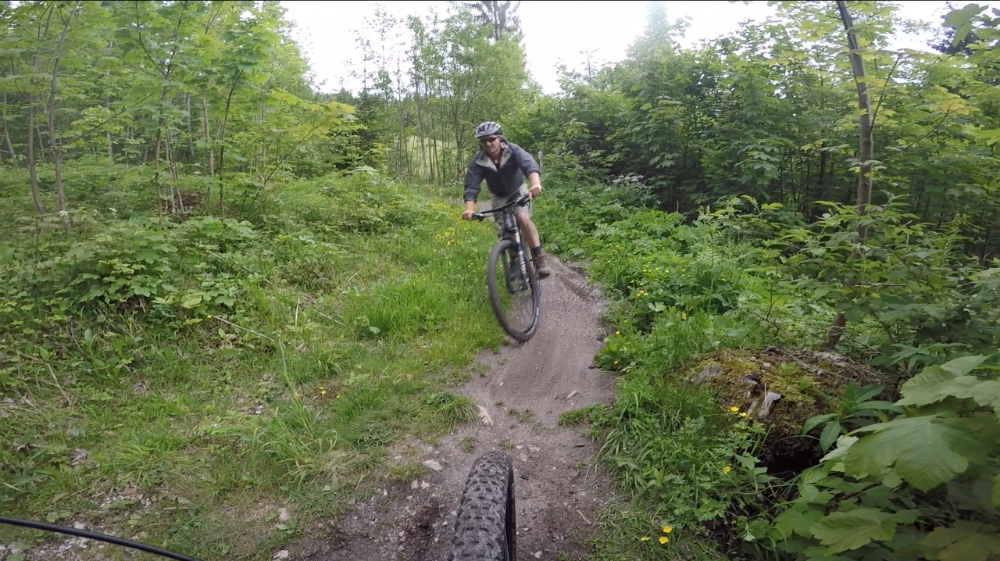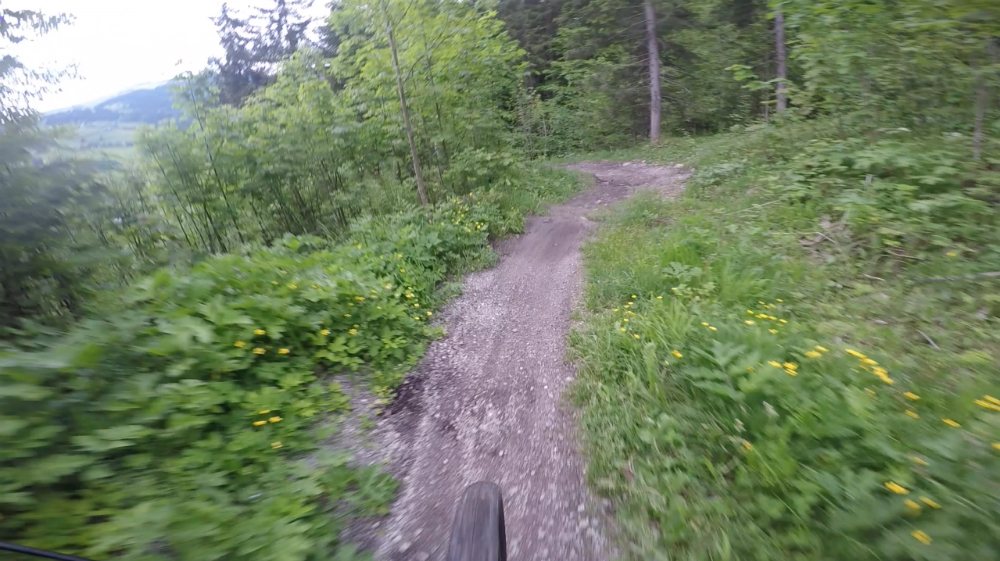 After taking a few jumps, drops and hairpin turns like a pro, over confidence crept a little… it's never a good thing!
Suddenly, I found myself a little out of control and for some unknown reason I taking my fingers off the brakes in mid-air. As soon as my front wheel came down I thrown up into the air like a bucking bronco, over the handle bars and into the grass with the bike landing on my head (check the video).
Thankfully there were no broken bones, just a little graze and some interesting video footage. As they say, you've got to "get back on the horse"… well in this case, the bike. Despite having a mountain bike land on my head I was determined to finish the trail in style and if it were not for one minor fall towards the end it would have been an impressive return to form.
After all the adrenaline and excitement throwing yourself down steep winding trails, over jumps and around hairpin bends it was a relief to be at the foot of the mountain for a leisurely ride back to into town.
Thankful, with myself and the bike in one piece!
Useful Links
Disclosure – The #inAustria blog trip was created and managed by iambassador in association with the Austrian National Tourist Office, Tirol Tourist Board and the Kitzbüheler Alpen Marketing GmbH.TravMonkey maintains full editorial control of the content published on the site.