I finally got the chance to test out a Business Class flight and The Golden Lounge at Kuala Lumpur International Airport thanks to Malaysia Airlines.
I've spent a great deal of time in airports and on planes, especially during my two-year stint traveling around the globe. Often on long tiring flights, but for some reason I'd never had the opportunity to try business class. There was one particular occasion when I was dressed pretty well and the check-in girl smiled then walked off to check something, I was sure a decent upgrade was on the cards. Sadly, it didn't materialise.
I've always been intrigued to experience business class to see if it really is special. Having travelled on a budget for two years, I'm pretty used to roughing it and can tolerate some pretty difficult travel circumstances (I was once stuck on a bus for three days whilst having food poisoning in Peru). I was looking forward to whether business class was really something worth paying much more for.
Malaysia Airlines Golden Lounge
One of the major plus points of travelling business class is the access to the lounges. I've been looking at different ways to get access to airport lounges for a while, it seems a bit strange that for someone who travels a lot not to have easy access.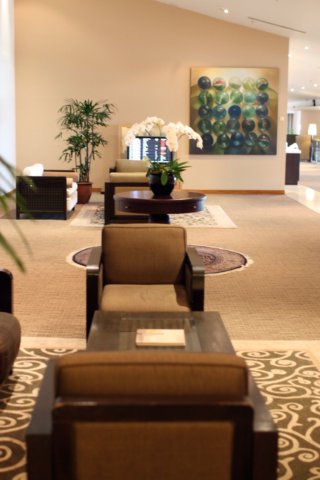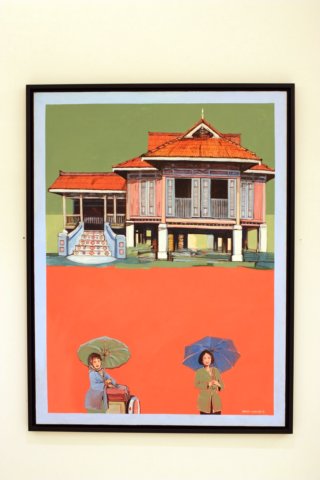 We had the opportunity to experience Malaysia Airlines flagship Golden lounge at Kuala Lumpur International Airport (KLIA). The lounge itself is situated in Satellite A which can be accessed using the airport train and following the signs.
Upon entering the lounge there's a small bar area on the left hand side with TV's behind it, would be the perfect place to watch a football game before catching your flight. The lounge itself is a large expansive area, it's modern, spacious and has plenty of natural light from the view out onto the runway. There are two main seating areas with one section benefiting from the light and views out of the windows onto the runway and terminal.
There were plenty of newspapers on offer but also a range of Samsung tablets on some of the tables, although I didn't have chance to test them out, if I was traveling alone I probably would have done. There are also several screens around the lounge showing the latest news and sport.
Food wise, it was breakfast time so obviously I went for the chocolate muffin and Haagen Dazs cookies and cream but there is the option to go for a full cooked breakfast or cereals.
Other notable facilities in the lounge are the relaxation rooms and showers if you're a little tired or need to freshen up. There is also a smoking room, children's playroom and a games room that comes complete with a couple of Xbox's and Xbox Kinect. I was a bit worried that I'd miss my flight if I got too into playing on the Xbox so decided to leave it for another day. As you'd expect the Golden Lounge has business facilities for using computers, printing, international calling and meeting areas.
First Class Lounge
We were given a tour around the other lounges on offer, the first class lounge was much more private, quiet in comparison the huge expansive main lounge. It also had private sleeping rooms if you needed to catch up and an extra room for anyone will children. There are plenty of relaxing sofas and easy chairs looking out onto the runway in the first class lounge with an area nearer to the entrance reserved for those dining.
The Platinum Lounge
The Platinum Suite can be reached before entering the First Class lounge and is exclusively for top-tier elite members. The suite was a lot smaller than the First Class lounge but was a pretty peaceful space to relax in, complete with home cinema area and a selection of newspapers. Again like all of the lounges the Platinum Suite had natural lighting and a view out to the runway.
Although it isn't the first time that I've experienced a business class lounge it was certainly the biggest lounge I've seen. For some this could be seen as a positive as the lounge tends to have a feel of anonymity to it but for others who are looking for something smaller the First Class lounge is a better option.
Personally I've grown tired of trying to find a random (often hard and upright) seat in an airport or continuously roaming the shops not buying anything. It's great to have the option to relax, unwind and experience good service before a long haul flight. With TV's showing the latest news and sport, a bar, even Xbox's on offer, it's definitely worth trying to get access to an airlines lounge and Malaysia Airlines Golden lounge didn't disappoint.
The Business Class & Golden Lounge experiences were sponsored by Malaysia Airlines.