"Fat biking? What? Never heard of it!"
Me neither, well until my winter trip to Tirol in Austria where I experienced a fat biking tour. As if skiing, snowboarding, tobogganing and snowshoeing in winter wasn't enough, the Austrian's have brought bikes with super fat tyres to the Alps.
These are no ordinary mountain bikes. With tyres roughly twice the width of normal, fatbikes spread the weight of the frame and rider to give the bike better grip and traction on difficult terrain.
They're perfect in snowy alpine wintery conditions!
Whilst biking in the Tyrolean mountains in summer is a real challenge, it hasn't always been possible to go riding in the winter season, until now.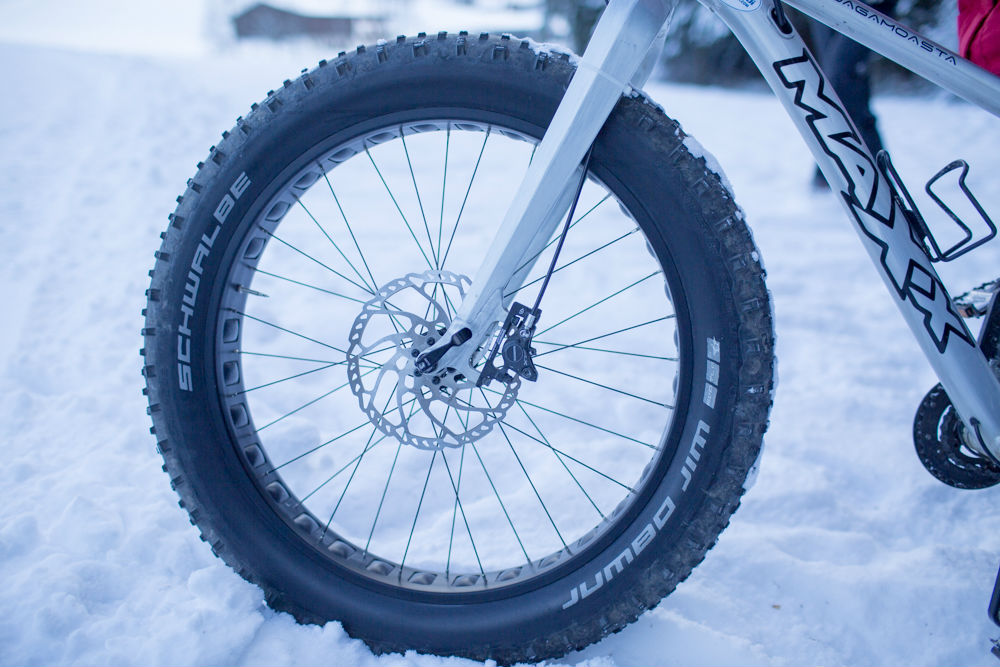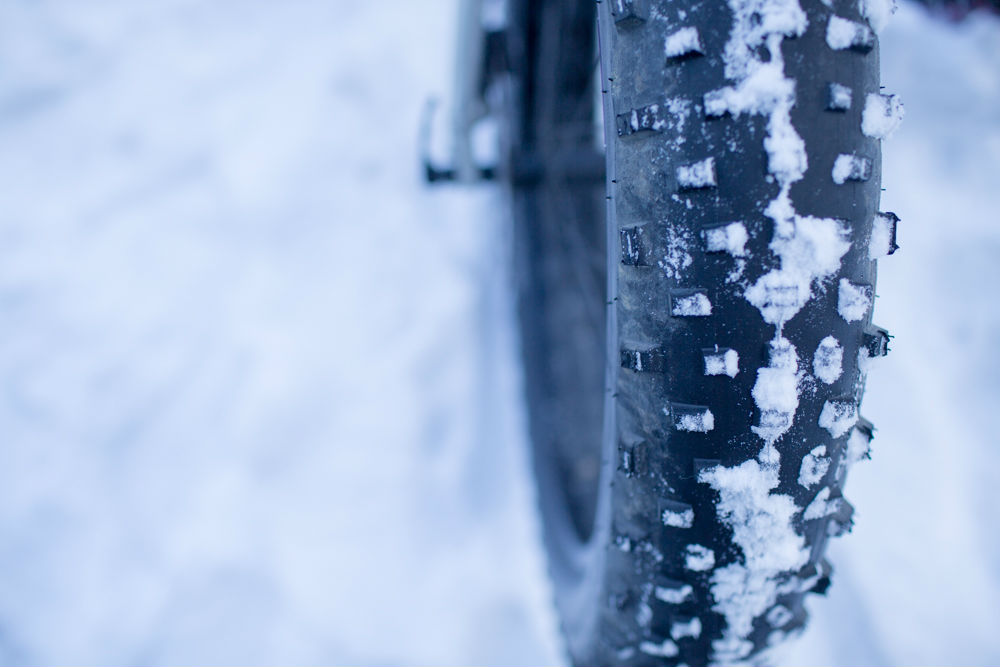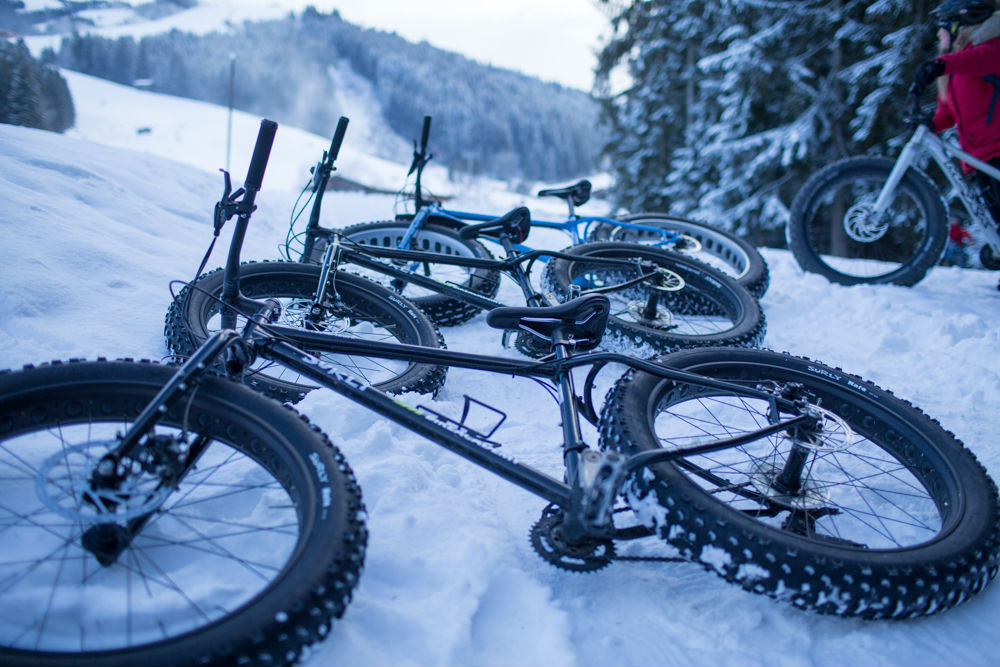 When I read that I'd be fat biking in Austria I had flashbacks to when I used to dash around suburbia delivering newspapers as a teenager. One year I woke up, opened the garage door to find deep unspoilt snow everywhere (yes, in the UK!). Riding through the snow on a mountain bike is possible but not advisable as the tyres tend to dig into the surface to gain traction. I remember delivering to one particular house, cycling off at speed when my front tyre slid from under me. I was slammed down onto the icy road and found myself sliding downhill in the middle of the road still attached to my bike, skidding and narrowly avoiding on coming traffic. I was bruised, a little embarrassed, but still in one piece. Needless to say, I learnt the hard way that riding on snow and ice isn't an easy task. If only there was such as thing as a "fatbike" in North West England back in the 90's!
"massive 3.8 inch-wide tyres float over surfaces where other mountain bikes would struggle."
Chunky fatbikes are designed to tackle such troublesome terrain and their massive 3.8 inch-wide tyres float over surfaces where other mountain bikes would struggle. Their monster truck types tyres ride over rocks, stones, ice and snow with minimum effort, you can take a fat bike to places you could never dream of on a standard mountain bike, making them ideal for the snowy Austrian mountains.
Mountain Biking vs Fat Biking
Mountain biking originally burst onto the scene in the 1980s and by 1986 were out selling road bikes. The bikes gave the rider a new freedom to explore way off the smooth surfaces of the road and onto trails and back roads. Since the early days, mountain bikes have innovated, become much lighter and focused on improving the riders speed across challenging terrain. Even mountain bikes have limitations on challenging surfaces like snow, sand and mud. Thankfully fatbikes with their monsters tyres are designed to allow you to ride these surfaces and explore areas in conditions that you never could before on a bike.
We turned up at the bike shop and were each handed what looked pretty much like a standard mountain bike but with monster oversized tyres. These surprisingly light weight bikes were equipped with a decent selection of gears, useful when you're encountering a rocky, snow-packed slope.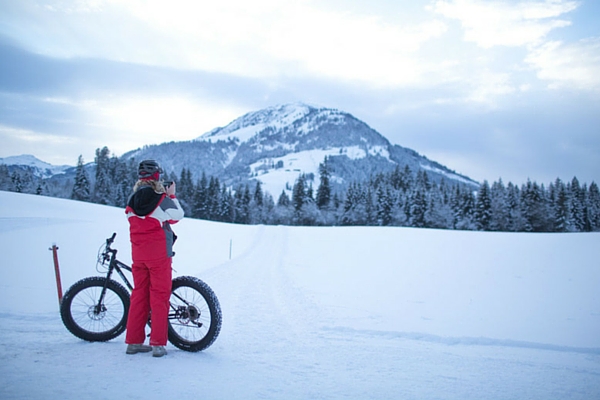 I was expecting the fatbike to ride a bit differently but it felt pretty much like a mountain bike on the road. I cranked through the gears to get an idea of whether I was switching gears up and down before being confronted by a steep section. We set out across snow covered roads and paths with fields of thick white snow and a river flowing on our right hand side, I realised that it was the same route we'd taken in the summer. It was somehow slightly familiar whilst being pretty much unrecognisable covered in a blanket of white. As we wound up steep snowy terrain what was noticeable is the ease with which these bikes tackle snow, mud and hills. Unlike some older mountain bikes fitted with rear suspension these bikes don't suffer from pedal bob, so the effort you put into pedalling isn't wasted. The fat tyres with wide surface area tend to float over rocks and stones and grip on snowy pathways rather than digging into the surface with the bikes weight like a standard mountain bike. It makes the experience more enjoyable as it's not so much about flying around corners or taking jumps at speed with fatbiking, but slowing down a little and appreciating your environment.
That's not to say there isn't speed, adrenaline and challenging trails for fatbiking. You can find that if you want it and after all, what goes up must come down… so there's always a downhill section of some description, it just depends how fast you want to take it!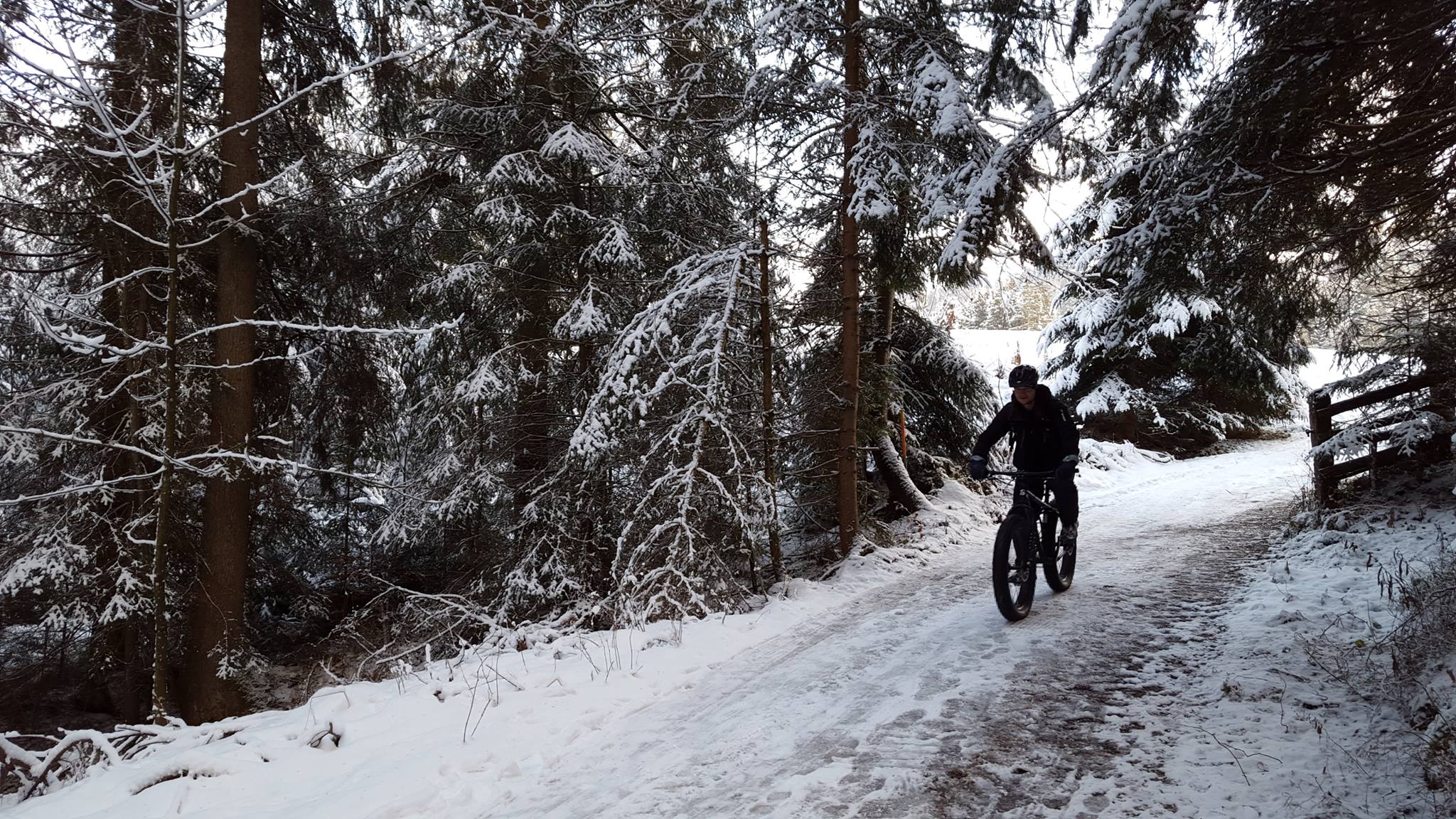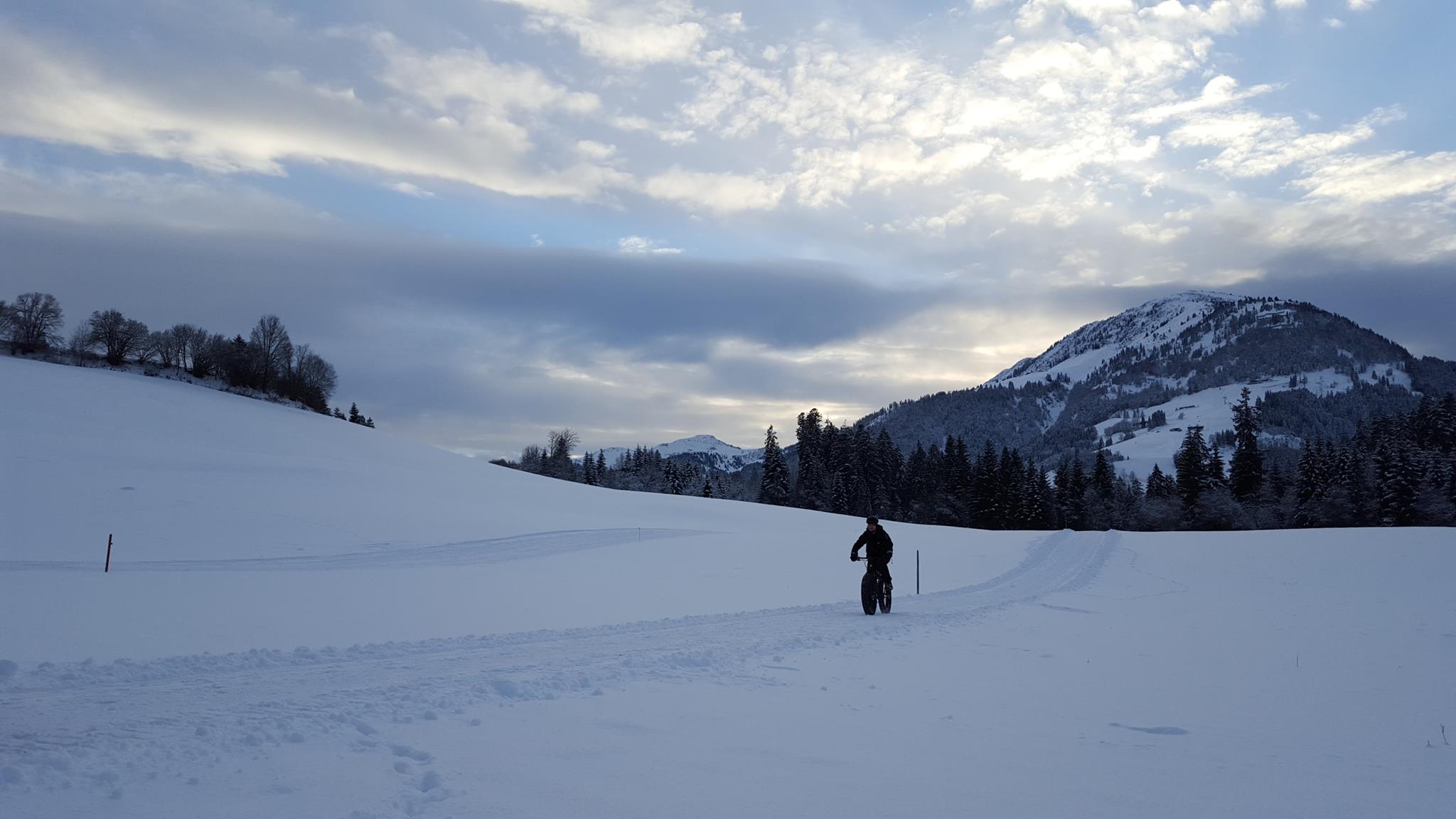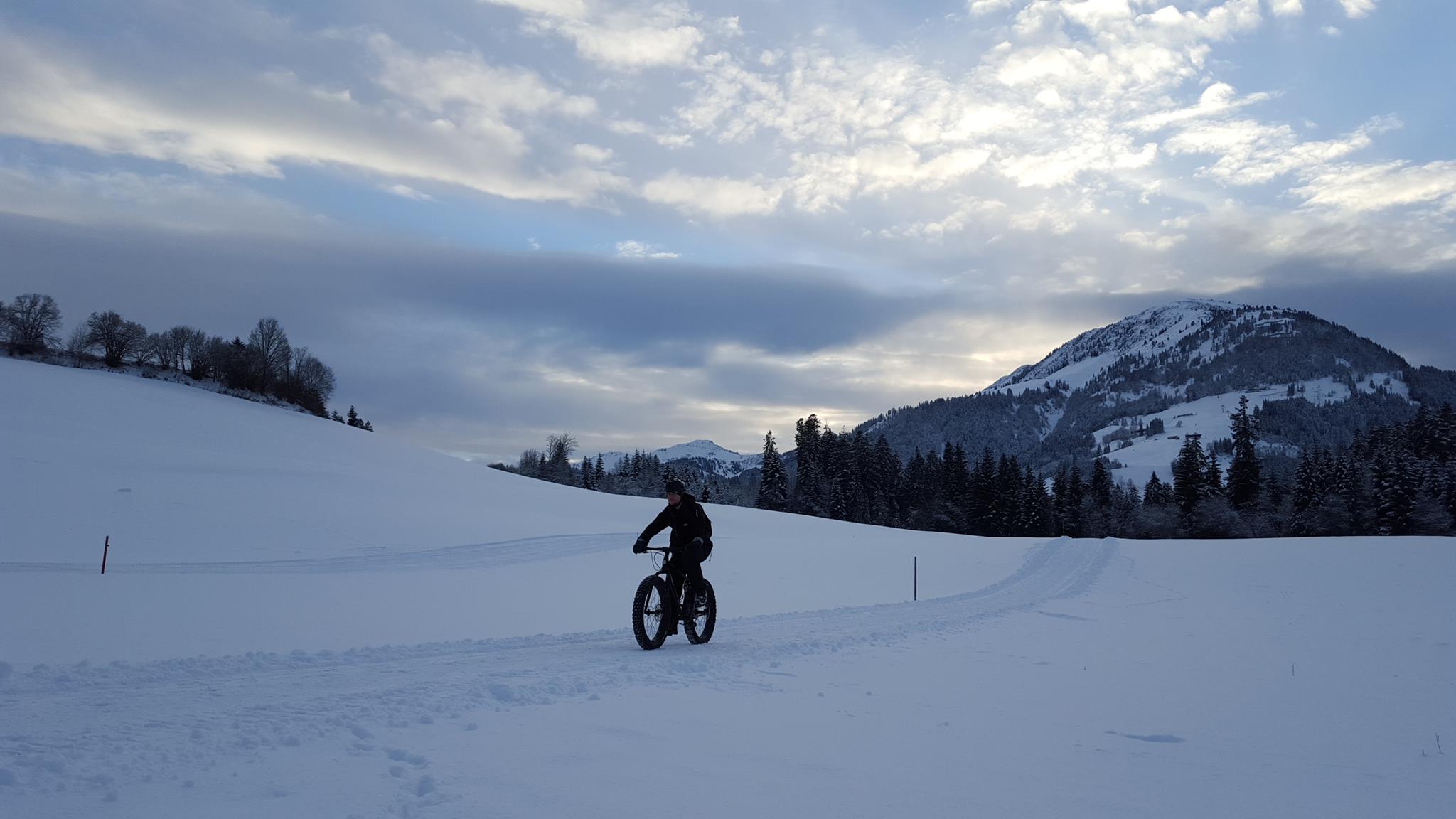 Photos above by Melvin Boecher from Travel Dudes
Fat biking is fairly new in Tirol, imported from the US and there's clearly a market for biking in the winter. The scenery is just as stunning in the winter if not more so when the region is blanketed in snow. Trails are slowly being developed in the area and depending on whether you are looking for something more advanced or just a gentle tour around the valleys, your fat biking guide will tailor the experience for you.
There's a trend away from the classic ski holiday to one that includes varied activities in the snow. Let's face if when you're skiing or snowboarding for more than 2-3 days in a row you muscles get tired, sore and you're ability begins to dip. If you're looking for something slightly more leisurely but still active, then fat biking is a decent option. You can explore back roads, snow-covered meadows, mountains and trails that can be too far for hiking/snowshoeing.
That's not to say fat biking can't be hard work, peddling up winding trails through forests is like a good spinning class work out. Speeding back down again is the fun part. Unlike the days when I was speeding around my paper round, it's much less likely that you're going find yourself skidding off your fatbike and down a snow-covered slope.
Important Information
We took a tour with Bike Academy in Kirchberg in Tirol. They've been established since 1999 and off guides for a wide range of experiences mountain biking and fat biking.
Group Activity including bike cost 76 Euros
Individual Guides for half day costs 160 Euros
Useful Links
Disclosure – The #inAustria blog trip was created and managed by iambassador in association with the Austrian National Tourist Office.TravMonkey maintains full editorial control of the content publish on the site.